Kandy retains Clifford Cup in a thriller
By Narendra Kulatunga
View(s):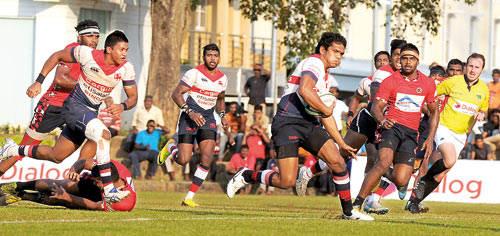 In one of the closest Clifford Cup finals, in its history of more than 100 years, with both finalists engaged in fascinating rugby, defending champions Kandy Sports Club survived unscathed to record a thrilling win over a gallant CR and FC outfit, by 31 points to 28 at the Racecourse grounds yesterday. At 'lemons' it was CR who led 16-13, giving anxious moments to Kandy SC camp and their die-hard supporters. The winners collected their points from two tries, one penalty try, two conversions and four penalties to the losers' four tries, one conversion and two penalties.
CR, the side that came on top against Havelocks, in another thriller, in the previous week semi -final, put up a tremendous performance during the entire game. Even though, with the entrance of playmaker cum skipper and magical Fazil Marija to the Kandy XV in the latter part of first half, playing his first game, after a lapse of months due to injury, CR did well to thwart him and his ploys.
But yet they could not tighten the Kandy SC, by scruff of the neck and due to silly mistakes in the dying minutes of the game, their chances of clinching the Cup after 11-years slipped away. On the other hand Kandy SC, had all their guns blazing at the right time. Though they were down on many occasions, in a game of fluctuating fortunes, they kept their head focused to the end, to wrap up the game. Thus they won the Clifford Cup for the record 19th time in its history. It was CR who scored first with a bang, in the early minutes of the game when Kandy SC was in total disarray. Flanker Jason Dissanayake followed up a kick from their wing, Kanchana Ramanayake and dashed down to touch down. Fullback Prince Chamara fluffed with the conversion.
In a spate of minutes, Kandy reduced the lead with a 35-metre penalty by fly half Nigel Ratwatte. Ratwatte, who had a great game, then booted a penalty for Kandy to take the lead 6-5. His name sake Tarindra Ratwatte, who had a great game too, sold couple of dummies, had the Kandy defence in tatters, to score after running a good 30 metres. Chamara missed the conversion, but CR took the lead again 10-6.
CR took a further lead with a 25-metre penalty from Chamara in the 30th minute of the game. Then Ratwatte, taking over kicking duties landed a 40-metre penalty, after Kandy was penalised for holding onto the ball. But Kandy in a spate of few minutes, came into the CR 22. Off a scrum won by Kandy, a certain try by half back Roshan Weeraratne was thwarted, playing foul by hooker Malintha Hettiarachchi.
The referee awarded a penalty try to the relief of Kandy SC camp and its supporters. Ratwatte, converted but Kandy trailed 13-16. In the turn around, Kandy was able to level the game with a 45-metre penalty by Ratwatte. In the 20th minute of the second half, CR with a fine back line move, where flanker Dissanayake made the initial break ,seeing a gap released the ball to his wing Kavindu Perera to score unchallenged. Ratwatte converted and CR led 23-16. But Kandy reduced the lead again, with a back-line move where outside center Richard Dharmapala touched down. Ratwatte failed with the conversion.
With both sides engaged in a ding-dong battle, CR extended the lead again with a back line move ending with Chamara touching down for an unconverted try. But lead was short lived as Kandy's full back Srinath Sooriyabandara scored a peach of a try after collecting a short pass from Roshan Weeraratne. Sooriyabandara evaded several defenders to score on the left flank. Ratwatte, kicked a difficult conversion to level the scores 28-all. Then came the decider, in the dying minutes of the game. After Kandy's Thilina Wijesinghe was unsuccessful in the penalty kick off a CR infringement, in a few minutes of similar infringement by CR, Ratwatte was successful in his penalty to give his team a memorable victory.