'Goddess of storytelling' shares her vision and wisdom
Indian educator Geeta Ramanujam, is one of the star attractions at the Fairway Galle Literary Festival in Jaffna today
View(s):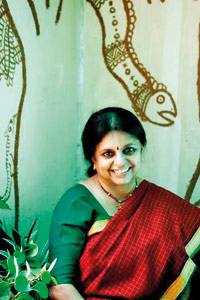 When the Fairway Galle Literay Festival is held in Jaffna today, Indian storyteller Geeta Ramanujam is likely to be one of the big draws. Hailed as the 'Goddess of storytelling', she is a renowned storyteller, educator, academician and administrator, and the Executive Director of Kathalaya Trust.
Geeta uses storytelling as an effective educational and cultural tool in many leading educational institutions in India and abroad. Founder of the Kathalaya and an Ashoka Fellow, she also established the Academy of Storytelling; the only globally recognised Academy for Storytelling in the World.
She has had performances of storytelling at the Scottish Storytelling Centre, UK, International festival at Brazil, Storywood festival at Sweden, World Tales Festival Poland, the International Storytelling Centre USA and many other festivals.
She is also the Indian Coordinator for the International Storytelling Network –RIC besides being the Indian coordinator of the Indian Storytelling Network.
Geeta uses storytelling to train parents, teachers, NGO's and corporate sectors both in India and abroad. Over 70,000 people have undergone her training programmes.
The Fairway Galle Literary Festival has partnered with MAS Holdings to present a comprehensive community outreach programme in Galle, Kandy and Jaffna throughout January 2016.
Coordinated by Serendipity Trust (Guarantee) Ltd, The MAS Schools' Days in Kandy and Jaffna will offer hundreds of students from selected schools the chance to participate in a variety of storytelling sessions and interactive workshops run by world renowned authors and artisans.
In each Outreach location these events will involve over 250 primary and secondary students as well as 50+ teachers. Special provisions have been made to ensure the inclusion of children from marginalised communities.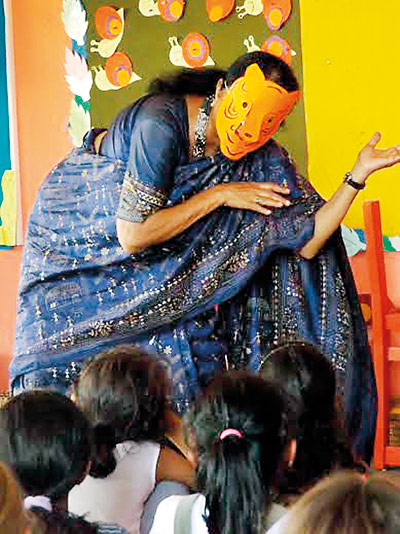 For children, the delight of a story, even the simplest one is akin to an adventure. Storytelling enables teachers to introduce the world and its concepts to the younger generation. The MAS Outreach Programme also brings teacher training opportunities to primary and secondary teachers in Galle, Jaffna and Kandy.
Teachers will learn how to spin a yarn in specialised training sessions led by Geeta Ramanujam and her colleagues of Kathalaya.
On Thursday January 14, Geeta ran a Story Telling Workshop for over 100 student teachers from the Amarasuriya Teacher Training College, Unawatuna.
Geeta will also work with over 50 teachers in Jaffna for a 2 day residential teacher training programme. The British Council will also lead Teacher Training for teachers in Kandy and Jaffna on 'The Art of Storytelling'.