Italy's Vinci fires a Cannon
View(s):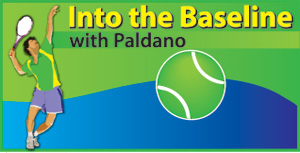 In disbelief, it took us a moment to grasp and then it hit everyone like a cannon-ball as the unseeded Roberta Vinci beat the invincible Serena Williams in the US-Open semi-final. Roberta, when compared with the top twenty of the world's ranked players, does not measure up to be in the final rounds of any Grand-Slam, on paper. For this reason she was not among the 32 seeded players in the draw. Book-makers made her '300-1 favourite' to win the title. That is way down in expectation. When she entered the semi finals, she surprised many. Playing sizzling hot Serena Williams, ranked one and seeded one, most of us took it for granted that Serena will be in the finals without batting an eye-lid. This victory of Vinci over Serena Williams will echo for decades and will be remembered as the most sensational upset in recent Tennis history.
The Tennis world will take some time to recover from the stunning effects of the 'cannon-ball' that Vinci fired. This must be the loss Serena would have felt the most in her career. It eliminated Serena from the Championships; it denied the possibility of winning the nearly unachievable calendar Grand-Slam to which she was only just two matches short; it will be the defeat she would never forget and I doubt if she will ever understand how she lost to Roberta Vinci.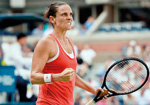 Only three women have achieved the original Grand-Slam in the history of the game. They are Maureen Connolly in 1953, Margret Smith–Court in 1970 and Steffi Graf in 1988. There was nothing called the 'Career-Grand-Slam' until recently – a player winning all four titles in a life time. It was invented because nobody was able to get the original Gram-Slam. Loss of Serena Williams is proof to show how tough it is to win all four titles in one year. The last men's Grand-Slam was won by Australian Rod Laver 46 years ago.
Vinci's 'Strategy of Simplicity'
After beating Serena, Vinci's Italian emotions came out and she wept uncontrollably by the court side. Proceedings stopped till she recovered. Hardly able to talk she revealed her 'strategy of simplicity' to the world in an interview. If one sees the match statistics, it is noticeable that she has won fewer points than Serena. This can happen in Tennis. Vinci's tactics were all based on self-control and efficient use of the slice backhand to unsettle the top seed. 'Don't think who is on the other side of the net, don't think about the draw, don't think what to do, just put the ball back in the court, never mind how' was her answer. It was a mind over matter approach and more of 'defiance' than tactics of Tennis but it worked like magic!
Vinci's slower shots forced Serena to generate power to play her customary winners and in doing so she lost control over the ball. She got into making too many unforced errors. Vinci used the slice which induces an under-spin to the ball. It is one of the original shots of Tennis which players used when only one grip was used to play all the shots. In fact change of grip is one aspect that makes Tennis a difficult game to many. The 'Slice' takes the least amount of time to play, reduces the speed of the ball, keeps the ball low after the bounce and permits pin-point placement. Vinci used it very efficiently and at critical moments with lethal effect. Being a former number one doubles player, her volley, smash and net-game gave a very big margin to dominate the game from the net. This combination of good ground strokes developed to the extent of speed control, drop shots, lobs and effective volley, has always been a winning combination in Tennis in the last 100 years.
Serena machinery
Serena's short strokes by design are to use her body weight for speed and steal some power from the opponent's shots. She uses the long swing only when there is time and height in a shot. Vinci did not give power for Serena to steal and her slice shots kept extremely low. It 'foxed' Serena and caught her off-guard. In all probability, two matches from now Serena will have an answer to it. Meanwhile I see millions of players beginning to develop the 'slice backhand' which for the older players was the 'bread and butter' along with the volley. These shots are necessary to be an all-court player.
All the good Italian players, Lea Pericoli from the sixties, Nicola Pietrangeli French Open winner in the 70's and Adriano Panatta of the 80's had these strokes developed for a very good all-court game. Before the 'top spin' era, the use of the 'slice backhand' and at times the 'slice forehand' were the weapons of the game, which induced 'slow deaths' to opponents. 'Slow death' is what Vinci administered to Serena in Flushing Meadows. Serena has weathered very difficult moments of the sport and survived, so I do not think that this is the end of Serena. She is matured and a tough competitor. More credit to Vinci for finding a formula to beat Serena!
Pennetta's title & the good-bye
Italy's Flavia Penetta played Roberta Vinci in finals to win the US-Open. It appeared that Vinci was tired and emotionally drained to stage another fight. Pennetta did not come there by chance. She proved her metal against Simona Halep, Petra Kvitova and many others on her way to the final. Although ranked two, Halep tired from her very tough match against Victoria Azerenka in the quarter finals, was not allowed to get to the top gear by the 33 year old Pennetta, who had the experience of achieving Grand-slam semi final status before. Holding a high ranking in doubles Pennetta played the doubles semi finals the day before the singles finals. Pennetta's singles win over Vinci gave her 3.3 million dollars in prize money. She announced her retirement from Tennis after being in the circuit for over 10 years. This too was unexpected but she said that 'this is the best, most successful moment to say 'Goodbye'.
Flavia Pennetta's contribution to the game will not be forgotten. Book-makers rated her '150-1 favorite' to win the title. She entered Tennis when Italy was an obscure land for this sport a decade and half ago and leaves the game after taking her Italy to a new height. She is the first Italian to win the US-Open title. Italy showed up very strong in this US-Open. In the men's singles, Rafael Nadal was the first victim of Italy's Fabio Fognini. In the women's doubles, Sara Errani and Flavia Pennetta reached the semi finals and in the women's singles both the finalists were Italians.
Djokovic and Federer
In the US-Open men's singles, Djokovic and Federer reached the finals. These two true professionals had their necessary mechanics well developed and in place to survive New York's heat, opponents challenge and to endure the long grueling mental and physical moments. Lean and trim their reaction worked elegantly, effectively and precisely like clockwork. They were tactically superior to all others in the draw. Playing on hard courts demands immense strength, mobility to handle speeds up to 130 mph and sustain the game without going into errors, for hours. In a fitting final, Djokovic won the title in four very close sets.
The performance is also a tribute to maestro Federer. There seems to be no limit too high for him to reach. He is 33 but played perfect hard-court Tennis. His net-game which he used very effectively up to the finals, was not possible against Djokovic whose returns came back very quick and the ground strokes were very long and extremely hard. It was a great match, good Tennis and made a fitting final.
The 2015 US-Open like all others, was a great attraction. It looks like the city of New York could be the place from where US Tennis is going to turn around and take the road to glory.
This year's event will be remembered as the event where Italy had its finest hour and as for Roberta Vinci and Flavia Pennetta, they etched their names on American granite.
–George Paldano, former international player; Accredited Coach of Germany, National coach, Davis Cup and Federation Cup Coach; ITF and USPTR; –gptennis.ceylon@gmail.com