How actions then are remembered as chronicles today
View(s):

The written word of one day will become stories and pictures will become photographs in history. That is if somebody pieces together the writing and pictures and presents a book of history. Recently published 'Havelock Sports Club – Journey of a Hundred Years' is a book patched together by Neil Wijeratne with text that narrates events from history and value added with the duplication of published material and supportive photographs in best graphical form. The work follows; adding to books by Neil Wijeratne 'Rugby across the Straits', 'Sevens Saga' and 'Batting on a Matting Wicket'. He was also the compiler of CR and FC's 75th commemorative volume.

Wijeratne is not another writer of history but a contributor to sport literature. "The works of an author of sport literature are no mere play-by-play accounts of a ball game a tennis match or prizefight. The competition, spectacle, personal struggle, and exaggerated personalities so characteristic of sport offer writers the perfect backdrop upon which to look deeply into human nature and create literature that transcends sport itself. Sports literary works capture the broad appeal of sport and its ability to transform individuals and society. The exhibition celebrates the crack of the bat, the roar of the crowd, the crushing tackle, the Herculean feat, the triumph, and the thrill of literature and sport". This is what Neil captures in his writing.

Sport is and has been a significant part of Sri Lankan culture. Cited as traditional sports in the country were Combative Games such as Angam Pora and Mallawa Pora, Hook Tugging, Pora Pol Gahuma and Gudu, to name a few. On the other hand we possess a developed sporting culture in imported sports such as Cricket, Football, Rugby, Netball etc. Despite those sports being a part of our culture there is little written as history except for the writings of sports historians such as S.S. Perera and Michael Roberts among few others. As Dr. Sasanka Perera of the Sociology Department of Colombo University noted; "another exception in this relatively barren landscape are the writings of Neil Wijeratne."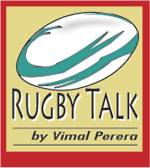 The latest which Neil chronicles in Rugby History is of the hundred year journey of the Havelock Sports Club (1915 – 2015). Even though the book revolves around the sporting tradition of Havelock SC and not an all inclusive coverage of Sri Lanka Rugby, is an interesting trace of history. The landscape the author has touched is so vast, that it provides invaluable information, especially on early years of Ceylon Rugby dominated by the Europeans. Through the pages of this book Neil Wijeratne takes the readers on a wonderful sporting journey via Havelock Park: from the days of 'Club on Wheels'; Havelock SC's entry to the playing field and its efforts in establishing a sporting identity; its rugby heritage and its total dominance in local Rugby Union's Centenary year. The book also reveals Havelock SC's continuous struggle from its inception in 1915 to 1948 seeking full membership of the Ceylon Rugby Football Union.
The value of the book to the rugby enthusiast is reading the information and narration of events that otherwise would not have been documented and would have been lost with the life span of those who were part as player or as supporter. The reproduction of written material from published sources and old photographs and collector's items such as match souvenirs, brochures and invitations adorns and adds character to the book that would otherwise have remained personal to the collector. In this regard Neil takes out lot of material he has collected over the years as a rugby enthusiast; Ceylon vs Australia rugby match souvenir (1953. price: 50 cents.), Ceylon vs England match souvenir (1971. price: Two Rupees), Clifford Cup Final match brochures from 1964, old match fixture cards of the SLRFU, Tea Centenary match brochure (1967. Havies vs Tea Industry XV) etc. These are some of the priceless items reproduced in photo form in the book. Neil also recounts the days of publishing 'Weekly Rugby Round-Up' in verse. To quote a few lines: "The CH beat the Havelocks – by nine points to a blob – But that was only just because – Arenhold was on the job." (1956).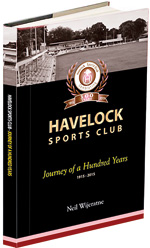 Rugby started as a game for the foreigners mostly European in what then known as Ceylon. Natives had no place in the game. Events, tickets and invitation bore clearly a different entry criteria and price for natives. To quote Neil: "In another match-ticket sales advertisement published by the governing body in the first quarter of the twentieth century, it is said, the entrance fee – Rs.2 for Europeans, half rate for Soldiers and Sailors in Uniform and 50 cents for the Natives!".
If this work was produced as a coffee table book the value would have been great to the rugby connoisseur and to those who would like to recall moments of a game that was played on true spirit. Despite that drawback it still is something to read, treasured and hold with pride.
The game doesn't change the way you vote or comb your hair or raise your children. It changes nothing but your life." – Don De Lillo, early draft of Underworld
* Vimal Perera is a former player, coach, referee and an IRB Accredited Referees' Educator