The music's the thing
By Smriti Daniel
When the Workshop Players take the stage this October for Les Miserables they have to deal with the challenge of a musical score that has evolved to resonate with modern audiences
View(s):
Surein de S. Wijeyeratne knows musical theatre can be difficult to pull off – he just isn't certain the rest of us realise quite how much.
Performers, amateur and professional alike, must wrestle with the unique challenges of such productions: "You have to be able to fall off a piece of wood and die, while singing at the same time; it's hard to concentrate on your articulation and pitch when there's a smoke machine blowing in your face," says Wijeyeratne, the musical director of the Workshop Players' upcoming production of Les Miserables. "As a work of art, it's very difficult to produce."
And few musicals represent the challenge that Les Misérables does. The moment where Fantine stands, overcome with despair singing "Life has killed the dream I dreamed", is a moment etched in the cultural consciousness of a generation, but this iconic production has much more to offer.
On My Own, perhaps the most beloved song in the entire production is a quiet, wrenching ode to unrequited love, One Day More, with its beautifully entangled voices raised in perfect harmony, demands much even from a talented cast.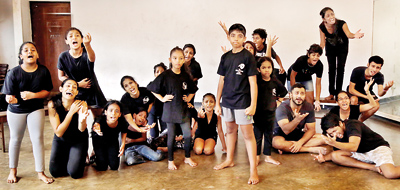 And the list doesn't end there: "Empty Chairs at Empty Tables, is a beautiful song by Marius that's lesser known and has a haunting and tragic feel to it," says Wijeyeratne, also adding to his list The Confrontation which he describes as "a verbal dual between Valjean and Javert," and "a lesser known classic";"[It has] wonderful lyrics and is sung in counterpoint, it's emotive and powerfully written."
Wijeyeratne points out that the music of Les Misérables has evolved over the years – changes in orchestration and pacing in particular have modernised the soundtrack and helped it resonate with modern audiences.
"Unlike Phantom (The Phantom of the Opera) which has stayed exactly the same for the last 30 years, Les Mis has evolved, and it's a lot edgier," he promises.
Still, at its heart, the music is the same. This always gives Wijeyeratne pause: "Everyone knows the music. You have to be really good at this, everything has to be consistently good across the board, from the guy who sings one line on stage to the leads."
The Workshop Players are expecting they will have to meet the high expectations of long-time fans, but that they will also be responsible for introducing the show to a generation who may have heard of it but have never seen it performed.
"We are trying to remake a classic," says Wijeyeratne, admitting that it can sometimes make him nervous: "It's like trying to repaint the Mona Lisa or re-record a John Lennon song – everyone will compare it to the original."
Les Miserables is licensed by Music Theatre International by arrangement with Cameron Mackintosh Ltd. and will be staged from October 1-11 at the Lionel Wendt Theatre
Principal Sponsor – Cargills
Print Media Partners- Sunday Times, Daily Mirror, Daily FT and Hi! Magazine
Radio Partner- Lite FM
Online Partners- Life Online and Hi!TV
The box plan opens on September 15. Tickets are priced at Rs 3500, 2500, 1500 and 600 (Balcony)
Nevertheless, he's confident his "dream cast" will be able to cope. Speaking of performers like Jehan Aloysius, Shanuki De Alwis and Mario de Soyza, he says, "They're so experienced and talented that you don't have to tell them anything."
He shares with the many experienced performers the responsibilities of training the newer recruits.
Talking about that process makes Wijeyeratne a little sentimental: "It's like a coming of age experience; it's about passing on something that has meant so much to us and we want them to have the same memories. To be able to hold up their heads and say, 'We did Les Mis.'