Appreciations
View(s):
What a friend we have in mother
Laurinda Jayasuriya
Laurinda Jayasuriya during her fruitful life deeply experienced the amazing grace, the unfailing love and mercy of God. What she freely received she freely gave to her family, her relatives and friends and even to strangers, who to her, were friends she did not know.
Laurinda, who died on September 1 at the age of 72, was an active evangelist and prayer warrior. Whenever she heard that someone was sick, suffering or lonely, she would visit that person to pray, console and give whatever assistance that was needed.
Sometimes when people called her from distant places, she would counsel and pray for them on the telephone and often ran up a big telephone bill, for which she fortunately got an official discount because her husband Gerard was a Telecom official.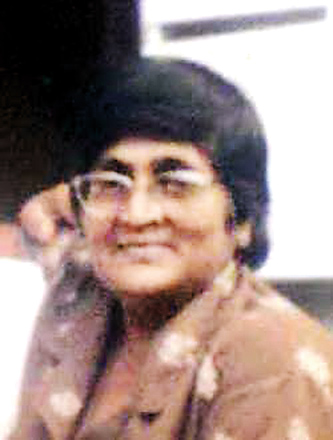 At the funeral service on September 4, Laurinda's family, relatives and friends sang a beautiful song, especially for her. It goes like this:
What a friend we have in mother
Who will all our secrets share
We should never keep things from her
Tell her all and she'll be there
Oh what tender love she gives us
When in sorrow or despair
Tell her gently whisper softly
She will listen she'll be there
Day by day as she grows older
She's the nation's shining sun
Don't forget the prayers she taught you
You will need them where you are
Though her hair has turned to silver
Send her flowers sweet and fine
Drop a card or send a letter
She'll be waiting she'll be there
When her eyes are closed to slumber
Gently kiss her icy brow
Fold her hands upon her bosom
She will rest in Heaven now
When your days are dark and dreary
And your cross is hard to bear
Do not let your memory fail you
Think of mother she'll be there
The farewell song was composed by Laurinda Jayasuriya herself. She had given it to a friend and asked that it be sung at her funeral. Laurinda's granddaughter and friend's daughter sang this song which goes like this:
Lord I need you very much
Oh Lord I need you very much
All your love, Joy and Peace,
Then all my troubles and fears depart,
From you I gain perfect rest
To Thee I open my heart Lord,
To Thee I open my heart
Come and take your place Lord
Come and take your place
Help protect and be with me
Till I see you face to face
I need you, I need you very much
Fill me with your spirit oh Lord
You and I are one Lord,
Doing our Father's will
As I walk with your hand in hand
Lead me on to the promised land
Goodbye and thank you Laurinda. You have now found peace with God in that land where there is no more suffering, pain or parting.
It is the land where the bear will be gentle, the wolf will be tame and the beasts of the wilds will be led by a child.
In that sweet by and by we shall meet on that beautiful shore. It is a land that is fairer than day, and by faith we can see it afar; for the Father waits over the way to prepare us a dwelling place there.
-A friend
---
He instilled in  us the values of honesty and integrity
M.E.C. Fernando
My first memory of my father was when I was around three years of age when he was Principal of Dodangoda Maha Vidyalaya. After work he occasionally used to take a walk around the school grounds with me clinging on to his forefinger.
Right throughout my life he has been guiding and inspiring me until that sad day on September 8, 2014. The loss is not only for members of our family but also for countless students whom he taught over a period of 35 years with dedication.
My father's mother had died at childbirth when he was around a year old and he was brought up by his grandfather and a host of aunts and uncles.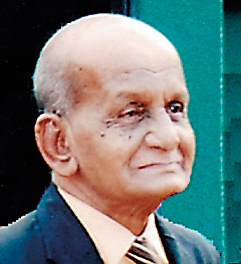 He had a happy childhood riding on his grandfather's racing bullock cart, and swimming in the river. He had attended the village school in Puwakaramba, Moratuwa and his entry in to Prince of College (PWC) was filled with drama.
PWC had on offer scholarships for which an examination was held. The bus that my father was travelling in along with his aunt, to come to PWC for the exam, had met with an accident.
My father had been admitted to hospital to get the wounds dressed. The next day he was taken to the Principal to explain matters. The Principal had opened the Complete Works of Shakespeare and asked him to read an extract.
Thanks to his aunt's (Neeta) English lessons, my father was able to impress the Principal and win the scholarship to enter PWC.
At PWC my father was not only good in his studies but was involved in a diverse range of activities including debating and cadetting. He was a proud member of the senior Cadet platoon which won the "Herman Loos" trophy.
Back in those days only two passes out of three subjects were required at A'Levels to enter the university and my father was so confident of the two passes that he had skipped the third paper and gone to watch a movie with his friends.
He was selected to the University of Colombo to pursue his BA degree. However his interest lay in broadcasting and he expressed his desire to join Radio Ceylon to his uncle Mr. F.W Fernando who being his father's brother had taken upon himself the responsibility of bringing up my father. The uncle's advice was hard hitting and conclusive. "First finish your degree".
He spent one year at the University of Colombo and was fortunate to be in the first batch of students at the University of Peradeniya under Sir Ivor Jennings. During this period Leftist ideology had a profound influence on him and he was a lifelong sympathizer of the Left movement.
The Moratuwa YMCA was a favourite haunt of my father during this time and at one time he won the YMCA Bridge Tournament. He was extremely proficient in Sinhala and English both spoken and written and was an excellent translator as well.
On many occasions he had been called upon to be the editor of commemorative souvenirs.
After finishing his BA, he joined his alma mater as a political science teacher under the legendary Principal J.B.C Rodrigo. He was around 23 years at the time and when he walked in to class for the very first time, the senior students who were only about four years junior to him tried to rag him by making unwanted noises.
My father picked out one boy and gave him a thundering slap by which act he was immediately able to take control of the situation. The hapless student was his own first cousin Suranjith Mendis who up to this day professes his innocence.
While he was a teacher at PWC he married my mother who was a Maharagama trained science teacher working at Princess of Wales' College.
Their wedding reception was held at the PWC Main Hall with the Governor General of Ceylon, Sir Oliver Goonatileke proposing the toast. It was a marriage made in heaven and flourished for 55 years until his passing away last year.
His first appointment as a Principal was at St. Andrew's College, Nawalapitiya during which period my sister was born.
Thereafter with the takeover of schools by the Sirimavo Bandaranaike government, my father served as Principal of the Industrial School which existed at the current Nalanda Vidyalaya premises.
During this time he successfully completed the post graduate Diploma in Education at Peradeniya. He was transferred to Dodangoda Maha Vidyalaya from where he moved to St. Anthony's College, Panadura and finally to PWC Moratuwa.
PWC had been in the doldrums and there was a strong demand for an old boy to be appointed as Principal. The MP for Moratuwa, Tyrone Fernando, used to regularly seek my father's opinion as he acknowledged that he was one who "called a spade a spade" and gave him honest feedback.
My father's loyal student Minister Sarathchandra Rajakaruna gifted his first salary as MP for Dompe to PWC which opened the flood gates for funding and the school was never short of funds for development and sports activities.
Two incidents during this period stand out in my memory. The first was the referendum held in 1981 at which my father was on election duty as an ARO in the Galle region. After counting was concluded I was driving my father back home in his Ford Anglia.
Somewhere in Ratgama a gang of people with poles blocked the road. Apparently they were supporters of the defeated area organizer. I was 19 years at the time and taking advantage of a burst of adrenaline I swerved the car in their direction and when they took a step back I floored the accelerator and sped away. Many times I heard my father talking about this escapade with pride.
The second incident was the daylight robbery at gunpoint of the PWC payroll when my father was trying to turn his car in to PWC after collecting the money for staff salaries from the bank.
Two shots were fired and he dodged one bullet which sped an inch away from his left ear. The robber opened the door and grabbed my father's briefcase but my father clung on to the bag which snapped open and a couple of cash bundles fell down.
The robber twosome sped away on a motorbike but not before a brave Cambrian schoolboy shattered the side mirror with a well-aimed soft drink bottle. The shattered mirror enabled the Police to track down the suspects.
My father was back at work the next day arranging salary advances for staff members.
Although he never played competitive cricket he was passionate about the game. He served as the President of the Sri Lanka Schools Cricket Association and was an ex-officio member of the Cricket Board.
He was the Manager of the Sri Lanka schools national team which under the captaincy of Marvan Atapattu toured England in 1978. Moratuwa is a cricket crazy town and rugby was then an alien sport. It was my father who first introduced rugby to PWC and to Moratuwa.
Thus it is a fitting tribute that the 'MEC Fernando Trophy' is awarded to the winners of the annual rugby 'big match' between PWC and Science College.
My father was involved in many voluntary activities. He was a teacher at the Moratumulla Methodist Church Sunday School and served for many years on the management committee of the Home for the Aged on Galle Road.
He lived a fruitful life of 84 years and instilled in all of us the values of honesty and integrity. He did not care much for money or for those whose goal in life was to accumulate wealth.
He was content with what he had. This is the reason I considered him to be the 'richest man in the world'. Above all he showed us by example the importance of sticking to principles regardless of consequences. He was indeed a Principal with principles.
As my son floated his ashes along the Moratuwa river on the day after the cremation, I felt a great loss. The forefinger that I clung to as a toddler 48 years back was not there for me anymore. But we will continue to hold on to the lessons he taught and the values we caught.
These will be our guiding star until we meet again one day, on that beautiful shore.
-Mithraka Fernando
---
A family man who helped all of us
Bertram Coorey
It has been two months since my father passed away peacefully. He was born in Moratuwa, to an Anglican family. He studied at Prince of Wales College and played cricket for the college in the 1948-1950 era.
He was a fine sportsman and cricket was the passion of his life. Later he played at club level, never missed any match, watching and listening whenever Sri Lanka played. He worked at the CTB for 25 years as a Stores Supervisor at Werahera.
My mother, Hester, was a tower of strength for him to educate a daughter and five sons. She helped him in his work at home after work, to bring us up.
After we all married we settled in Moratuwa close to our parents' home. My father was a family man always taking care of his grand children, taking them to school in his bicycle after retirement. He always helped my brothers who lived next door to him.
My father lived to the age of 85. Sadly he was too weak during the last few months losing his eye sight due to Glaucoma. But he had a good memory and regaled us with good old stories from the past.
He was a great inspiration to all of us. He was truly a gentleman and his capabilities were immense. My mother passed away before him, but he lived three more years with my youngest brother who looked after him so well until his last days.
Thank you thattha for all you did for us.
Until we meet again on that beautiful shore may his eternal soul rest in peace in our Saviour Almighty's Hands.
-Bryan Coorey
---
You shared a special bond with each and every one of us
Florine Haneera Rahaman
Florine was the eldest daughter, born to a family of five girls. When she married my late father, she was 20. They had seven children. Coming from a family of all girls, she had six boys and only one girl.
The baby girl by a strange coincidence, was born on the same day, 21st February as her mother, and would have brought immense joy and happiness to the young family but alas, our sister was a 'special child'.
Mum's life was devoted to her care and well being for almost fifty years, whilst also fulfilling her duties and obligations to her six sons.
Mummy's favourite son was her eldest Zinhar. They enjoyed a very special bond. I recall how thrilled she was to see Zinhar's newborn baby daughter, Zaharine.
When Zinhar passed away in June 1998, I recall how heart-broken she was. He died quite young and Mummy could not come to terms with this sudden and irreparable loss.
Brother Ramzi managed to fill this void and soon became Mum's favourite. Being the hairdresser and beautician, he would always ensure mum was well groomed and beautifully attired at all functions much to Mum's delight.
She basked in glory when Ramzi introduced her to the world of beauty and fashion; she knew that she was clearly his favourite model.
Brother Silhan shared a unique relationship with her. He managed her home affairs and almost single handedly, coordinated and liaised with Mum's and Rosie's regular visits to the doctor's.
The well maintained medical files and records are testimony to his devotion, love and care for both of them. Mum loved Silhan for his punctuality and righteous approach to life.
Mum longed to see Lakshan more often, since his work took him overseas frequently. She had a passion to socialize and Lakshan would be entrusted by Mum, to ensure her guests were taken good care of.
Lakshan was in Paris, when Mum passed away but made it 'on time', to perform her last rites, with Almighty's grace.
My relationship with mummy is a very special one. I was privileged to take her on her maiden trip overseas to Singapore and Malaysia, with my wife Diana and also to Melbourne. But the most unforgettable overseas tour with Mum was to Mecca to perform Umrah in 2008.
Mum loved the family events organised at my home and never missed any of them. Whether it was a birthday, anniversary, year-end party, recitals or our annual Family Ifthar, she was always at the centre and enjoyed herself immensely.
She was always proud of all her sons and I knew that I was always spoken of by her with pride and affection. In August 2014, we had another memorable family trip to my Digana holiday home.
An eternal fragrance
On that sad day in August, when the whole country was thinking of winning and losing at the elections, it was the loss of Florine Rahaman that hit my heart. It was a gnawing sadness that was felt by all who knew her, and a grief that was hard to bear for her children.
Not only was Florine's demise a sad loss for her family, it also left a void in these modern times – for Florine represented the softness, femininity and impeccable style of an era gone by.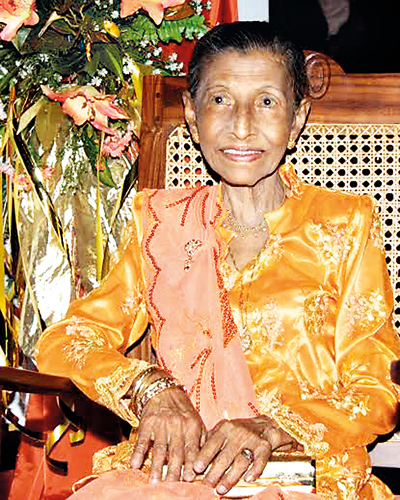 I first met Florine when I walked into their humble home in Borella to interview her son Ramzi Rahaman. Her sweetness filled the air and her voice mingled with the soft music from Ramzi's music set.
Though Florine's celebrity son Ramzi Rahaman should have been the centre of attraction, it was Florine who stole the show with her sweet smile, her glamour and her frail yet sprightly form.
Florine married Tuan Wangsa Rahaman, who was then an accountant at McLarens Shipping. Together they had seven children. There were tears in her eyes as Florine spoke of their eldest son Zinhar Rahaman, who is now no more. But she spoke of his success as an Inspector at the Sri Lanka Customs.
Then her eyes lit up as her second son Ramzi Rahaman came to mind – for Ramzi the beautician, it was evident, soothed not just her hair but her mind too.
A sense of contentment set into Florine's mind as she spoke of her sons – her third son, Silhan Rahaman, a Coordinating Secretary to Minister Ravi Karunanayake, fourth son Lakshan Rahaman, a Senior Executive Cabin Crew Safety Instructor at Sri Lankan AirLines, fifth son Taslim Rahaman, the Director CEO, Metropolitan Office Pvt Ltd., her only daughter Rozanna Rahaman, and her youngest son Rinaldin Rahaman, a Senior Manager at George Steuart Recruitment (Pvt ) Ltd.
It was easy to see that Florine was a happy person. Her children, nature and every fresh new day could make a person as simple as Florine blissful. Her life is one that can be described as a 'life well
lived.' Having brought up her children with great commitment and dedication, the time had come for Florine to sit back and enjoy their successes.
Florine was a lady to be admired. Dressed to perfection, her soft voice and charming smile and the sincerity of her words – all reflected in her eyes. It was easy to compare her to a porcelain doll, but then the active lifestyle she led and her great dedication towards making her children shine in society, portray her as a remarkable success in life's chosen role. Be it poise, glamour, generosity or intelligence, Florine stood tall.
As all those who knew her mourn her loss, and as our teardrops fall, it is easy to visualize Florine Rahaman, smiling and reaching out to wipe those tears and our sadness away. It is hard to wipe away the beautiful picture of Florine Rahaman that remains etched in my mind.
-Ranee Mohamed
Youngest brother Reno was her gentle son and always had a very kind and warm approach, when dealing with her. We knew she had a soft corner for him, being the youngest.
Mummy's life revolved on many others as well. Her closest associates were her sister Aunty Ezmalene and cousin aunty Zanita. They would exchange news and updates on their day to day activities, putting 'Facebook' to shame. Mummy was devastated when she learnt that Aunty Ezmalene lost her daughter, just a few months ago.
Her last days were in my home, when she came to recuperate after a stay in hospital following a fall. I am deeply grateful to Almighty Allah for giving me the privilege and honour of taking care of Mum during that brief period.
A large gathering came to pay their last respects to her – a cross section of people from various sectors. This was a fitting tribute to a great lady who lived a life of celebration.
Dearest Darling Mummy, you were truly a caring, devoted and loving mother. Rest peacefully darling Mummy, we will uphold your values and take good care of Rosie. Although we will miss you immensely, I know that you are above us and will continue to bless, protect and take good care of all of us.
May you enter Jannathul Firdouse – Ameen.
-Your ever loving son, Taslim