PM: Protect the old to give Colombo a new look
View(s):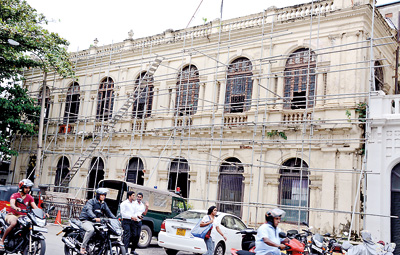 Prime Minister Ranil Wickremesinghe called for the preservation of some of the city's oldest building facades in keeping with a plan to make Colombo city a more tourist-attractive spot. The premier, who earlier this week, visited the Fort and Pettah areas asked for a census to be conducted on all the old buildings. He also requested that ongoing renovations be done with care.
Speaking to the Sunday Times the premier's chief of staff, Sagala Rathnayake said according to the Government's plan more boutique hotels and restaurants were to come up in the city.
He added that the previous regime had renovated old buildings while preserving their facades. The new Government too would do the same by encouraging the private sector to invest in these buildings. "We don't want to sell off Government property, rather we want the private sector to invest in these buildings by opening restaurants and boutique hotels," he said.
The Prime Minister visited the Board of Investment building near the Ministry of External Affairs and an old building occupied by the Civil Defence forces in the vicinity. He also visited St Peter's Church located next to the Police Headquarters in Fort and several other privately-owned old buildings down Mudalige Mawatha, Colombo 1.