African 'millionaires' dupe outstation fat cats with counterfeit US$ 1 million notes
View(s):

More than 40 persons swindled by foreigners who sold counterfeit US$ 1 million currency notes, have complained to the Criminal Investigations Department (CID) during the past one month, a senior Police officer said, The group running the scam are from African countries. They are in Sri Lanka on visit visas. Their target group comprises mostly businessmen in the north and east and outstation towns, police investigations reveal.

"The visiting foreigners, helped by a group of locals, usually visit the outstations and spend a few days in a hotel in the area. During their stay, the local agent visits prospective businessmen and informs them that US$ 1 million denomination is available for sale," the officer explained.

"They claim that the visitors urgently need cash and are disposing of the US$ 1 million note at Rs 1.3 million, while providing a certificate testifying to the authenticity of the note," he said. The 'Certificate of Authenticity' states the US$ 1 million note is 'Original and Genuine', and printed by the 'American Bank Note Company in 1988, exclusively for the International Association of Millionaires'.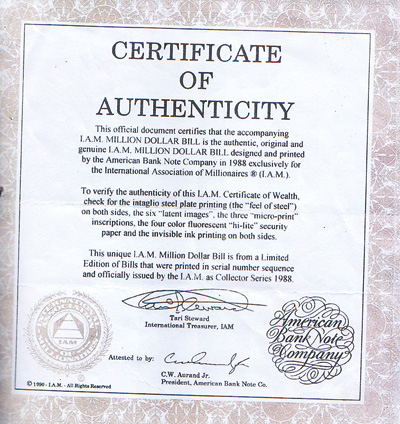 It also decribes how to verify the authenticity of the note. "The local agent usually negotiates the 'exchange rate' depending on the client. If the prospective buyer appears to be affluent, the market rate is applied, However, there have been instances they have sold the note for Rs 300,000," he added.
He said investigations reveal that different teams were involved in the racket, and, usually, when a transaction is successfully carried out they do not remain in the area. Victims, after the 'exchange', proceed to the banks to encash their notes, where they discover their folly.
Some victims were either too embarrassed to complain or concerned that action would be initiated against them for an illegal transaction. The racket, earlier carried out in towns, was later shifted to the villages to avoid detection.The officer said they expect public cooperation to gather more information about the racketeers, as there were locals too involved in it.
Among the areas from which complaints have been received to date are Jaffna, Vavuniya, Trincomalee, Hatton and Anuradhapura.