Torana releases four popular teleplays as DVDs
View(s):

Four popular teledramas that were telecast in the mini screen in the recent past have been put out as DVDs by Torana Video Movies are available in the market now.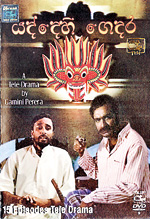 The teledramas include 'Yaddehi Gedara' and 'Kaluwara Adaviya' directed by Gamini Perera, 'Soduru Sitheththi' directed by Eranga Senaratne and 'Sadgunakaraya' directed by Asoka Athaudahetti.
'Yaddehi Gedara', a thriller produced by G. Mampitiya revolves around an ancestral house, a Walawwa and its chief occupant Yaddehi Gedara Bandara. It shows how Bandara learns about a hidden treasure in one of his properties and makes plans to unearth it. But misled by a black magician (Kattandiya) he gets into major trouble. The black magician even convinces Bandara to kill his own son as a sacrifice to get the treasure.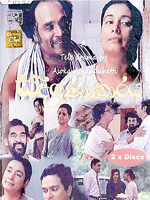 The teledrama stars Sriyantha Mendis, Buddadasa Vithanarachchi, Vasanthi Chathurani, Damayanthi Fonseka and Wijeratne Warakagoda in the main cast.  'Kaluwara Adaviya' produced by G. Mampitiya is a story revolving around a daughter of a feudal family. It describes how her hasty decisions taken with emotions leads her to many downfalls. The teledrama is played by Shriyani Amarasena, Jayasekara Aponsu, Linton Semage, Wijerathna Warakagoda among others.
Based on a story and script of Sunethra Rajakarunanayake, 'Sadgunakaraya' is set in 17th century Sri Lanka. Revolving around six generations it tells the story of a mother and a son who are fleeing after the defeat of the uprising against the British. The teleplay stars Clitus Mendis, Chandani Seneviratne, Wasanthi Chathurani, Sriyantha Mendis, Anula Bulathsinghala and Milton Perera.
The fourth teleplay released as a DVD is 'Soduru Sitheththi', a love story based on a script by Mahesh Rathsara Madhumaarachchi. It's a love story between a doctor hailing from an upper class family background and a poor lass.