Nostalgic Memories at OTSC : Sing- Along with Annesley
View(s):

Old Thomians' Swimming Club, well known for its state-of-the art entertainment celebrated its nineth Sing- Along Presentation (commencing from the year 2006), with well know singer, entertainer Annesley Malawana and his band the Super Chimes last week.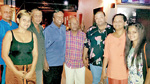 The Club House was full, I suppose the Thomians, love good entertainment. Annesley paid tribute to the OTSC, for giving him an opportunity, to present his first ever Sing- Along way back in 2008. He tagged Tusita de Alwis, who was the Social Secretary at that time at OTSC as an experienced campaigner, whilst stating that the little dynamo fine-tuned him the art of presenting top Sing- Along evenings.
In all honesty Annesley was far beyond compare. Many will struggle to emulate him. Because of his rich voice, stage personality, and his choice of songs. All of us revisited the Golden era, in our lives as we sang lustily, songs our mums thaught us. The nostalgic memories with Annesley bring tears of joy to all of us, as we sang wonderful oldies that live to infinity.
The OTSC introduced a new concept, by screening the song book on a wide screen. This is amazing, because all of us were able to open out our vocal cords better by not looking down at the song book. It's similar to reading your speech on a teleprompter, which means your eye contact with the band and our maestro Annesley is on focus.
Honestly I loved the night which went on past 12.30am, yes I have given up broadcasting, but this was a special night, the 25th of July was very special. The Club felicitated, the Water Polo Team, the College song was sung as a token of appreciation for the champion outfit.
The entrance ticket and visiting card draw, the exquisite gift for the winners is worthy of a mention. Hospitality and the service at the OTSC is better than the best.
Brian Thomas
Former Broadcaster cum TV Host
Old Boy of S. Thomas' & Trinity, Kandy