Loving every moment as a commercial model
By Duvindi Illankoon
View(s):
Heads turn as the tall, lithe young woman strides across the Cinnamon Grand lobby. The former Miss Sri Lanka for Miss International is undeniably beautiful, yet it's her confidence that immediately resonates at first glance. Fiercely intelligent and independent, Madusha Mayadunne embodies the millennial ideal of a beauty queen with self-assured poise.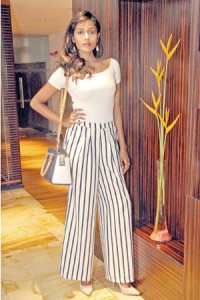 During our interview Madusha, 27, speaks freely and frankly, words tumbling out and tripping over each other as she talks of her life and modelling career in the US. "I absolutely love it," she enthuses. "I will always be a proud Sri Lankan through and through, but I've really settled into my skin in the States – and of course, the work is fantastic."
Madusha is in Sri Lanka accompanying friend and mentor Nigel Barker and his family, as he makes his first official visit to the country for a programme on fashion photography and modelling. "We've planned for this for a long time," she tells us. "Sri Lanka has potential to be a fashion capital in Asia and Nigel knows what it takes." Madusha also hopes to dismantle beauty stereotypes in a country where white skin is still considered to be a beauty ideal-and where she was not often described as a beauty growing up.
That's why, almost a decade after she began modelling, Madusha is still somewhat bemused at her success. "Growing up, modelling was never an option for me," she says. "I was meant to become a doctor and that's what I was groomed for." She grew up as somewhat of a globetrotter, studying in both India and Sri Lanka before completing her secondary education at a boarding school in England. It was here, she says, that she blossomed-"I came out of my shell and began to believe that I was as good as anyone." Madusha moved to the US to study biomedical sciences at Westminster College and received an internship at the University of Pennsylvania Medical Centre.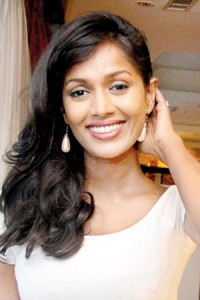 The trajectory of her career changed when she was pursued by a modelling agent after a visit to the gym; "She ran behind me and gave me her card. It took me two weeks to write back, and once we did a test shoot I was very pleased with how it turned out." Her family was hesitant but with her fiancé's persuasion, they agreed to let her pursue a career in the modelling industry. "I worked very hard," she says. "I went to New York, Miami, Chicago, Paris, London – it was incredibly challenging and I thrived on it."
These days Madusha works primarily as a commercial model, which she prefers because, "I'm a 'personality'," she laughs. "I like being able to take on roles and be different people, plus it's so much fun on a commercial shoot. I'm always asked where I'm from, and instead of letting people use that difference against me I tell them about how beautiful Sri Lanka is and how diverse our people are."
Being 'different' has worked in her favour because she lets it, says Madusha. "It's true that if you're in New York or LA, more jobs are available for white girls. But because I'm Sri Lankan I bring something different to a shoot and trust me, you're the centre of attention because you're exotic and elegant and just different." When she returned after winning the 2nd runner up place at the Miss International pageant 2012 in Japan, she came home to a mixed reception.
"I've always been proud of my culture but I've never been able to blend in and be accepted here," she says. "It wasn't my environment to thrive in Sri Lanka. I was a little heartbroken afterwards. Your parents shield you from certain things growing up but when you're out in society you realize that it can be a difficult place to be yourself. People are always trying to stereotype you and I just didn't care for that. So I moved back to the States and signed up with some agencies and I was happy again."
She guards her independence fiercely, adding that she'd never be happy if she wasn't challenging herself. Right now, Madusha is studying for a Masters in Psychology on the side-"I love it," she smiles. "I'm a straight A student. I have this dream job that takes me to incredible places. I have the love and support of my family…I believe in the timing of life. Right now I'm exactly where I want to be and that keeps me on my toes."