'Aloko Udapadi'- Light Arose Cinematic capture of great history
View(s):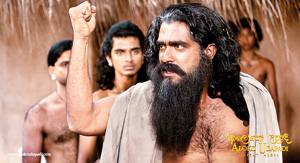 'Aloko Udapadi'- Light Arose another film depiction on the important chapter of the Sri Lanka's history is directed by Chathra Weeraman and produced by Thusitha Wijayasena.  The film revolving around the story of the recording of the Buddha's Dispensation, in written form, after long centuries of oral tradition in a turbulent historical backdrop, has completed its production and is ready for release. Produced by Art Movies, the film trailer of 'Aloko Udapadi' was released to media and You Tube and the Facebook page and its official website of the film was launched. 
The film screenplay written by Saman Weeraman is about the leading Sri Lankan Buddhist monks, who recorded the sacred word of the Supreme Buddha in writing, while the land was aflame with war and famine, in the days of the Sri Lankan King Walagamba, 2100 years ago.
King Walagamba, the central character in this film epic who ascended the throne in 103 B.C. is the son of Saddhatissa, younger brother to King Dutugemunu. King Walagamba became King at a time when the Kingdom was in the grip of a series of multi-pronged threats. Driven to rule in two sessions, King Walagamba's first spell of rule, was shattered, in just three months after he assumed Kingship, by Cholian invaders.
The film is also to depict the profound role played by the members of the Maha Sangha, to ensure the continuity of Sri Lanka's royal line and to preserve the sacred human heritage of the Buddha's dispensation for the well-being of the totality of mankind. One stream of the Buddhist Brotherhood of the day spent their last breath, to keep alive the oral tradition of the Buddha's 84,000 part Dispensation. With an astonishing farsightedness the Chief Prelate of the Time Ven. Mahatissa deployed the two Streams of monks – the scholars and the mass leaders, to save the holy Kingdom and its precious spiritual heritage. The ordeals suffered by the monks, to survive a devastating famine, that took a tragic toll of life, form a grievous chapter in the story of mankind's spiritual progress. The Maha Sangha, of this era, converted themselves into the custodians of the spiritual heritage, with little or no thought about the threat to their own lives.
As things were, King Walagamba's throne was threatened both from outside and from within. The indigenous threat originated from powerful Brahmin leaders and the Kshathriyas of the Rohana Settlement, in the Deep South.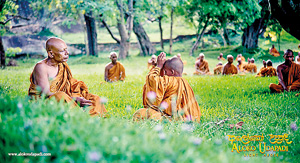 The main cast of 'Aloko Udapadi' includes Uddika Premarathne, Dilhani Ekanayake, Nirosha Thalagala, Roshan Ravindra, Menaka Peiris, Mauli Matheesha, Nayana Manujitha, Dineth de Silva, Ajith Kumara, Nihal Fernando, Kapila Sigera, Dilip Manohara, Cletus Mendis, Darshan Dharmaraj, W. Jayasiri, Buddhadasa Withanarachchi and Janak Premalal.
Behind the screen director of photography is Prabath Roshan, music director is Milinda Thennakone, Shan Alwis is the editor and Sasika Ruwan Marasinghe is sound designer.