Traffic snarls and commuter growls worsen as transport system overloads
By Nadia Fazlulhaq and Aviral Mishra
60 per cent of pollution caused by congestion with 7m journeys in Colombo daily
View(s):
People-friendly, beautified Colombo is a traffic nightmare, with fuming drivers spending hours on choked roads every day, while an expert warned that putting up new expressways in this congested space would not provide solutions.
Seven million trips are made each day in the Colombo metropolitan areas and this is estimated to grow to 12.2 million trips in 2035, according to the Urban Transport System Development Project feasibility study for Colombo and Suburbs prepared for Sri Lanka by the Japan International Cooperation Agency (JICA).
Added to this is the projected growth in the population in Colombo metropolitan area from 3.7 million to 5.1 million by 2035. Colombo's working population is 2.1 million.
Central Environment Authority (CEA) Air Quality Unit official R.M. Kulasena said traffic congestion contributed to 60 per cent of air pollution. Vehicle emission standards should be amended, he said. The density of pollutants NO2, SO2 and CO had increased during peak hours.
Dr. T. Sivakumar, Head of Department of Transport and Logistics Management at the University of Moratuwa and a team of other experts are conducting a feasibility study on a Bus Rapid Transit (BRT) system for the Transport Ministry.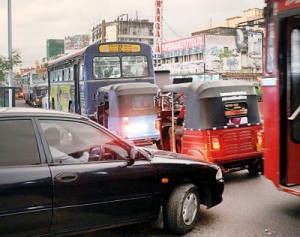 A BRT is an integrated system that uses buses on dedicated lanes to quickly and efficiently transport passengers to their destinations, at the same time offering the flexibility to meet transit demand.
Dr. Sivakumar said buses need technological aids such s GPS mapping and a functioning speedometers as well as proper scheduling.
Tharindu Nuwan, 23, travels daily from Kadawatha to Fort and says he needs to take the bus at 6am to make sure of being at office before 8.30am.
"The authorities should focus on reducing traffic congestion at the entry points especially the Negombo and Kandy roads," he said.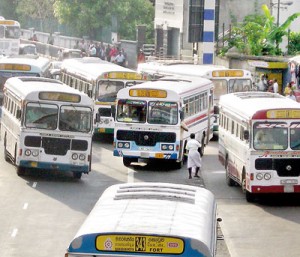 Sriyani Pradeepa, 49, from Battaramulla, a mother of three schoolchildren, is a state sector employee who has to travel between Fort and Battaramulla daily.
"The Kaduwela-Battaramulla area experiences severe congestion both in the morning and evening. This is also the same within the city like in Borella. We spend hours on the road and are exhausted by the time we reach home," she said.
Ruwan Ameradeva, 50, travels daily from Ambalangoda to Fort, taking the heavily crowded train rather than using the expressway. "The trains are crammed with passengers," he said.
Two Colombo taxi drivers, T. Sallay from Colombo and N. de Costa from Ja-ela complain that traffic congestion is significantly increasing despite improvements to the city.
"Sometimes one-ways and flyovers are not helpful at some places. In Maradana and Duplication road, the one-way creates more traffic while the Dehiwala flyover does not help to control the traffic congestion. One-ways should be implemented in order to avoid traffic not aggravate it," said Mr Sallay.
He said increasing the width of pavements had resulted in narrow roads, such as on Galle Road.
"Flower Road, Gregory's Road, Horton Place and areas adjoining the roads continue to experience severe traffic blocks, especially in the morning. Havelock Road towards Kirulapone too has congestion and is a route crammed with buses. The city not only should be beautiful but also a place that has an efficient public transport system," said Mr. de Costa.
He said there was a need to regulate private buses so that they provided good and efficient service.
Among the identified high traffic flow-routes are Kollupitiya-Sri Jayawardenapura, Colombo-Kandy, Colombo-
Galle, Colombo-Ratnapura, Peliyagoda-Puttalam, Borella-Rajagiriya, Orugodawatte-Ambatale and Hekitta-Mattakuliya.
The two-year feasibility study handed over the Transport Ministry by Japan in August suggested several transport solutions for each major transport corridor. The solutions include a monorail system for Malabe corridor and North Colombo, BRT and railway modernisation for the Galle Road and Kandy road corridors, bus priority lanes for Negombo, Horana and Low Level Road corridors, elevated port access road from Kelani Bridge to Colombo Port to facilitate cargo movement, and a multi-modal transport hub in Fort together with several multi-modal transit centres at the suburbs.
The JICA's Namal Relapanawa said the feasibility study for the monorail system for the Malabe corridor had been finalized and handed over to the Ministry.
The feasibility report states, "It is also of great importance to promote private sector participation in transport system development and reduce the burden on the government in transport infrastructure development and transport service provision."