Satyagraha attackers still at large while students go on own rampage
By Aanya Wipulasena
View(s):
Assailants of Sabaragamuwa University students are roaming free more than a week after a violent attack with police saying defensively they had not yet questioned a UPFA Pradeshiya Sabha member alleged to have led the thugs because he had been absent from home when visited.
University and government authorities condemn the students, saying they are acting lawlessly to pursue political, not civic or educational ends, had forcibly occupied a new hostel and had rebuffed efforts at compromise.
The university remains closed indefinitely.
Students launched a protest on Thursday, calling on authorities to reopen the university and resume lectures.
Sabaragamuwa University Student Collective Acting convener Nuwan Buddhika said students and residents who witnessed the attack had lodged two complaints with police but no arrests had resulted.
On the night of Friday, October 10, students participating in a satyagraha campaign at the Pambahinna Junction on the Badulla-Colombo road were attacked by masked mobsters armed with petrol bombs and wooden cudgels.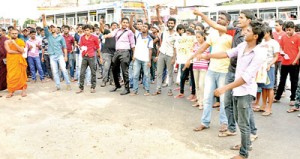 More than 20 students were injured and 13 of them were admitted to the Pambahinna rural hospital following the attack; six were later transferred to Balangoda Base hospital. All were discharged this week.
Students launched the satyagraha in protest against the abolition of university student unions in state-run universities, suspension of students in various incidents over the past few years and non-implementation of Human Rights Commission recommendations.
"We are very disappointed in the way that our case is being handled. Students were brutally attacked in front of the public but the relevant authorities have not made any attempts to arrest the persons involved," Mr. Buddhika said adding that that there was evidence that the mob had been led by a UPFA Pradeshiya Sabha member and this information had been given to police.
Balangoda police acknowledged they had not made any arrests but were on the lookout for the attackers. They said that the Pradeshiya Sabha member was not arrested because he had been absent when they had visited his house.
Separately, 12 students arrested by the Balangoda police for blocking the vehicle of the Minister of Higher Education S. B. Dissanayake, who visited the university to declare open a hostel last weekend were granted bail on Tuesday. They face charges of disturbing the peace and holding an illegal public meeting.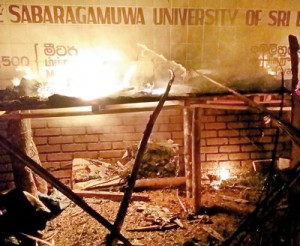 In a bid to restore harmony between the students and university authorities, lecturers at Sabaragamuwa University held two meetings with students this week but the students claim the solutions being offered are one-sided.
"They promised us verbally that they will restore our student union, abolish student suspensions and give students freedom within universities. But we see two problems: they said they will let the student union continue following an election. This is against the constitution of this country. They are only trying to suppress the students," Mr. Buddhika said.
The Vice-Chancellor of the University, Professor Chandana P. Udawatte, said he had no idea what the students wanted. He suspected they were being politically influenced to disrupt harmony within universities.
He said the students had now forcibly seized the newly-opened hostel. The hostel belonged to all students and this action was against university laws, he said.
"Lecturers of the university tried talking to them and said that they will grant them their demands. Now they are opposing to that too. I do not know what they really want. They are very stubborn and selfish," Prof. Udawatte said adding that he will not reopen the university until the issue is over.
"This is only a fraction of students who are causing all this disruption. Everybody knows that. Because of them thousands of students whose only objective is to pass out with a degree are left at home," he said adding that he is working with the University Grants Commission to tackle the matter.
In a speech marking the opening of the new hostel last Saturday Minister Dissanayake compared the students who launched the satyagraha to flies and said he was not afraid of them.
Quit hostel order
Sabaragamuwa University Students who are occupying the hostels have been ordered by the Balangoda Magistrate Court to leave.
The court order on Friday follows a complaint by the Balangoda police that the students were forcibly occupying the hostels.