New ICT lab for Batticaloa Technical College with Korean aid
View(s):

A new Information Communication Technology (ICT) lab was declared open on Tuesday at the Batticaloa Technical College. It was constructed at a cost of Rs 4 million, with financial assistance from the Korea International Cooperation Agency (KOICA).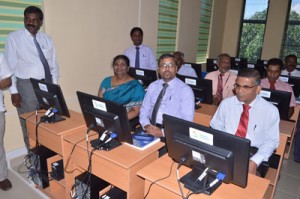 Chief Guests at the opening ceremony were Director General, Department of Technical Education & Training, J.A. Ranjith and KOICA Resident Representative, Cho Kyu Chan, while the Guests of Honour were Batticaloa Government Agent P.S.M. Charles and Ampara Hardy College of Technology, Director, A.L. Badurudeen.
Batticaloa Technical College Principal, T. Ravichandran said that, with the help of this lab. the institute will be starting two ICT courses in Tamil and English next year.
"Next year, more than 30 courses will be conducted free of charge. Considering the financial condition of the students, a monthly allowance of Rs 1,000 will be granted to each student," he said.
He added that, when it comes to employment, youngsters are found lacking to face the current market, hence, the courses in this institute will help them find employment.