Lawyers debate Rajapaksa's third term
View(s):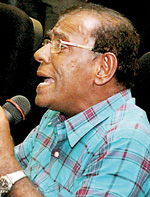 Mixed views were expressed at a forum organized by the Bar Association of Sri Lanka yesterday to discuss the Constitutional provisions regarding President Mahinda Rajapaksa's suitability to run for a third term.
Beginning the proceedings BASL President Upul Jayasuriya said time had come to remedy the breakdown of law and order in the country.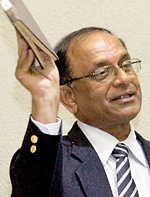 Mr. Jayasuriya said that the BASL obtained independent expert opinion on the issue from Dr. Suri Ratnapala, head of faculty of law, University of Queensland, Australia in response to the current public debate. The discussion was based on the expert opinion furnished by Dr. Ratnapala (Please see separate story).
The panellists — Dr. Prathiba Mahanamahewa, Dr. Sunil Coorey, and Dr. Jayamapathi Wickramaratne — expressed opposing views during the discussion.
Dr. Mahanamahewa said there was uncertainty in the matter while Dr. Wickramaratne agreed with Dr. Ratnapala who had opined that the incumbent President is disqualified from contesting a third time. Dr. Coorey said the President is entitled to run for a third term.
Heated arguments ensued during the discussion. The debate which was meant to be an academic exercise became intense when some of the members in the audience began airing political views.
Former president of the BASL, W. Dayaratne PC spoke, amidst hooting and yells, in support of the 18th Amendments and its provisions which would allow the incumbent President to run for a third term. A majority of the audience pointed out a number of flaws in the current Constitution and also the 18th Amendment.