Doctor and two others killed in road accident
View(s):

A lady doctor and two others were killed, while another two were injured when an ambulance rammed head-on into an oncoming truck at Bathuluoya on the Puttalam-Chilaw Road yesterday, police said.

The dead victims are Dr Ms Ishani Jayewardene, 26, A.M. Irshad, a junior hospital worker, while the third was yet to be identified, police said.
Among the injured were a nurse and the ambulance driver. The pair are currently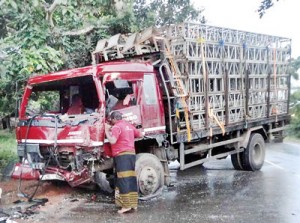 undergoing treatment at the National Hospital in Colombo, they said.
The incident took place when the ambulance was returning to the Puttalam Base Hospital after transferring a child patient to the Lady Ridgeway Hospital (LRH) in Borella, police said.
According to police, the driver of the ambulance had apparently fallen asleep at the wheel, due to fatigue.
The driver of the truck was subsequently arrested and was to be produced before a local magistrate.
High-risk Resident Medical Officers operate sans most govt. benefits
Government Medical Officers Association (GMOA) Assistant Secretary, Dr Nalinda Herath, referring to the case, said that Resident Medical Officers (RMO), who are most vulnerable to risks in the field, do not get most of the benefits permanent government officers receive.
"They are not even registered under the Agrahara Insurance scheme given to all government servants, as they are not employed as permanent staffers. Consequently the deceased RMO's mother is left helpless," Dr Herath said.
It was revealed yesterday (18) that the late Dr Ms Jayawardena was the only child, and her father had passed away long before she graduated.
Dr Herath said that this was not the first instance where an RMO died while on duty, and not afforded the privileges of the insurance scheme. In 2012, another doctor who was interning at a hospital died of dengue.
"Following this incident, we pointed out to the government the importance of providing all RMOs an insurance scheme. Though promises were made, the government has still to take any action regarding the matter," the doctor said.
He also added that police investigating the accident yesterday morning, should also look into allegations made against the ambulance service to improve its standards.