South Australian Seniors lose to younger Matara Veterans by 61 runs
Text and Pic by P.D. de Silva
View(s):
The spry South Australian Seniors Cricket Team comprising of senior cricketers above sixty years of age who are on a two week tour of Sri Lanka lost to a much younger Matara District Veterans Cricket Team by 61 runs in a 30 over per side game played at the Uyanwatte stadium.
The South Australian Seniors team was led by Lindsay Fisher while the Matara District Veterans Team was led by Prasanna Galappaththi, Sri Lanka Cricket's District Coach in Matara.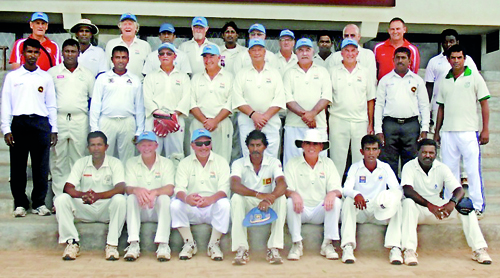 Sisira Weerasinghe and Shaluka Suwanderathne stood as umpires in the match.
A batsman could have retired at any time he chose but It was compulsory to retire upon reaching a score of twenty five runs.
The batting line up was not restricted to eleven.
The South Australian Seniors Touring party comprised of Alan Reid, Clive Wunersitz, Des Fuss, Jeff Emmel, Geoff Field, John Williams, Jack White, Neil King, Ken Nettle, Lindsay Fisher, Chris Tobin, George
Healey, Bob Wilton, Neville Crane, John Nash and Ross Price.
On being asked to bat first the Matara District Veterans scored 211 runs for the loss of seven wickets with Suminda Mendis, Ranjith Nihal and Rohan Ariyathilake retiring.
Geoff Field did well to concede only six runs off the four overs he bowled. Jeff Emmel captured three wickets. 72-year-old Des Fuss the oldest member of the team did not concede any extras in the 15 overs he stood behind the stumps and was rewarded with a wicket for just 13 runs off the two overs he bowled.
The South Australian Seniors could only managed to score 150 runs for the loss of seven wickets against the much younger side. Des Fuss opened the innings and retired on 27, Ken Nettle and Neil King retired on 17 and 21 respectively.
Matara District Veterans 211/7 in 30 overs (Iresh Priyantha 20, Suminda Mendis 26, Ranjith Nihal 28, S. Jothimuni 12, Sujeewa Ranaweera 12, Rohan Ariyathilake 27, Priyantha Uyanahewa 20, P. Damith 20, P.I.W. Jayasekera 17n.o, Prasanna Galappaththi 14n.o, Jeff Emmel 3/4, Ken Nettle 2/37)
South Australian Seniors 150/7 in 30 overs (Des Fuss 27, John Williams 17, Ken Nettle 17, Neil King 21)