Isipathana took the bunch of roses and the crown
View(s):

At the end of the Rugby Schools season 2014 what needs to be remembered is that the school kid represents the "Face of Rugby" — YOU ARE THE FACE OF RUGBY.

It is not just rugby alone as the senior team player is also about to take a step into the world. There were times when rugby and the community was the winner and there were times that we were left with a bad taste in the mouth. The disgust during the year is the attempt for the game being taken away from being a sporting event to be a field for misguided supporters.

The love of the game seems to be losing as the adult who find the money for the game want it their way. A rugby stalwart of the then Sri Lanka rugby and the father of a son in the game commented that what this column has been saying about the parents and old boy shady involvement is true. The undue pressure exhorted was not the best for the school boy. That is an important fact that needs to be remembered by bigots who think that anything goes if you can change a game in your favour. They forget that these kids represent not only themselves but their school, and the sport of rugby. When you engage in conduct that is unbecoming of a budding citizen, you plant a bad egg in the head of prospective rugby parents that may see this sport as a bad influence. This culture has an exponential effect.

Growing the sport of rugby in school requires a number things of which the most important is increasing the number of players. Something that Money alone cannot buy. It has a snowball effect – increase the number of middle school players, and you'll have more senior level school players; increase the number of senior school players. A bigger pool of players will help with our national teams.Screw up at this stage you will find the effect all over. You will not get there if we have parents who do not agree to let their kids play.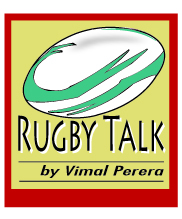 This can be achieved if you support coaches who attempt to instill in their teams a culture of respect and responsibility; and support players who do the right thing. Be the gentlemen this sport was made for. Those who sully the game of rugby may not at all times be the supporter of that school. I said at the start the old boys of both schools were spending time to keep the spirit alive. I could not understand some who are not even connected to the two schools attempting to stir emotion and put the referee in a spot. This was before and happened after the match as evidenced by records in the Social Media. People have learnt the hard way that the stigma faced from unwanted action is difficult to erase how hard you try and set an example. When schools with a history of over 100 years and have been followed as icons want to disgrace themselves it is indeed a tragedy that has to be addressed by the all the Angels and Saints .
It is in this atmosphere that curtains were drawn as the Royal College complex blazed in green to the final whistle of the referee to crown Isipathana School Knockout champions and triple crown winners 2014. The schools section this time around discussed with both schools of the need to have a good game of rugby and old boys of both schools were seen ready to calm the nerves of those who might get carried away.
The win was a chip on the shoulder of Pathana supporters who were jubilant that they beat Royal for a second time and in the Royal den. According to sources of the schools section the gate collection was the highest ever in a schools knockout and there were around 10,000 spectators. Whenever Royal and Isipathana meet there is so much tension and crowds. Isipathana thus remained unbeaten this season amidst a huge rugby appreciative crowd. The Greens won at the end but it was not a rosy road. They had some anxious moments especially in the second half when Royal took the lead. They did have to fight hard and the onslaught after the halftime saw Royal leading by 22 points to 20. Royal was very effective with the rolling maul but met resistance as they were held to unplayable maul a few times. While the Royal forwards played their best in a tiring game the golden moment if the game was when the Royal back division dazzled gaining yards and a try was on the card. Royal did attack and their forwards gained ground. If only they decided to get the back division working on a few more occasions than depending on what became the predictable hit and or roll perhaps the decision may have been different. Perhaps one could say that Isipathana missed there scoring chances with one of them where the player was over the goal line but the ball popped out. Similarly the ball popped out when their centre was through inside the Royal 22 and another time with a player to beat and two in support the ball carrier opted to go solo and the ball popped out. We may say and talk about this as both sides would want to say we could have done this and that. While the intensity of the game continued the lead swung back and forth with little flourish of great skill. Omalka Gunaratne was at his usual best and so was the Royal skipper Nimshan Jayawardena.
It was a good match for the spectator who forfeited his and her Sunday evening with the hope of being entertained. The curtains for the 2014 season were drawn for what became somewhat of a sober event despite offering some anxious moments before the season began.
Vimal Perera is a former Rugby Referee, coach and Accredited Referees Evaluator IRB