Cornerman comes home after fifteen years
By Naushad Amit
View(s):
'Cornerman' a coffee table book based on stories from the life of Dian Gomes was launched at the Sirimavo Bandaranaike Memorial Conference Hall in Colombo last Tuesday. The meaning of book title 'Cornerman' is related closely with boxing and it stands for a coach or teammate assisting a fighter during the length of a bout. Dian, who completes 15 years in active boxing as an administrator, a coach, an enthusiast, a promoter of the game and above all a motivator, had given the thought on
writing a book when he was forced to take four weeks off after undergoing an open heart surgery, a bypass of six arteries.
"Before surgery and during recuperation there were many who visited me with tales that I had long forgotten, of how I had personally helped them in their times of crisis; through funds, time and a supporting hand, or through prayers, as they or their loved ones went through serious issues. What amazed me was the extent to which many others went on my behalf, making vows at varied locations, going out of their way to pray for a man they knew and in some form, loved. I must have done something right to deserve this degree of loyalty," Dian explained on the outset of the script to a packed room withdistinguished guests ranging from top government officials, national sport stars to his working colleagues at Pannala.
The book was presumed to become a collection of stories related to boxing, Dian's favourite sport but the authors of the book Vidhura Ralapanawe and Shevanthi Fernando came up with a different twist. Vidhura and Shevanthi persuaded Dian to look beyond the boxing ring and look at the larger picture on how he had become the cornerman for many others, in the apparel trade, at his Slimline factory and office and to those living around the facility in Pannala. The duo had spoken to many of Dian's colleagues, in boxing, outside of it and in the corporate and wild world in compiling the 436-page piece of art, combined with stories of his own, from others and an array of photographs.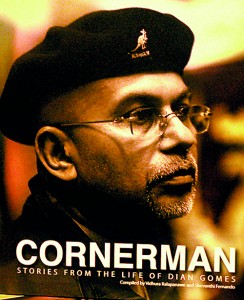 The book explains on Dian's role as cornerman in boxing to many youngsters at over thousand duals locally and at over 300 international bouts, at World Championships, Commonwealth Games, Asian Games, South Asian Games and an Olympic Game, which was initially the dream when he took on to boxing administration in 1999. But as his colleagues depict Dian's role as cornerman was not just confined to boxing itself. Delivering the keynote speech Mahesh Amalean, the Chairman of MAS Holdings said Dian believed in the fact that sport really unites people.
"Nothing matters; caste, creed or religion. Everything is secondary. He saw the potential of that, both at the company level as well as the national level. Dian is an exemplary cornerman because he always stands by his team. If the team falters, or is struggling, he is there to support and guide them. As a result, the team supports him, and he brings out the best in them. During the past 25 years I have come to see Dian as the archetypal 'go-to' and fix it' man. We give him a challenge and he delivers on it. We highlight an issue and he fixes it. I think, even if he moves on from MAS one day, he will continue to play this role in our lives. In my opinion the book is aptly named as Cornerman".
The first copy of the book was presented to Dian's 86-year-old mother Lalitha Gomes. Copies were also presented to MAS Chairman Mahesh Amalean, Dian's wife Dehara Gomes, National Olympic Committee Chairman Hemasiri Fernando and other VIPs. 'Cornerman' will be available at local book stores and is priced at Rs. 3500. Proceeds from the sale of the book will go to the National Boxing Development Programme and Colour of Courage, a cancer research prorgramme.
Ending his speech at the book launch Dian justified the times he had to stay away from home not for an year or two but 15 long years, as the Managing Director of MAS Holdings and as a boxing lover.
"It is a retreading of paths I travelled and journeys I made, that impacted the lives of thousands and they mine. It is a means of making sense of why they stood by me in my darkest hour. I hope my daughters Shahili and Elisha would find meaning and inspiration from the life I lived away from them for 15 years. I hope they will understand that it had a purpose. That what their father did made Sri Lanka strong, made Sri Lanka proud."