"Watchman! What of the night?", set the tone of things to come with star soprano
By Namali Premawardhana
View(s):
The De Lanerolle Brothers took the stage with famed pianist Rohan De Silva and star soprano Sabina Cvilak, at the Kingsbury Hotel on July 1 to give Colombo audiences a treat.
The show opened with the De Lanerolle Brothers accompanied by Rohan De Silva on the piano, performing Sarjeant's "Watchman! What of the night?", a taste of the drama prepared for the evening. Ishan De Lanerolle with his typical thoughtfulness pondered on the bittersweet "O Isis and Osiris" from Mozart's Zauberflote while Rohan De Lanerolle powerfully yet lightly struck through the intricate passages of Handel's "Why do the nations?" from the Messiah. To hear such classics from experienced professionals is a rare treat for a Colombo audience, and to ask for more seems overly demanding. But it must be said that at a moment or two that evening, one may have sensed a disengagement of the singer from the text that threatened to take away from the truth of the performance.
Needless to say, the De Lanerolle Brothers never fail to please their audience with a good mix of styles, well delivered. The added glitter of Rohan De Silva's discreet accompaniment, served with an impeccable style that can come only from a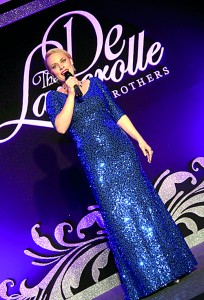 performer as experienced as he, made the evening a special one indeed.
When Sabina Cvilak came onstage with the well wrung "O Mio Babbino Caro" from Puccini's Gianni Schicchi and then "Meine Lippen" from Lehar's Giuditta though, the evening took on a dynamic that, even if the audience all knew she would steal their hearts, they were not expecting. Cvilak has travelled the globe with her music and shared the stage with some of the biggest names in contemporary classical performance before audiences of thousands upon thousands. To say she sang with ease is a gross understatement. Apart from a few moments on the upper notes, when one could sense some excitement, Cvilak breezed through the programme in the same manner most of us ordinary folk would generally chat with a best friend. She smiled, invited, teased and cajoled her audience into the intimate spaces of western classical opera. There could not have been many minds that were not won over to the operatic side that night.
Rohan De Silva's accompaniment which gave the performance an invaluably subtle clarity, was replaced in the second half by pre-recorded orchestral accompaniment that was more than a tad too loud.
Nevertheless, Cvilak and the De Lanerolles delivered the much lighter repertoire of
Broadway and pop hits, including "The Prayer", "Love Changes Everything", "I dreamed a dream", "Climb Every Mountain" and "You'll Never Walk Alone", with pomp and gusto.
The audience that evening, having faithfully sold the concert out over a week before the performance, went away knowing they were the richer for the experience, which is not likely to repeat itself any time soon. And for this, we have only the De Lanerolle Brothers to thank!