Zooming into the other side of the red carpet at Cannes
By Vinusha Paulraj
View(s):
A galaxy of camera flashes and movie stars on the red carpet is how the world knows the Cannes Film Festival. Dhanushka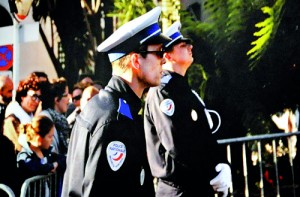 Gunathilake's lens however pointed in another direction, to what he sees as the uncelebrated side. Initially intending to make a documentary, the cinematographer has now displayed his stills at the Alliance Francaise de Kotte in an exhibition titled "In the Name of The Red Carpet."
The exhibition which is part of the Spring Festival is presented by the French Embassy in Sri Lanka and Maldives with the Alliance Francaise de Kotte. The pictures will be on display until July 12.
"I am after all a cinematographer," smiles Dhanushka. "All I can do is capture the mood of a moment when I film," he adds, explaining why none of the pictures exhibited has been recomposed in any way.
Cannes is in his opinion a city of celebrities and the attention too is soaked up by them flocking in and out of it during the festival. Separated by the narrow strip of red carpet is an entire city full of people who help make the event a success according to Dhanushka. Everyone from the police officials who help with safety to the forlorn few seeking out invites. It never seemed fair to him that these people are so easily overlooked.
Pointing at a picture of a lady holding up a sign, he shares that it was his favourite shot. The little poster she held up was a hand written note that requested an invite and a doodle of her pet pooch. Encapsulating both her personality in her drawing of the dog and the lifestyle of the city where people carry around their beloved pets, Dhanushka feels the representation of her personality despite her pessimistic expression contributes to the atmosphere of the grand festival as much as the limousines and haute couture gowns do. Despite the exclusivity of the prestigious event he says that it truly is a celebration of the art and not just a superficial love of merely what people see on screen.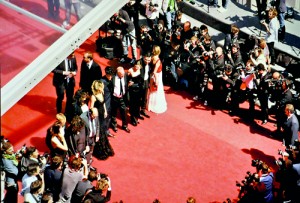 "In India, it's more about the actors but in Cannes people actually love film as an art and even directors are appreciated," he smiles.
The peaks and lulls of the event captured by Dhanushka are spot on according to Srinath Samarasinghe who has been on both sides of the red carpet first as a student in 2003 and later a part of a film crew in 2013. "I met Dhanushka in 2013 at Cannes," says the French resident whose film was featured in the Spirit of the Spring Festival in Galle, Matara, Kandy and Colombo.
Srinath believes any film enthusiast should visit the Cannes festival, so aptly captured by Dhanushka "In the Name of the Red Carpet."