Letters
View(s):

'Senanayaked' or 'Buttlered': It's up to you, cricket fans

The running out of Buttler by Sachitra Senanayake has indeed raised a hornets' nest. Numerous opinions have been expressed with the main drift being that though the action is well within the laws of cricket it runs counter to the spirit of the game. While most Sri Lankans emphasise the first aspect there have been quite a few others, mainly English commentators, who have not hesitated to stress on the second, though ponderously. A balanced consideration of the incident and connected other aspects, shorn of emotion and sentiment, would help fans to appreciate what happened in the given instant and the game in general.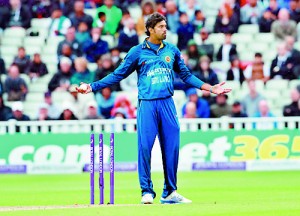 The spirit of the game cannot be imposed by rules and regulations. They must be seen to happen spontaneously and voluntarily. This was the case three or four decades back before the advent of the shorter forms of the game: ODIs & T20s.
In those days of Test Cricket the following were routinely evident:
A captain would normally not use a fast bowler against a lower order (Say, Nos: 9, 10 or 11) batsman. Even if he did, the bowler would never bowl bouncers at him. This demeanour was also extended to a 'night watchman' even if he happened to partner a well-set batsman.
Boundaries, clean catches, especially those by the wicket keeper and slip fielders, were promptly signalled by the fielders themselves and never doubted, let alone challenged. Their signals were on par with the umpire's word and decisions, both considered law.
It is here that we saw sportsmanship and the spirit of the game (a really cosmetic variation) at its best.
Today, when helmets, third umpires, match referees and video cameras are the norm, it is downright naïve even to imagine such attributes.
Based on the present fracas a prominent thought that springs to mind is why should only the non-striker be cautioned/warned about straying beyond the crease? The idea is based on the assumption that the batsman strays out of the crease absent-mindedly. On closer analysis this is specious. Of all the players on the field the non striker is easily the least under pressure or stressed: he is the only one who could afford to relax. This being so it is not understood why he alone deserves to be cautioned/warned. It all sounds like a doting mama fussing about her little one straying on to the road or some other danger.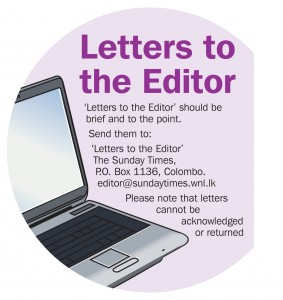 Numerous names too have been suggested to label this event starting from 'Mankading' and to name the present one 'Senanayaked'. All this spotlights the bowler's efforts, but in this present case it was Buttler's own seeking, especially after three warnings. So it would only be fair to tag it 'Got Buttlered' and leave fans to be amused or depressed as they choose.
M.Z. Abdeen
Kandy
These monks are far removed from Buddha's teachings
I was pleased to read the letter of Indrani Athukorale titled ' An open letter to fellow Buddhists' in the Sunday Times of June 29. At a time when even the Buddha Sasana Ministry and the five Mahanayake Theras have been silent on the behaviour of some monks, it is timely that the lay Buddhists express their horror and concern, over the language, body language and conduct of some Buddhist monks, seen and shown on TV at Aluthgama and Beruwala.
This plea to all Buddhists is to keep aloof from such monks whose rhetoric, tone and body language were revolting to watch.
The role of all Buddhist monks is to expound the Buddha's teachings and not leave their temples and partake in street protests to arouse communal disharmony. It is pointless boasting of our 2500-year glorious past if our monks degrade themselves openly.
Before observing pansil, we worship the Triple Gem: Buddha, Dhamma and Sangha. If monks behave in this manner can we worship them?
It's time to stop this trend by the Sangha and the government
L. Peiris
Matale
Protests and DIG's ambulance theory
Senior DIG Anura Senanayake was seen on TV, defending his decision to evict undergraduates who were protesting near Lipton Circus. He said the students were causing a public nuisance and their protest was a hindrance to ambulances arriving at the National Hospital. Valid reasons, I admit.
However, the irony is that when the likes of Wimal Weerawansa and other pro-government elements protest at the very same venue against Navi Pillay or the United Nations, then all seems to be okay.
I suppose, the DIG wants us to believe that it is then not an inconvenience and that ambulances bringing seriously ill patients do not arrive at this time!
Titus Alwis
Moratuwa
We need news without commercial breaks
It's high time we received news bulletins without "commercial" breaks. We are tired of waiting to hear the news. Our local channels have commercialised news.
What we need is only news just as it is presented by BBC and CNN. Please consider limiting the first ten minutes for real news and have another twenty minutes for commercials and provocative stuff thereafter.
E.C. De Alwis
Colombo 7