Healthy players and a safe sport
View(s):

Bret Gosper the Chief Executive of the IRB in an address, Rugby: A proactive stance on concussion says, "Player welfare is the number-one priority for the IRB. This is not something we say lightly but rather a strategy that informs and guides every aspect of what we do. Without healthy players who are confident they are playing a safe sport, rugby would not experience the success and global growth that it currently enjoys".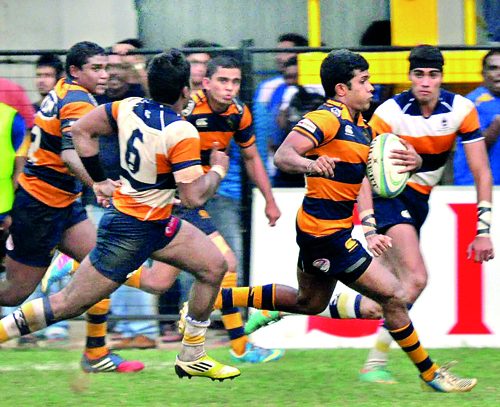 He goes onto say there is no such state as 'a little concussed' and rugby therefore exercises caution. Concussion is a complex injury and it is not always possible to diagnose it immediately. So we treat suspected concussion exactly the same as confirmed concussion. Get the player off the pitch, and don't let him or her back on. Rugby takes head injuries seriously, which is why the Laws of the game outlaw any challenges above the shoulders. We have recently changed the scrum-engagement process to reduce the impact of the hit and referees at all levels are instructed to be particularly strict when it comes to infringements related to the head or neck. There is So much emphasis on safety but is sometimes overlooked in order to win. Schools rugby is getting tight and the demand on players are increasing calling for of player welfare to be in place.
The win by Royal over the Peterites has put the latter on the back foot. A side which seemed very much unsettled though unbeaten met up with Royal another team that was not at ease. Thus the expected party of Peters was spoilt. Kingswood against St Joseph's was a game that Kings were lucky to win. The Kandy side is not going to find it easy in their remaining games which include Royal, Pathana and Trinity. Isipathana with a mammoth scoreboard against S. Thomas' have been left to roam freely so far. Pathana showed that they were not willing to relax and hammered S. Thomas' and the board showed 60 points. They spared nothing and were ruthless in finishing the opponents. Trinity had an easy passage against Science College. The schools rugby on record stands the same as before with Isipathana, Kingswood being close to the cup whilst Trinity, St. Peter's is close behind.
The advent of Royal and the fight of the Joes and the unpredictable Science College are adding interest to the slots in the places of fifth, sixth and seventh. Kingswood will find it difficult when it comes to playing Royal, Trinity and Pathana. Their performance against St. Josephs' was a result of the pre match comfort of thinking that this was a game of 40 points. The Kings played less to their normal style Joes took more initiative in this game and used the forwards which were their strength. The type of defense Kings employed called for Joes to add more variation with the back division to exploit the corners. With more support to the attacking fullback and number 8 it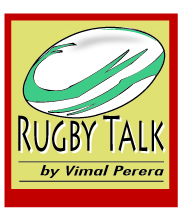 should have been Joes with a score of 40. Two games that will be important to the Joes will be the trophy games to be played against St. Peter's and S. Thomas'.
Royal playing a much improved game beat St. Peter's by playing a game centered on their forwards who did well in gaining valuable space whenever the maul rolled. I am not sure whether I was educated or amused when a few spectators kept shouting, "referee call use it and give the ball to the other side whenever Royal did a rolling maul". The law for use it comes only when the maul becomes stationary and not when it is moving is what I know of. May be I am wrong!!! I was more tickled with a telephone conversation that went on for all to hear during the Mercantile Sevens. I still cannot understand the hour long conversation that was talking that there cannot be a maul without a ruck. Who or what he was talking about is your guess?
Something I hear often these days at most levels of the game "we would have won the game if not for the referee." If you look at the controllable factors which are around your team things could be better than harping on what is beyond your control. Why not reduce the number of penalties or the unenforced errors.
With a world of expertise and software it should be time to invest on game analysis technology that is available. This might be a worthwhile look when we talk of big spending budgets. There are two major areas of software evolution for Analysis in Rugby: Notational Analysis and Technique Analysis. Notational Analysis, also called Match Analysis, is usually performed in a situation where the analysts and coach gets information on how much work each player did, how far they ran, how many contacts they made, errors, penalties, etc. Notational Analysis software is specifically designed for this role.
Technique Analysis, also called Skill Analysis software, is more concerned with discrete skills (e.g. kicking, passing, hitting, running, jumping) rather than a series of movements over time as is the focus of Notational Analysis. A coach or analyst may have used Notation Analysis or their experienced eye to identify that one of their player's is weak in a certain skill. They would then use Technique Analysis software to work with the player to improve this deficit with the ultimate goal of making their match performance more complete. Technique Analysis has two key components; one is to provide the tools used to analyze the skill and the second is to provide the tools to enhance feedback to the athlete in order to accelerate an improvement in technique.
There is plenty of this available and one could look around to find something that is useful without talking out how we could have won a match if not for you know who. If you cannot do all this just take a few tablets and video particular players for the whole game and see what he does. If you could afford why not video and link a player or players to the game which is related inset. There are many things you can do when I hear of the budgets that are spent most of which is for the coach and nutrition more popularly called supplements.
* Vimal Perera is a former Rugby Referee, coach and Accredited Referees Evaluator IRB