WPRFU launches school development programme
By Shamseer Jaleel
View(s):
The Western Province Rugby Football Union (WPRFU) launched its schools development programme last week in Colombo. The function was well attended by principals and teachers-in-charge of 25 schools, earmarked by the WPRFU in its development project.
Majority of these schools will take up rugby for the very first time under the guidance of the development officers and coaches from Western Province. The WPRFU named 11 coaches and contracted them centrally under this programme. Each coach will overlook at least two 2 schools while WPRFU will play its part by providing necessary equipment and regular inspection visits.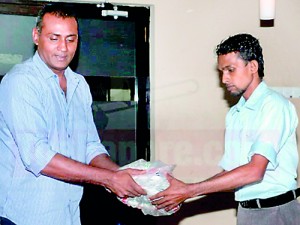 Speaking to the Sunday Times, the president of the most powerful provincial union, WPRFU and former Sri Lanka Sevens skipper Nazeem Mohamed said, "this programme will cost over Rs. 1.5million a year and schools from Negombo to Avissawella will be covered under this programme. Further we have given financial assistance to schools such as Kannangara MV, Royal College Panadura and University of Moratuwa this year."
Nazeem speaking further said in order to popularise the women's game in the country WPRFU is in progress of lunching the women's development for schools. The WPRFU have identified 10 such leading schools including four International Schools, where rugby can be easily included into their extracurricular activities.
"A separate team of women's development officers will also be appointed under the perview of WPRFU. We will be spending nearly Rs. 500,000 for this venture," he stated.
In addition the WPRFU has taken the initiative to act swiftly on anti doping after many cases were reported over the past couple of years.
"We strongly believe increasing awareness will help to mitigate the problem. With the assistance of the University of Moratuwa, we have completed the translation with the endorsement of the Sports Medicine Unit. We are in discussion with potential sponsors to publish the booklet. It would be given free-of-charge to all schools and clubs and will be published in Sinhala as well," added the former lanky second-row-forward.