Sujan Perera leads Sri Lanka under 23 football team to Palestine
View(s):

Sujan Perera is leading the Sri Lanka Under-23 football team at the third Palestine International Football Championship which began at Al-Nakbah in Palestine yesterday. The five-nation tournament which ends on May 21 kicked off yesterday with the match between hosts Palestine and Iraq at Dura Stadium.

Sri Lanka, Jordan and Pakistan are the three other teams in contention.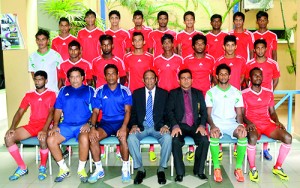 Today Jordan will take on Pakistan in the second match of the tournament at Faizal Al-Husseini Stadium while Sri Lanka is slotted to make their first appearance in the competition on Tuesday at Nablus Stadium. Sri Lanka will meet Jordan in the third game of the competition before taking on Palestine on Thursday at the Majed Ass'ad Stadium.
The local lads will take on hosts Palestine next Saturday at the Jericho Stadium before taking on Iraq in their fourth and final game at Faizal Al-Husseini Stadium next Monday. The top two teams will meet each other in the final slotted to be played at Hussein Bin Ali Stadium on May 21.
Skipper Sujan Perera is the key goalkeeper of the side besides his substitute R.P. Dhanushka among the 18-man Sri Lanka squad. Mohamed Rahuman, Mohamed Kamil, Tharindu Eranga, Charitha Bandara, Mohamed Sameer and Eranda Prasad are the defenders of the side.
The midfield is bolstered by Zarwan Johar, Chathuranga Sanjeewa, Sajith Kumara, Godwin Sahayam and Mohamed Fawzan. Pradeep Rodrigo, Mohamed Cassim, Hashan Dhanushka, Kavindu Ishan and Prabath Ruwan are forwards in the squad.
The side is coached by former star player Dudley Steinwall while Lalith Weerasinghe acts as his assistant. Balendra Anthony is the manager of the side with M.A. Brasith assisting the team as the masseur. The 13-day competition includes a total of 11 games with each team slotted to meet the other in the preliminary league round. – NA
Sri Lanka U-23 squad:
Goalkeepers: Sujan Perera (Capt), R.P. Dhanushka
Defenders: Mohamed Rahuman, Mohamed Kamil, Tharindu Eranga, Charitha Bandara, Mohamed Sameer, Eranda Prasad
Midfield: Zarwan Johar, Chathuranga Sanjeewa, Sajith Kumara, Godwin Sahayam, Mohamed Fausan
Forwards: Pradeep Rodrigo, Mohamed Cassim, Hashan Dhanushka, Kavindu Ishan, Prabath Ruwan
Officials: Balendra Anthony (Manager), Dudley Steinwall (Coach), Lalith Weerasinghe (Asst. Coach), M. A. Brasith (Masseur)