Lahiru fights back to take lead
35th Bata-the Sunday Times Most Popular Schoolboy Cricketer of the Year 2014
View(s):
The final showdown is not as smooth as it portrays, it can be said and the reason is clearly visible. Lahiru Wickramasinghe of De Mazenod College Kandana has made the 35th Bata-the Sunday Times Most Popular Schoolboy Cricketer of the Year 2014 contest more exciting than thought.
Lahiru, who held the leadership quite a few times, has managed to dislodge Randev Pathirana of Royal College Colombo from the top position and gain a healthy lead by 2643 votes in the All-Island category. Last week Lahiru trailed Randev by 4483 votes but by this week fortunes faced a complete twist.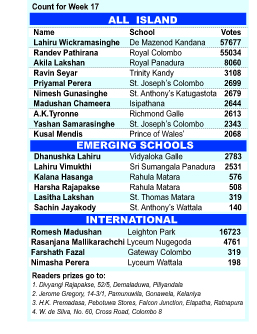 The Mazenodian, by the end of this week received 14,700 votes, a record in number of votes received in a single week in the history of the competition. On the other hand Randev has obtained 7574 votes but with the unexpected turn of events he will have to force his way to the top. The current progress has put both contenders, Lahiru and Randev under tremendous pressure with only three weekends remaining to the closing date.
From the remaining set of contenders it is visible that Madushan Chameera of Isipathana College is in there to deliver a surprise. From the moment he stepped into the contest Madushan has been a promising and progressing character. Last week he was at ninth position and this week he has moved on to seventh. Madushan can be a big threat to those above his, Akila Lakshan of Royal Panadura, Ravin Sayer of Trinity, Priyamal Perera of St. Joseph's and Nimesh Gunasinghe of St. Anthony's Katugastota. He has already outclassed A.K. Tyronne of Richmond, Yashan Samarasinghe of St. Joseph's and Kusal Mendis of Prince of Wales' without much hassle.
Though it has been a one horse race for Danushka Lahiru of Vidyaloka Vidyalaya Galle in the Emerging Schools category Lahiru Vimukthi of Sri Sumangala College Panadura is gradually turning out to be a threat in disguise. So far for 16 consecutive weeks, Danushka has dominated all the way but Lahiru is just 252 votes away from stealing the thunder. As the All-Island category, the Emerging Schools segment is also turning out to be a thrilling dribble till the last wire.
Eventually the International Schools category is turning out to be the sole chattel of Romesh Madushan of Leighton Park International unless otherwise his closest rival Rasanjana Mallikarachchi of Lyceum Nugegoda comes out with a miracle. By this week Romesh has expanded his lead by 11960 votes while taking his tally to 16723.
Coupons of the 35th Bata-the Sunday Times Most Popular Schoolboy Cricketer of the Year 2014 will appear on Wijeya Newspaper's dailies, the Daily Mirror and Lankadeepa and also its weekend English issue, the Sunday Times. Readers will be able to send in as much as coupons in favour of their favourite schoolboy cricketer until end of May.