Inthi Marikar – one of the fastest wingers Sri Lanka ever produced
By Shamseer Jaleel
View(s):
They say in rugby wingers should be faster than lightning. One role model for this was former Trinity rugby 'Lion', CR & FC, Kandy SC and Sri Lankan sevens and fifteens player Inthi Marikar.
Imthi represented Trinity College from the age group of Under-13 to Under-19. His last year was in 1987 under Tyrell Rajapakse the year which Trinity won the School League, Premadasa Trophy, De Saram Trophy (Against S. Thomas' Mount Lavinia) and the Bradby Shield. This champion side being the best Trinity outfit with majority of half century scores and for record purposes only once in the whole season did their line was crossed with a single try against them. Imthi was awarded with rugby 'Lion' and Special Award by Duncan White (for representing the national team whilst still in School) when he represented the national side on Wales tour.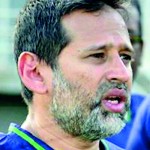 Soon after leaving school Inthi played for the 'Red Shirts' from 1987 to 1991 winning three Clifford Cup titles (87/88/89) later moved to Kandy SC from 1992 to 1998. Kandy won the Clifford Cup in 1992 and 1993 and the League in 1994. Kandy remained the Triple Champions for three years in a row from 1995 to 1997.
Inthi led the 1996 double champions Kandy outfit. He represented the national sevens and fifteens teams from 1987 to 1992, and later again in 1996 and 1997. He led the national sevens team tour to Italy. Earlier in his career he led the Under-24 team in 1990 when they toured Hong Kong. At last in 1998 Imthi called it a day by hanging up his boots. Rugby was so close to his heart as rugby and Inthi could not be separated for a long as he took up coaching and to give something back for the game where he enjoyed so much.
He took up coaching in 2000 on part time. Five years later he was appointed as the Assistant Coach at CH & FC and Assistant National Coach at sevens. Two years later in 2009 he became the national sevens coach. A year later for his excellent work he was put under Johan Taylor for the national fifteen a side coaching stint when Sri Lanka won the Tier 1 championship in Singapore and gained promotion to the top Asian5Nations. He was also the Head Coach of the Sri Lanka Air force in 2011 and the last two years at the Up Country Lions Head Coach. Speaking to the Sunday Times Inthi said: "I have decided to take a short break from rugby for this year (2014); I have informed the Club Committee (Upcountry Lions SC) of this since last year, as I wanted to concentrate on my work and family. I had a great time over the last few years, I have been full on with teams, Air Force and Upcountry Lions and it's time for me to take a break. When I took Sri Lanka Air Force (2010-2011) they were languishing at number 7, and in 2010 we ended in the top 4, came close to beating some top teams, at the National sevens championship, we entered with 4 teams, A team — Cup runner up, B team – Plate champions, C Team – Segment 2 Cup Champions, D Team – Segment 2 Cup Runner up. The above was a remarkable achievement in the Sri Lanka Air Force rugby history. We had 5 from Air Force who represented the National sevens that year."
Inthi speaking further said that in 2011 – started off very well with the Air Force rugby tour to New Zealand, where we played the Royal NZ Navy and Air Force, it was a tremendous exposure to our players, we trained morning and afternoon, watched super rugby game between Crusaders and Blues at Eden Park, we played some exciting rugby against the Navy and beat them with our sheer speed, deceptive work and skill set, 36-29, this was a tremendous victory, next we played Air Force, which we just lost 12-16, Buck Shelford, one of the Greatest All Black Captains, was there to witness our game and said he was amazed by the standard of our skill set and also enjoyed the high paced game we played, he also said it was great of us to come to NZ and beat a rugby team. We came back to Sri Lanka and again ended in the top 4 in the league and knockout, beating some top sides as well. Later on I decided to move on as Air Force committee changed and they were looking for a coach within."
Inthi went on to say "By this time I really wanted to quit rugby as I thought I had no hope of doing what I wanted to do for rugby, all the knowledge gained by attending coaching clinics, spending time with top teams in NZ and learning off some of the best coaches in World Rugby. I have passed on all the knowledge to most of my players, who have been with me, with regards to Nutrition, diet, hydration, recovery and skill development and game development."
"In 2011 I was approached by the committee of Upcountry Lions, and they wanted me to take charge of this new rugby team, I was hesitant as I could not be based outside of Colombo, due to my family and work, initially the agreement was to train in Colombo and play in Nawalapitiya, so I agreed, and I had to start from scratch, targeting some young talented players and some experience heads as well, I thought we did really well for the first year by ending in the top 4 in 2012, at the National Dialog Rugby Awards, the team was awarded the most promising team 2012, and I received the accolades for the Best Coach in that year," he said.
"Next year in 2013 started off very well for us where we won the national sevens in our debut year, this was a tremendous team effort no one expected us to win it, however I had some confidence that if we made it to the semi-final and won it, then we had a chance to go all the way, we worked very hard, we had weekend camps,".