Highflying Balooshi helps lift Lankan motocross
By David Stephens
View(s):
Veteran Red Bull motocross champion Mohammed Balooshi recently travelled to Sri Lanka, where he involved himself in a redesign of the Foxhill Super Cross racetrack at Diyatalawa- aligning it with international standards- and conducted a series of helpful workshops.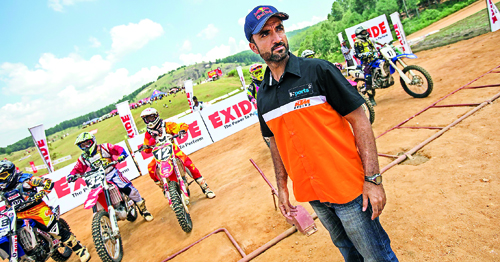 The Dubai-based motocross champion consulted extensively with engineers and designers working on the track rebuild in the lead-up to the races at Foxhill. Alongside the course facelift, Balooshi also used his experience competing at the topmost level of the sport to conduct workshops for riders and engineers.
Upon their completion, Balooshi and the Red Bull team shortlisted five of the most promising riders from those assembled to compete for a place at the MX Academy in the UAE and be trained by him for a week."I'm pleased with all the riders here. They've all been open and very eager to learn. The changes to the riding track definitely took them out of their comfort zones but they've all put in the time and effort to understand the different challenges. It is encouraging to see their dedication and ability to adapt quickly; all very positive for local racing here," Balooshi, a Dakar Rally rider who counts the Arab Motocross Championship among his laundry list of accolades, said.
Speaking about the reconfigured course, Balooshi explained, "The new track features more rhythm sections (a combination of successive jumps) and is wider now by about three to four metres to allow for more in-race competition and overtaking. Overall, it's more technical with a variety of obstacles and jumps, and very challenging."
Respected local rider Gayan Sandaruwan was full of praise for the upgraded course, saying the new changes actively engaged each rider's creativity and technique while simultaneously enriching their riding experience. He asserted that the revamped track would ultimately uplift the standards of local riders and position them strongly at foreign competitions.
The Sri Lanka Auto-sports Drivers' Association (SLADA), which gave the green light to Red Bull's proposed track upgrade in February, setting in motion two months of careful planning and preparation, were extremely pleased with the final outcome of the entire initiative.
Balooshi himself was optimistic about the prospects of the sport in Sri Lanka now that it had an international standard track to complement its deep wellspring of talent.
"It's important to have a challenging track on your home ground with varying technical sections, that way riders are exposed to more scenarios and able to cope better regardless of where they are riding."