Tipoffs see rise in seizures of contaminated food
By Kosala Ranabahu
View(s):
A string of raids carried out by the Consumer Affairs Authority (CAA) this week saw major seizures of food and drink unfit for human consumption, with one official disclosing that increasing tip-offs were resulting in the rise of successful raids.
A stock of 500,000kg of contaminated sugar was seized on Wednesday from a warehouse in the Sedawatta-Wellampitiya area. The sugar, worth Rs. 50 million, had been imported from Brazil.
"It had been in bad storage conditions, often exposed to rain, for nearly eight months," said the officer in charge of the CAA Colombo Raid Division, Pradeep Kalutaraarachchi, adding that the seized consignment was just about to be released onto the market.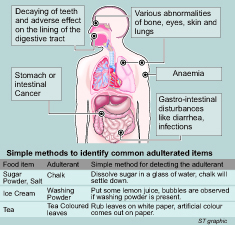 He said 15,000 cans of an energy drink in the same warehouse were also seized, being unfit for consumption even before the date of expiry due to improper storage.
"Although the traders claimed that those cans were not going to be sold the drinks would definitely have been sold cheaply during the forthcoming New Year season," Mr Kalutaraarachchi said.
On Monday, the CAA raided a wholesale coconut oil distribution outlet on Gasworks Street in Pettah and impounded coconut oil stored in 50 barrels that had previously held chemicals.
Oil from that warehouse was regularly sold in Kilinochchi and Vavuniya.
"The barrels had been used to carry surgical spirit, fibre gums, kerosene oil, engine oil and so on," said Mr. Kalutharaarachchi. "The person who supplied the barrels claims he assumed the wholesaler would clean them and the wholesaler apparently assumed vice versa."
Rs. 8m worth of outdated sugar – about 75,000kg – was seized from a wholesale trader in Kundasale, Kandy.
CAA-Kandy chief officer Nishantha Mdaragoda told the Sunday Times the sugar, imported from India, was ready to be released to the retail market with new packaging and labels with altered expiry dates.
"Poor storage methods are the typical reason for food spoilage. People are either negligent or not adequately aware of the correct storage suitable for each consumer product," said food safety expert Dr. M.J. Goonerathne, a former deputy director of the food technology section of the Industrial Technology Institute (ITI).
"Imposing penalties on offenders is satisfactory to some extent as they have violated the law, but it would be better if they were ordered to undergo compulsory training on food safety and storage techniques before they reinvest in the field," she suggested.
An increase in tip-offs about the misconduct of leading trade organisation in Colombo suburbs has prompted the growing number of raids, said Dr. Ananda Jayalal, Director of Environmental Health Occupational Health and Food Safety at the Ministry of Health.
"Storing food products in containers materials which had previously been used for carrying non-food items is punishable by law. For instance, people cannot use fertiliser bags to store rice," said the director.
Dr Jayalal acknowledged it was difficult to identify food adulteration without a laboratory test. One check consumers could carry out themselves was for tea leaves adulterated with dye. This could be tested by sprinkling the powdered leaves on a piece of wet blotting paper to check if the paper gets coloured. Pure tea leaves released colour only when put into boiling water.
Dr. Sinnathamby Nagaiah, consultant to the Food Control and Administration Unit at the Ministry of Health, warned that all food products were vulnerable to being adulterated for commercial gain, and the results could cause serious illness. One example was where turmeric powder as adulterated with a cheap starch and metanil yellow, a carcinogenic substance.
Adding cheap substitutes to products, for instance mixing coconut oil with vegetable oil, would not harm consumers' health but it was a form of deception," he said.