Kachchativu festival a good opportunity to build harmony, says Navy Commander
View(s):

The annual two day St. Antony's festival on the island of Kachchativu, that brings together pilgrims, mainly from the fisher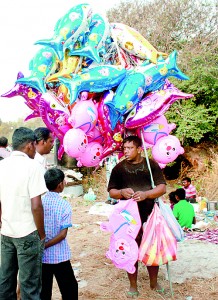 communities of both India and Sri Lanka, drew to a close last Sunday.
Jaffna's Vicar General Justin Gnanapragasam conducted holy mass at St Antony's church.
"We believe that our saint listens to our prayers and conveys them to God. That's why we came here,'' said Jesurasa a fisherman from Rameshwaram who was attending the festival with his family.The feast attracted not only pilgrims but also business vendors from both countries, although Indian authorities had warned Indian fisherfolk to refrain from engaging in trade this year. Vendors were seen selling items varying from fancy goods to fabrics and trading in both local and
Indian currency in makeshift stalls that lined the path to the Church.
Some pilgrims had brought cooked food while others were seen preparing their meals.
Sri Lanka Navy Commander Vice Admiral Jayantha Colombage commenting on the occasion said that the festival was a bridge of friendship between the people of India and Sri Lanka. "They worship together without any differences. This is a good opportunity to build on mutual trust and understanding," he said.
"The Sri Lanka Navy has been hosting this festival since the end of the war and this year we worked together with the Army to provide drinking water, electricity and sanitary facilities to the devotees," the Navy Commander added.
Father James, a parish priest who represented the Indian delegation said 125 priests and 75 nuns participated in the feast. (SR)