The vinyl countdown
By Shaveen Jeewandara
Having won the first ever TNL spin-off, Ramindu Ranasinghe wants to set-up a record library and use his new found fame to educate younger generations on the dying art of DJ-ing
View(s):
His DJ console is the first thing that greets Ramindu in the morning. Stationed next to his bed, surrounded by a stack of gramophone vinyl records-it beams like a pet who has been loyally by his side for years. Twenty-seven-year old Ramindu Ranasinghe -better known as DJ Rami- reveres the tools of his trade with the highest regard. His take on the realm of a Disc Jockey is certainly something more than "mixing a couple of records together", and the carefully guarded console and his vast collection of old school vinyl records will testify that his passion has now become his religion.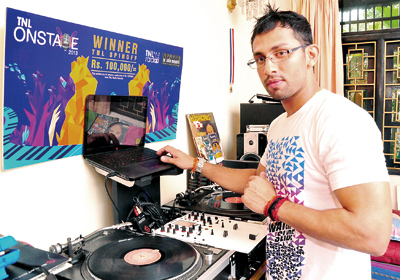 Having won the first ever spin-off round of TNL Onstage, Ramindu speaks to the Sunday Times about DJ-ing and why he believes that it is "a dying art", contrary to popular conception.
"It was back in 1998 -just as I left school and was on the verge of flying to Malaysia- when I started messing with it," he tells us. "I knew that I had a knack for it, and was naturally interested in digging deeper into the field". His Bachelors degree was in Business Administration, and whenever the noose of academics was loosened-Ramindu would venture out to learn the art of DJ-ing. "I gradually got into turntables by the 2000, and had the privilege of meeting up with internationally acclaimed DJs such as Jazzy Jeff and DJ AM." The latter would go on to become his greatest inspiration and more so, a close friend. 
DJ AM (Adam Goldstein) is an American DJ and music producer who worked with the likes of Will Smith and Papa Roach. Ramindu's first introduction to him was courtesy a transit stop at Hong Kong. "It was amazing to meet an internationally acclaimed artist and he was very receptive when I said that I was aspiring to reach the heights in the field." Ramindu made sure that he constantly kept in touch with DJ AM, "There was a lot I learned from him through our interactions."
Unfortunately DJ AM passed away at the age of 36, in 2009. Ramindu however, was determined to live up to his mentor.
Much later on, he had time slots for spinning at after parties in Australia for massively popular stars such as 50 CENT and Ja Rule, even being caught up between the two artists as he had the 50 CENT record he was spinning being thrown out by one of Ja Rule's bodyguards.
Considering himself an 'open format' artist, he will readily mix a couple of old songs in to a set list of newer hits. Witnesses of his title-clinching performance at TNL Onstage would justify this, as he brought back an early 90's disco vibe to the show.
"I knew that the audience at Onstage was more bent on rock, or slow-rock so I couldn't just keep playing the latest hits. I changed my line-up in order to suit the crowd and it worked for me." Ramindu says a DJ should be able to understand how to strike a balance between the aspirations of the crowd, while bringing his individuality to the fore.
"As a DJ, nothing is pre-planned. Rarely do I have a set that I play for sure. Most of the time, it's about assessing the crowd and playing accordingly. There used to be a time where I used to play only what I liked, but I quickly learnt that it was the wrong way to do things."
Speaking on the Sri Lankan DJ scene, he believes that there is a massive dearth of knowledge. He admits that while there are places thats do a good job at educating aspiring DJs, there is still a lack of knowledge when it comes to understanding music. Ramindu recalls the times he spent in Australia (completing his Masters) where he would spend hours and hours being holed up in record stores, listening to various skits and pieces of music. "Over there you get records stores which are like massive libraries, where you can get the proper vinyl records of a song that includes the studio, and acoustic, instrumental and other versions of a single song."
"The problem with the current scenario is that youngsters are drawn to electronic music, and any 15 year old can start 'scratching' from software and call himself a DJ," Ramindu says. "I feel that they need to get a feel of the vinyl and go through the challenges in order to be an established DJ."
However, Ramindu admits that technology is a blessing, speaking of software such as "Serato Scratch Live" which link a physical turntables with a database of music that you can draw from, but has his qualms about it too. «When I first learnt of the software, it made me laugh and cry at the same time. Laugh, because DJ-ing became so much easier and cry, because it spelled the death of vinyl records."
"This is why I believe that the original forms of DJ-ing are a dying art." How many turntables do you see in a club today, he asks us. "None. DJs are leaving turntables behind and moving into the electronics." He believes that technology will take over but also understands that there›s so much that people like himself can do in educating younger generations of DJs. "I hope to open up a record store with a DJ vinyl record library -Sri Lanka's first- in the near future, and I believe that we can start reversing the electronic trend."
The Best DJ title at TNL Onstage wasn't his only savour of a major win; Ramindu had previously got to the semi-finals of the 'Dusk DJ Competition' in Atlanta, USA early this year. But what TNL Onstage gave Ramindu was more than just a title-it gave him penetration to the masses of young Sri Lankan DJs. "Soon after I won, there were so many friend requests on facebook and so many had asked me for tips and suggestions. I replied to each and every one of them and told them that it is an art that you have to learn the hard way." Ramindu says that the enthusiasm is encouraging and thanks to the TNL Onstage spin-off category, greater things are in store for the DJ industry in Sri Lanka.
comments powered by

Disqus