Sushi & Sashimi at the Kings bury
View(s):

From Friday to Sunday, the Kingsbury celebrates the weekend – the fun, the frolic and family time – with an offer of an array of Sushi & Sashimi.  'The Score', the sports bar by the sea and be treated to the finest of the Japanese delights from sushi nigiri, sushi maki to succulent slices of ruby red maguro sashimi.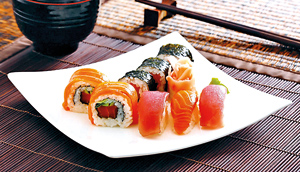 Drape these jewels of fine cuisine in just the right mix of soy and wasabi and experience a taste explosion that is just the most fitting celebration of the weekend. Pair it with a glass of Chardonnay or Pinot Noir, or savour it against the grainy malt of a fine beer to complete the experience. 
'The Score'is open from 5pm-11pm. Call 0115635635 or for details.
comments powered by

Disqus