Sustainable 'Convertainers' for home living
View(s):

Logiventures recently launched its Convertainers Villa named "The Green" at the recently concluded Construct 2013 Exhibition in Colombo.

Offering a cost effective way to bring sustainable features to the masses, Convertainers were the centre of attraction at the exhibition. Designed and built from a 20ft shipping container, the Convertainers Villa features a fully furnished bedroom, living room and toilet, with a custom fabricated re-purposed wooden breezeway patio, according to a company media release.

Being fully lockable, secure, weather-proof, and vermin-proof containers come with a remarkable life span of 25 years. Constructed using high-grade timber floorings, steel frames, corrugated steel walls, and efficient double doors, all containers also conform to ISO quality standards. With a staff of highly skilled and qualified engineers and builders, Convertainers offer an excellent container modification service for clients across a wide range of industries.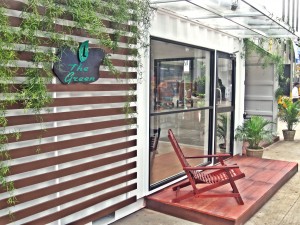 "As more and more businesses and individuals are discovering, steel shipping containers can be used for more than just cargo transport," explained Logiventures Director Janitha Jayanetti. "We've successfully designed, fabricated, and delivered countless container modifications from the routine to the challenging, and has become a popular architectural resource in Sri Lanka".
The technical expertise, commitment to quality – adhering to ISO 9001:2008 standards, and innovative approach that the Convertainers team brings to every project helps them turn customer imagination to real life buildings.
"With a little imagination and the right design and build expertise, used containers can be re-purposed for just about anything. Outdoor event organisers can have a Convertainers fixed up to become a mobile kitchen or bar; hoteliers can provide affordable chalets, villas, rooms using stacked Convertainers; scientific organisations can conduct field research work in portable Convertainers laboratories on location." Mr. Jayanetti added. "And these amazing transformations can take place at a lower cost and a much quicker pace than most conventional building methods."
Logiventures (Pvt) Ltd, a subsidiary of Hayleys, is the pioneer and the only exporter of Container cabins in Sri Lanka. The company says it aims to make Convertainers the popular choice in innovative building materials and encourages consumers to use shipping containers in the construction of all kinds of facilities, from small or multi-storey office buildings to wine cellars or even chalets and villas.
Follow @timesonlinelk
comments powered by

Disqus