Well done Sri Lanka
View(s):

Every time the Sri Lanka cricket team plays against another country, or takes part in a tournament, all our fans want it to win. Without doubt everyone wants that to happen. Such is the natural desire of any person.

As a true cricket lover I do not look at it from that angle. A team can play badly and still win because the opponents are worse than it is. In such an event the victory is far from glamorous. On the other hand, a team can play well, put up a good fight and still lose the game because the other team played better. It is worth playing good cricket and fighting till the last minute. Even if the game is lost no harm is done.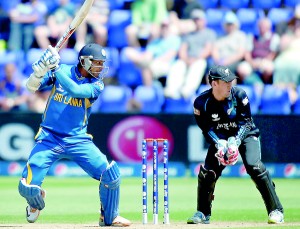 In the ICC. Champions Trophy Tournament our lads played the game the way it should be played and it was a pride and joy for me to watch them in action.
I would like to analyze the tournament match by match. In the first match against New Zealand we played on a very poor pitch. It was a bowlers' pitch and in such a situation our batsmen did not fare very well. We got only 128 runs. It was difficult to defend a total of that nature on any pitch.
Nevertheless, our lion-hearted cricketers fought till the last minute and went down gracefully. If the umpires hand not made blunders then Sri Lanka would have won the match. It was a treat to watch our cricketers playing their hearts out and giving their very best for the team. I must mention here the superb bowling of Lasith Malinga. He answered many of his critics that day.
Then it came to the match against England, the host nation. On that day our bowling was not up to the mark and our fielding was horrible. The English batsmen massacred our bowlers and put a massive total of 293 on the board. After a bad day on the field and missing so many catches, our morale was very low. In that frame of mind no one expected our lads to chase the294 runs needed to win. But our team showed the world that 'where there's a will, there's a way'. Our lads reached the total in style and made the English cricketers eat humble pie. It was a treat to watch Kumar Sangakkara and Nuwan Kulasekara playing two magnificent innings which helped Sri Lanka carry all before it.In the league final match we played against Australia. The Aussies were determined to win the game with a bonus point. They won the toss and sent us in to bat. With some responsible batting from our lads we managed to score over 250 runs. I admire the responsible innings played by Mahela Jayawardane. The Australians tried their best to reach this total before 29.1 overs but our bowlers were on target and the opposition began to lose wickets. They tried to win the match but the 'never-say-die' Sri Lankans did not allow them to dictate terms.
Our lads won the match very handsomely and entered the semifinals of the tournament.
In the semi-final match we had to battle against the World Cup winners, namely the mighty Indians. It was a very poor pitch for a semi-final. Before the match there was rain and dew on it. Very unfortunately, our captain lost the toss. The Indian bowlers were on target, while batting on a pitch of that nature was a nightmare for any batting side. I would say Sri Lanka was very unfortunate that day. However, our batsmen managed to score over 180 runs. When India started batting, the wicket was dry and batting, as such, was not difficult. So they easily won the match.
As an ardent cricket fan I do not blame our lads. I congratulate them for their stout-hearted display. They showed the world that we are 'second to none'. Well done, our national cricketers! Continue to keep the Sri Lanka flag flying!
Rev. Bro. Nimal Gurusinghe FSC
Follow @timesonlinelk
comments powered by

Disqus