Sabine Lisicki's Wimbledon
View(s):

This year's Wimbledon had more 'unexpected upsets' than 'expected wins'. Even with this backdrop top seed Serena Williams was considered solid and showed every sign of going home with the title in the bag.

In the second week Sabine Lisicki of Germany changed Serena's plans. It was the most sensational upset in this year's Wimbledon. Lisicki beat Serena Williams in her 4th round match.

It was also sensational Tennis. In the third set the Tennis that was expected from Serena Williams came from Sabine Lisicki. 'Williams-game' is what Lisiki played. It may become a brand that people will refer to in the future.

A classic

The best compliment to Lisicki came from her defeated opponent after the match. Serena Williams in a simple sporting spirit conceded that she always found Sabine Lisicki tough to play and that she lost, having played her best. This is true. This match produced some of the best Tennis seen in Women's singles ever. Expect this match to be named, a classic.

Lisicki won 96 points and that is 3 less than Williams. Lisicki lost the 2nd set in 27 minutes at 6/1. After that not much was expected from the German. She surprised all. In every department Lisicki outdid Williams making the last set memorable. 33% of Lisicki's points came from Williams's service games that made all the difference to the match results. Lisicki's service, return, ground strokes, volley and her ability to move matched many great champions of the past. Seeded 23 she went to the semi-finals on Tuesday beating Kala Kanepi an unseeded Estonian. This could be Lisicki's Wimbledon! (By now she has moved into the final)

Quarters

Asian hope Li Na lost to Radwanska in the quarters. It was also a three-setter. Petra Kvitova, a former Wimbledon champion, lost to Belgian, Kirsten Flipkens also in three sets – another Belgian in the footsteps of Justine Henin and Kim Clijsters after a lapse. Former finalist Marion Bartoli with her unique style and court habits came over the last of the American challenge, beating Sloane Stephens to reach her second semi final.

In the men's, two Poles have come up to the quarters – Unseeded Lukasz Kubot and 23 seeded Jerzy Janowicz. Spain has two players remaining – marathon man David Ferrer and the power house, Verdasco. Argentinean Juan Del Potro for the first time has reached the quarters. English crowd has Andy Murray to cheer for in the quarters and he is comfortable on grass having won a grass tournament two weeks ago. There is hope that the poor English Wimbledon record could change this year.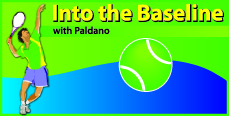 Injuries and 'gold rush'
Injuries gave too many knock out blows this Wimbledon. In the second week, players have adjusted to the grass. It is unlikely any more will go out. However, the issue will be looked into and answers will be sought. I am sure the reason will not be the English grass as many have claimed. One outside possibility is the European extended clay court season had lot of 'money' at stake. Players were reluctant to leave the gold and go to the British Isles for grass court adjustments.
Indians in doubles
India is getting famous for doubles. Mahesh Boopathi, Leander Paes, Rohan Bopanna got the quarters and Paes and Bopanna have gone to the semi finals. Bopanna has also entered the quarters of mixed doubles. In singles, India has not made an impact. With exceptions, Indian singles is peripheral in standard.
Change of guards and Asian
Wimbledon still has five more days. The trend of this tournament shows women's Tennis ranking will change soon. European domination will be seen for a while. Sharapova and Williams are likely to be there for a while but the others are doubtful. In men's, Federer is a shadow of what he was and Nadal with his injuries will probably be doing an appearing and disappearing act. These men did have their day and beyond doubt will go as legends of the game. There is no safe base or safe place for the top players anymore. Eastern Europe has got their act together and is rolling out players. More Asians will appear in the top 50 soon mostly from China, Korea, Japan and possibly central Asian republics.
Our chances
Others will have to get to the drawing board. Not only for a change in culture but also in game making style. In fact, game making is not in our cards for development and it is a major defect. We cannot blindly follow what others do. We have to do what we will be good at. We have good hands, eyes but have not the feet for modern Tennis. Our build is better for calculating and positioning than scrambling. Following others is a pit fall that has affected our Tennis for generations. Tennis is an individual sport with its unique attributes.– -George Paldano was an international player, accredited coach of German, ITF and USPTR. National, Davis Cup and Fed Cup coach.
– georgepaldano@yahoo.com-
Follow @timesonlinelk
comments powered by

Disqus