Leaders unharmed, but rumblings in the middle
View(s):

Despite minor hiccups Navy Sports Club and Solid Sports Club still continue to dominate their respective point tables of the Dialog Champions League 2013 as the competition completes its ninth week.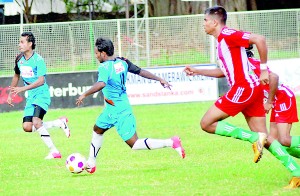 The Sailors suffered their first defeat while Solid SC returned to their usual winning form last week.
Navy's loss to Blue Star could not change their dominance in Group 'A'. But their days ahead will not be as shiny as it is today.
After an equal number of matches, second seed, Blue Star are just a point behind table leaders Navy. Blue star's victory against the Sailors can definitely be termed as crucial in their journey through the tournament as they advanced two slots from number four.
Colombo FC, having not played their game last week, slipped a place as Saunders stormed to their fourth win from six outings, thrashing Negombo Youth 3-0. Java Lane, who suffered a shocking 3-1 defeat at the hands of Matara City, slid down two places to fifth.
Matara City, who recorded their second victory of the competition, is another team that can forge ahead in the competition. They are slotted in at sixth.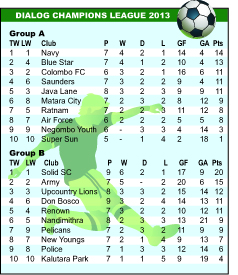 Ratnam, who did not play a game this week, lost two places and are placed at seventh followed by Air Force who also did not play their game.
Solid, the leaders of Group 'B', savoured their 2-1 victory against New Youngs, a week after suffering their first defeat. After rediscovering their winning ways, Solid looks really good with 20 points under their belt. Next is Army SC, who remains at the same position as last week, despite losing by 2-1 to Don Bosco. Upcountry Lions, despite not playing their scheduled match, remains third. One of the top gainers this week is Don Bosco, who raced to fourth from sixth after their win against the soldiers. Renown, another team to skip their scheduled match, lost a place and moved down to fifth while Nandimithra too experienced a similar fate in moving down to sixth.
Pelicans made a surge from nowhere to thrash bottom seed Kalutara Park by 4-1 and that helped them gain two places from seventh to ninth. New Youngs, who ended their match against Solid with a defeat, lost a place and moved down to eighth this week. Police, who were out of action last week, also lost a place and were pushed down to ninth as Kalutara Park remains at the bottom. – NA
Follow @timesonlinelk
comments powered by

Disqus