Major initiative to kiss and make up with Uncle Sam
View(s):
Central Bank and Sri Lanka's embassy in Washington hire expensive PR firms to turn foe into friend; EAM left out of DPL process
Moves to improve ties with India also, but New Delhi insists on 13th Amendment and LLRC recommendations
By Our Political Editor
It was just this week that top government officials scoffed at suggestions that Sri Lanka too play a role in the US pivot, a new foreign policy initiative by President Barack Obama towards East Asia.
The suggestion to include Sri Lanka in that endeavour came in an article Jaliya Wickremesuriya, Ambassador to the US, wrote to a US Congressional website and was quoted in this column last week. He called for closer economic and defence ties with the US — a move aimed at checkmating the emergence of China as the dominant power in the region. Embarrassed External Affairs Ministry officials took great pains this week to explain to Chinese diplomats that Wickremesuriya's much publicised views did not constitute official policy of the Government of Sri Lanka. Significant enough, similar explanations were also offered to Indian diplomats and visiting Pakistan Foreign Secretary Jalil Abbas Jilani.
Yet, other far-reaching measures to enhance closer ties with the US have been under way in recent weeks. Despite the public anti-US rhetoric orchestrated by the Government, these behind-the-scenes moves at rapprochement had gone on at the same time as the US was moving a second resolution at the UN Human Rights Council sessions in Geneva. From March 16 this year, the Monetary Board of the Central Bank of Sri Lanka has contracted the US-based Thomson Advisory Group LLC (TAG) to create:
1. A political environment in the United States of America (USA) that is more than conducive to enhancing Sri Lanka's long-term political and economic aspirations;
2. A comprehensive information platform where decision makers in the USA receive clear and accurate information about Sri Lanka's current achievements and future plans; and
3. A higher volume of private sector investment in Sri Lanka from the USA.
The cost for the Sri Lankan tax payer, as a result of this new arrangement, is US$ 66,000 (or around Rs. 8,337,000) every month. An advance payment has already been made for March this year. In terms of the agreement already signed by Central Bank Deputy Governor B.D.W.A. Silva and Robert J. Thompson, Chairman of the Thompson Advisory Group (TAG), LLC, monthly payments will continue until March 2014. The TAG is a President-Ronald-Reagan-era company largely operated only by Thompson and his associate, Abbey Stewart. She is an Attorney who functions as Senior Policy Advisor. In 1983, Thompson was Special Assistant to President Reagan. His official designation was then described as Deputy Director for Legislative Affairs at the White House.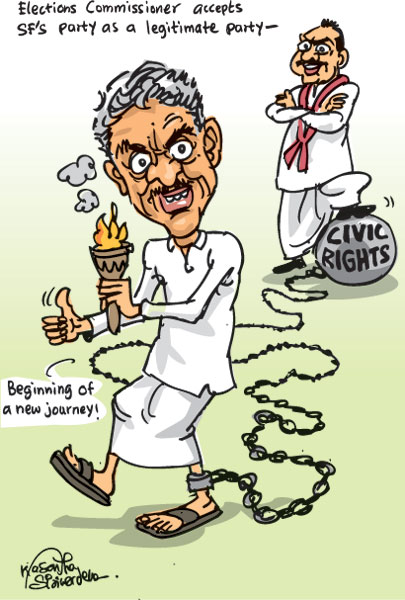 The TAG's website describes the company as "an advisory and strategy firm enabling governments and the private sector to solve global strategic problems." It adds: "Our mission is to solve critical client issues resulting in a positive economic impact. The Thompson Advisory Group helps organizations create profitable and innovative solutions that solve their customers' most difficult challenges. Our results driven professionals serve clients in a variety of fields, including Defence, Energy, Health Care, Homeland Security and Information Technology."
The agreement between the Central Bank of Sri Lanka (CBSL) and Thompson Advisory Group, a copy of which is in the possession of the Sunday Times, raises a critical question — whether the Sri Lanka embassy in Washington DC has become obsolete. All the more because the embassy statements have time and again claimed it achieved what are now the objectives of the Central Bank, the main one being enhanced investment. It is now clear that these claims are nothing but misleading press-release diplomacy. If that is bad enough, there is something still worse. The Sri Lanka embassy in Washington has now contracted another lobbying firm, The Majority Group. This is to replace Patton Boggs which performed (or under-performed) a multitude of tasks previously.
The agreement by CBSL with TAG, as US law requires, has been registered on March 25 this year in terms of Foreign Agents Registration Act under the Department of Justice. The deal first became public in the United States after the widely read website Politico reported on it. It said: "The Central Bank of Sri Lanka – an independent arm of the government – has inked a deal with Thompson Advisory Group on a PR and government affairs contract. Thompson will distribute information and arrange meetings on behalf of Sri Lanka's bank, in order to better communicate the economic successes that the government has had since the Civil War. The Central Bank wants US policy makers and business leaders to know 'that there are growing opportunities in Sri Lanka for additional direct US investment and business'."
In a separate story on Friday, Politico also spoke of the deal for the Government put through by the Sri Lanka Embassy in Washington. It said: "The Sri Lankan government has inked a lobbying and government affairs contract with the Majority Group. Previously, the country had been represented by Patton Boggs. Patton terminated its representation of Sri Lanka in early February, according to Department of Justice records. Majority Group's partner and co-founder Rob Ellsworth confirmed the news to PI. We're excited to work with Sri Lanka on a number of issues important to both of our countries. As a small boutique firm, we are able to give constant and individualized attention to our clients; I know that was very important to Sri Lanka," Ellsworth said. The Majority Group was formed by Ellsworth and former Rep. Walt Minnick (D-Idaho)….."
A form filed by TAG in accordance with the US Foreign Agents Registration Act contains answers to questions. One such question requires firms registering to describe "all such political activities indicating, among other things, the relations, interests or policies to be influenced together with the means to be employed to achieve this purpose." The answer given by TAG states: "Political activities will involve the dissemination of fact sheets, white papers, and op-eds, meetings, e-mails and phone calls. The purpose is to develop and expand areas of mutual co-operation among commercial interests and the Sri Lankan and US governments. The policies include trade, foreign investment, economic growth, national security, post-war recovery and humanitarian assistance and progress." Significant enough the lobbying firm has been tasked by the CBSL to handle even "national security" issues, a subject which is officially not within its purview.
The CBSL, according to the agreement, "wishes the following key messages to be communicated to key stakeholders in the USA as a means of realising" its objectives.
Those set out are:
That Sri Lanka has suffered a long and brutal war.
That the current International media focus on Sri Lanka is unbalanced, which the Monetary Board considers as being unfair, unwarranted, and overshadows the impressive post-war socio-economic achievements of Sri Lanka and also could undermine the long-term US political geo-strategic and economic interests;
That Sri Lanka has made an earnest and genuine effort to improve the living standards of people in the conflict-affected areas in the process of post-conflict rebuilding and reconciliation;
That the process of post-conflict rebuilding and reconciliation is a long-term process and cannot be imposed from the outside and that therefore, Sri Lanka needs reasonable time and space to undertake this task;
That there are growing opportunities in Sri Lanka for additional direct US investment and business, and also as a gateway to the fast-growing South Asian region; and
And that it is necessary to have a re-calibration of US policy, based on a wider and fairer information base, leading to a multi-dimensional and more balanced engagement with Sri Lanka.
Whilst the UN Human Rights Council was in session in Geneva voting on a US sponsored anti-Sri Lanka resolution, a TAG delegation was in Colombo on what was officially described as a "fact finding mission." Their discussions were with members of the Monetary Board of Sri Lanka and Central Bank Governor Ajith Nivard Cabraal. The External Affairs Ministry had little or no role. This raises the question whether any other government agency, like, for example, the Export Promotion Board, could hire its own lobbying firm in the US to not only pursue its own ideals but also to aim at changing US government policy?
What then is the role of the Sri Lanka diplomatic missions? Does not the decision to by-pass the EAM and hire a lobbying firm acknowledge the fact that the EAM is not performing or unable to perform? It was only last week; the son of a Sri Lankan academic living in the US was named as one more Counsellor in the Embassy in Washington. The responsibilities handed over to TAG for a fee of more than Rs. 8 million a month are ones required of a Sri Lanka diplomatic mission overseas. Here are the tasks in the first quarter listed in the agreement:
Prepare and provide educational facts, figures and analysis relating to Sri Lanka to be submitted to the United States Government (USG) audiences – (Congressional and Executive Branches, think tanks, academia and Media);
Plan and execute immediately, an on-going engagement with US Congress, US Government Departments, and United Nations(UN);
Engage with influential media;
Brief US-based investors on current US investment and additional investment and trade opportunities in Sri Lanka;
Prepare suitably worded educational and promotional articles for US audiences, which would be factual representations based on the past 30 years and the remarkable post-conflict progress in Sri Lanka;
Arrange a comprehensive programme in April 2013 for a Central Bank of Sri Lanka (CBSL) visit to Washington DC.
Arrange awareness and educational visits to Sri Lanka for senior US government and private sector officials as set out in detail in the key deliverable clauses in the contract; and
Reach out to opinion leaders in think tanks and academia in the USA and engage with the broader Sri Lankan Diaspora by organising interactions and meetings as appropriate.
Without exception, the tasks are all functions that were in the past carried out by the Sri Lanka Embassy in Washington through the Ministry of External Affairs. Now, even making arrangements for CBSL officials visiting Washington DC will be the responsibility of the TAG, a lobbying firm. Does that mean the Sri Lanka Embassy in Washington is incapable of even formulating a programme for CBSL officials? An EAM career officer, a rare breed now, said, "Our missions are packed with mostly unqualified political appointees."
Speaking on grounds of anonymity for obvious reasons, he said, "Because of this sorry state of affairs, we are forced to seek outside help. Thus, we end up paying for sustaining sometimes overstaffed missions whilst paying an equal or much higher amount for other parties to carry out the same work." The officer pointed out one instance where "the wife of a Grama Sevaka has been posted as Personal Secretary to an envoy. She neither knew English nor the language of the country where she was posted. As a result, the Ambassador functions as his own Secretary whilst the pay goes to the political appointee. Military officers have been rewarded with diplomatic appointments. Rewards for loyalty is one thing, diplomacy another."
Earlier, the Sri Lanka Embassy in Washington paid varying amounts to Patton Boggs, a public relations firm. It had no clout in the so-called 'beltway politics' of Washington DC and no influence in either the Congress or the White House. Now, The Majority Group has been retained in its place. Thus, it would be clear that there will be two different lobbying companies that will carry out work for the embassy in Washington and the CBSL in Colombo.
On July 8 last year, the Sunday Times (Political Commentary) raised issue over the conduct of Sri Lanka's diplomacy in the United States. This was after three public relations cum lobbying firms publicly acknowledged they received government funds, channeled through the embassy for work which is normally the task of the diplomatic mission. One is Hedges Strategies, a US-based lobbying firm. In 2010, this firm was paid US$ 10,916.44 (Rs. 1.3 million). The work covered "briefing notes for the ambassador's meetings, Vesak celebrations, Thai Pongal celebrations, Ambassador's speech for a dinner celebrating the first ever visit to the US by the Sri Lankan national cricket team, Ambassador's remarks for an Asian arts celebrations at the Kennedy Centre and George Mason University, Ambassador's remarks for a discussion at the US Department of State's Foreign Services Initiative, Ambassador's remarks for Sri Lankan Sinhala-Tamil New Year, World Bank Sri Lanka Food Festival and strengthen Sri Lanka's diplomatic and trade relationships with the United States."
Patton Boggs was paid US$ 420,000 (Rs. 52 million) in 2010. This was only for canvassing two US Senators on human rights issues, to discuss bilateral relations with US Senators Patrick Leahy, John Kerry, Richard Lugar, Heath Shuler and Bill Casey. It was also to brief Senators Russel Feingold and Jim Moran on the recommendations of the LLRC. The firm Cranford Johnson Robinson Woods was paid US$ 135,000 (Rs. 17 million) for "fees and expenses in relation to agency." The largest payment was made to Qorvis Communications. In 2010, the firm was paid US$ 253,377.92 (Rs. 31.8 million) for the most number of assignments. Here again, these were tasks which a Sri Lanka diplomatic mission overseas has to undertake on its own. Qorvis, a subsidiary of Bell Pottinger group was also given tasks. It was this group's London office that claimed it wrote President Mahinda Rajapaksa's 2009 speech to the UN General Assembly.
Britain's 'Independent' newspaper said that senior executives at the PR firm Bell Pottinger told undercover reporters that the speech prepared by them for Rajapaksa was given preference to the one prepared by the Sri Lankan foreign ministry. The firm confirmed it received payment.
Other than carrying out the tasks listed above, TAG has been assigned to execute before June 1 this year, some important responsibilities. They include:
Meet and brief a significant number of US Senators, Members of the House of Representatives, and their staff and start the education and awareness process;
Develop and submit a comprehensive media plan;
Arrange a two-day programme in Washington DC for the Governor of the CBSL and other key officials from Sri Lanka for interactions with key Senators and representatives of the Government and Opposition of the USA in April 2013; and
Make best efforts, as appropriate, to arrange for positive letters on Sri Lanka to be sent to key Senators and Congressmen to the President, Secretaries of State, Defence, Trade, Commerce etc. of the USA emphasising the fact that the USG's current focus does not appear symmetrical on impressive post-war socio-economic achievements, while also potentially undermining long-term US geo-strategic and economic interests.
Similarly, different tasks have been assigned for the second, third and fourth quarters of the year. They are essentially an extension of the tasks given to them. A study of vesting these responsibilities in the hands of a US lobby firm also makes clear another factor. The Central Bank of Sri Lanka has, instead of the Ministry of External Affairs, taken over the initiative of promoting the conduct of foreign relations.
This is, among other matters, by asking a lobbying firm to arrange for letters by Senators and Congressmen to the US President. Not surprising since the EAM has long lost its capability to conduct Sri Lanka's foreign policy or ensure professionalism in its ranks except in very small measure. Ironically, the sorry state of affairs has been allowed to deteriorate. The Sunday Times has learnt that the US lobbying firm was recommended to Sri Lankan officials by an expatriate Lankan who is operating a limousine service in Maryland, Washington DC. Among his clients is said to be the head of TAG. Diplomatic circles in the US capital say his commission as a result of the deal was US$ 7,000 (Rs. 879,000) monthly but this could not be officially confirmed.
Last week, the Sunday Times revealed how Sri Lanka showcased the availability of offshore blocks for oil and gas exploration in the Cauvery and Mannar basins in the US last month. It was at the CERA Week, the global energy industry's premier event in Houston, Texas. In Colombo this week are the CEO and four high ranking officials of a company listed as one among Fortune 500 and number one in hotel category – Marriot Hotels. Its Chairman Arne Sorenson will call on President Mahinda Rajapaksa today. Other members are Simon Cooper, President and Managing Director, Asia Pacific, Marriott International (M.I.), Don Cleary, COO, AsPac, M.I., Navjit Ahluwalia, Senior, VP, Hotel Development, India and Indian Subcontinent, M.I., and Kiran Andicot, VP, Hotel Development, India and Indian Subcontinent, M.I. Though their main mission is to inspect their hotel project at Weligama with Sri Lankan marine engineer turned real estate entrepreneur Nahil Wijesuriya, the team is also to tour the south, east and central parts of the country.
These were not the only factors that highlighted the UPFA Government's current initiative to once again revive good relations with the United States. A similar move with India was reported in these columns last week. It is being pursued by the Government. Adding more significance to the initiative towards the United States was what transpired at last Thursday's weekly cabinet meeting. Presidential Secretary Lalith Weeratunga gave a detailed briefing to ministers on how a Presidential Task Force which he heads was enforcing the National Plan of Action to implement the recommendations of the Lessons Learnt and Reconciliation Commission (LLRC). Ministers were given copies of a document which listed out the provisions that have already been enforced and the status of what is being done in respect of others. One such pending issue listed in the document was the introduction of legislation, based on recommendations of the LLRC, to introduce new laws against sedition.
When Opposition UNP Leader Ranil Wickremsinghe visited India last week, the common position taken by the Congress government (Salman Kurshid), BJP opposition (Sushmita Swaraj) and President Pranab Mukherjee was why the Sri Lanka Government was not implementing its domestic fact-finding report of the Lessons Learnt and Reconciliation Commission (LLRC). They had said that India was not for Eelam nor did they in New Delhi subscribe to the Tamil Nadu politics against Sri Lanka, but asked why the Sri Lankan Government was not doing enough for the dignity of the Sri Lankan Tamils, based on devolution as envisaged by the 13th Amendment and good governance issues through the LLRC recommendations.
They had wanted undertakings given by the Rajapaksa government to India implemented and feared that there could be resurgence of the demand for Eelam if these undertakings were not put in place.
In terms of the US resolution adopted by the Human Rights Council last month, the High Commissioner for Human Rights is required to make an oral report at its 24th sessions in September this year. Thereafter, a "comprehensive report followed by a discussion at the 25th sessions (in March 2014) on the implementation of the present resolution," is to follow.
The US has already cautioned that it had options both at the UNHRC and outside it to act against Sri Lanka if provisions of the resolution were not implemented.
These developments on the international front come at a time when a ministerial team headed by former Prime Minister, Ratnasiri Wickremenayake is finalising its report on the issues that were causing religious tensions. President Rajapaksa appointed the Committee after he had meetings in February with the Bodu Bala Sena (BBS) and Muslim theologians, as revealed in these columns on February 17.
Last Monday, Muslim cabinet ministers Rauff Hakeem, A.H.M. Fowzie and Rishard Bathiuddin locked horns with a member of the ministerial team, Jathika Hela Urumaya's Minister Champika Ranawaka. The issue was over the draft report of the subcommittee apportioning blame on the All Ceylon Jamiathul Ulema (ACJU) for the controversy over 'Halal' certification. This certification, for a fee earlier, confirmed that meat products or other items were in accordance with Islamic practices. The draft had said that the ACJU engaged in an illegal act and wants to recommend that the task of issuing such certification be brought under the Department of Muslim Religious and Cultural Affairs. Controversy over the reference to "illegal act" remains whilst there is agreement on the move to vest the task in the Department.
The Muslim ministers had sought the deletion of the reference blaming the ACJU. Minister Ranawaka has pointed out that the reference has been included to place matters in context. Ranawaka was supported by Minister Dinesh Gunawardena. He also insisted that the references in the draft report remains. A heated exchange ensued. It was pointed out that the Consumer Affairs Authority had earlier issued a notification that the issue of Halal certification could be carried out only by the ACJU. However, it had been rescinded in a Gazette notification issued in 2007. A Muslim minister argued that the rescinding did not make it illegal for ACJU to issue Halal certification but also allowed other Muslim bodies to do so.
Only the exclusivity had been withdrawn, he contended. The Minister was also to point out that ACJU was continuing the practice at the request of the Ministry of Defence until other arrangements were worked out. Consequently a number of companies, including export houses, were obtaining their certificates. Most of them were doing so until the 'Halal' labels they had printed were exhausted. Minister Wickremenayake said he would find a way of re-wording that part and have another meeting of the committee to finalise matters ahead of formulating the final report.
Despite all the anti-US rhetoric and demonstrations outside the US embassy by known pro-UPFA Government groups, there is little doubt now that their leadership wants to build bridges. A one-time US diplomat in Colombo said somewhat pithily, "they want to kiss and make up with Uncle Sam. They are welcome but they should clear the table first." The allusion was to US demands in the second resolution passed in Geneva and the need to implement them.
It is abundantly clear from the way two different lobbying firms have been hired by two different arms of the Government (the Central Bank hardly qualifies for 'independent' status nowadays) that the Sri Lanka Embassy in Washington DC or the Ministry of External Affairs in Colombo is able to carry out its responsibilities on its own. They need help, and need it very badly. For their inefficiency, the tax payer, both direct and indirect, is forced to meet costs for a new form of "pay now and see later diplomacy" from the shelves of lobbying firms. This is at a time when the people have to meet higher costs of living and are bracing themselves for an electricity tariff hike.
On the domestic front, the report of the Ratnasiri Wickremenayake Cabinet Sub Committee is being awaited for legislative or administrative action. That is to reduce tension between small Buddhist groups — backed by some members of the clergy — and the Muslim community. All in all, the National New Year notwithstanding, for the UPFA Government the coming weeks will mean more and more crisis management. That is besides a costly campaign to win over foes and make friends again, damning proof that it is an exercise caused by the poor conduct of diplomacy all this while.
Follow @timesonlinelk
comments powered by

Disqus