Looking beyond dollars, wickets and runs
View(s):

My dear Sri Lankan cricketers,

I thought I must write to you after hearing that you have been asked not to play in Chennai or anywhere else in Tamil Nadu by that state's Chief Minister, Jayalalithaa in the upcoming Indian Premier League.

The organisers of that tournament, I am told, instead of doing the right thing and cancelling the games that were to be played in Chennai, have decided that you should not play in Chennai at all. So far, I haven't heard any of you say that you will pull out of the tournament as a mark of protest.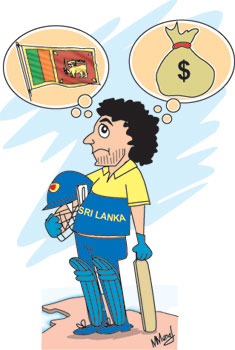 Anyone with an ounce of common sense and intelligence will realize that Jayalalithaa is trying to insult our country, so she could be a hero in her own state. The question therefore is, are you willing to be a party to that, by playing according to her conditions?
Surely, if you are not wanted in Tamil Nadu, then you cannot be wanted in other states in India? And if you have an iota of self-respect and value the dignity of your country, you cannot be submitting yourself to these absurd conditions, unless of course, you value the dollars you earn even more.
I know that it is useless to ask our own cricket authorities to decide for you. They are so inefficient that they cannot decide who will be their boss for the next few years-and all the applicants for the post have been 'disqualified'-so don't waste time asking them for guidance.
We did however hear Captain Cool speak his mind about this issue. He described this for what it was: an attempt to humiliate our country. He wanted you to keep away from the entire tournament. He would have done so even if he was offered a million dollars to play, he said.
I may not always agree with everything that Captain Cool says but in this instance, I agree with him totally. And when he says that he wouldn't have played even for a million dollars, I do believe him because he hasn't taken a cent from any sponsor or advertisement, ever.
I don't think he is asking a lot from you either. We know that the IPL means big money for you-why else would Lasith skip test matches but keep on playing in the IPL-but we also know that you make a few million rupees every month. Surely, that is enough to put food on the table and pay all the bills?
So, is it too much to ask to skip the tournament for one year so that we as a country can be proud that we have a team of cricketers who truly put country before self? Or is it too much to ask from those who once ran to Mahinda maama asking him to cancel a tour to England, so you could play in the IPL?
Murali, you have said that despite not being from the majority community, you considered yourself a Sri Lankan first and that during those difficult days when some countries were trying to throw you out of the game, the entire country stood by you and that your race was never a factor at that time.
We do admire you for your comments and for your courage to say so at this time but I think you can do a little bit more for the country, which loves you and hails all your great achievements: pull out of this tournament and show Jayalalithaa that even those she claims to support don't agree with her.
Kumar, you are often cited as a role model. People praised you for your courage in exposing the problems with Sri Lankan cricket authorities at the Cowdrey lecture. We know you talk the talk very well, but here is your chance to walk the walk-and then we will know that you are a patriot, after all.
As they must have taught you at Trinity, Kumar, look to the end: what matters more, whether you are a few million rupees richer at the end of six weeks or whether you upheld your country's pride?
Mahela, we have enormous respect for you as a great leader who guided us to quite a few World Cup finals. You even accepted the captaincy when no-one wanted it because the country needed you. Surely, a few million rupees more cannot tempt you to forget that sense of duty you seemed to have?
We know that regardless of what happens in Tamil Nadu, all of you could be laughing all the way to the bank in a few weeks. But if that happens, we will also be sadder as a nation, knowing that some of our greatest 'heroes' are mercenaries who prostitute themselves for the money that is thrown at them.
This country has given you the opportunity to become what you are and earn what you earn. We don't grudge you that and in fact we are quite proud of what you have achieved in the past few decades. But once in a while, your country expects something from you in return. Now is that time.
Yours truly,
Punchi Putha.
PS-Here's just a thought: since most of you appear in commercials, why not get together as a team and do a ten second video that would send a message to Jayalalithaa? In that, you could say, "Nikan wedak balaagena yanawa manussayo yanna…!"
Follow @timesonlinelk
comments powered by

Disqus