Graduates – What next?
View(s):

The aforementioned rhetorical question evokes various types of responses – some assumed – as if it's a given that ANY graduate MUST be employed gainfully and that life thereafter will be a 'bed of Roses'!

The reality is that nothing can be 'assumed' – life does not pan out 'the way we want'! Period!

Harking back to the life of a typical school-leaver or just passed out graduate, have you not been told ad-nauseam by your parents, grand-parents, uncles, aunts or whoever who have been 'advising' you that 'if you get through this exam or that, life will be just fine and that you'll be then happy' – wasn't it?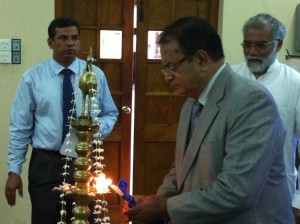 Remember when you passed the O/L hurdle – you were thrilled no doubt, for a while but then you had to buckle down and study again – for the 'Advanced Levels'. You did, after months of 'cramming' and joining this Tuition class and that. And you eventually made it. You secured sufficient Grades to ensure that you enter the portals of the 'ultimate' [in your mind, that is] – an University. You felt on top of the world. After all throughout your formative years all 'elders' have been preaching that the main goal in life, for any school boy or girl is to 'enter university' – then you have a right to be happy! Right? Wrong!
After a few months of the 'initiation' [that may mean many things for every under-graduate!] to 'varsity life, you realize that its back to the grind of sheer hard work and burning the midnight oil – again! Your idea of 'happiness' evaporates. You become disillusioned. But again you pick courage and start over again – working out your brain [and to a lesser extent your brawn!] and aim at getting those grades to ensure that you sail through the rarified atmosphere of university academia.
The 'Great Day' dawns – the Convocation Ceremony dazzles you in spite of the waiting and waiting – then students who have passed their course will have their names called out [isn't is music to your ears when your name is called out in front of your parents, relations and friends?]; then you walk across the stage and will be handed over your Diplomas – wrapped with a red ribbon. Ah! What a feeling!
The heady feeling goes on…..you celebrate in numerous ways – depending on what you perceive as 'having a great time' – some party the whole night; some are more subdued. The 'after graduation' elated feeling of being on a 'high' goes on for a week, maybe more. Then reality hits you again!
After Graduation – what next?
Of course there are some who have planned your next stage –either taking up to Post-Graduation Studies as they move on to a life as an Academic…..
Some, on the other hand, commence the 'next stage' of their life – in seeking a 'suitable job'. They then realize that without much 'career development training' – even starting off from scratch, as for instance on how to prepare that CV that would really stand out – is only confined to wishes!
Many start off on the wrong foot in the job market due to their inability of projecting themselves positively – you need to accentuate your strengths. Be aware of what the corporate entities need: many hire on 'attitudes' that you project! Sure you need to be smart, punctual and then alert when responding to questions: people like and are impressed with those who actively listen before answering questions! And of course do be absolutely conversant in areas that you have specialized etc. After all at the end of the day 'job-competency' is a sine-qua-non! No half measures here!
Now the next 'gray area': how do you 'project yourself in a positive light? Obviously good grooming matters, such as well shaven face [for guys, that is!] smart, well-ironed clothes, polished shoes, tasteful choice of colour combinations: shirt, tie, belt, socks etc. Some argue and say: how could you possibly get a village lad [or lass] to know about 'good grooming? Well that's reality – the sooner one knows how to present yourself tastefully – the better your chances of being picked up by 'A Great Place to Work'!
Then your voice – I mean your tone and how you articulate your thoughts in whatever language you are spoken to – learn to breath better and use your voice and eye-contact in a manner that exudes confidence. Anyone one could learn the ropes of good grooming and voice projection – if you want to!
Whatever career you choose, remember the absolute importance of learning how to get on with each other; how to be an effective team-player…in short the vital significance of Human Resource Management. After all haven't you heard of the cliché: "People Drive Business"! That's a truism. Yet how many realize it to be so? That's where the HR House comes in – Look no further: The Institute of Personnel Management with that vibrant acronym IPM deals with all and any subject relevant to Human Resource Management and indeed HR Development. Human Resources have evolved to take center stage in any business, vocation or pursuit that people are engaged in: be it in Finance, Leisure, IT, Plantations, Shipping, Marketing, Banking or whatever. People need to arm themselves with HRD!
Next is the importance of English. Some may subscribe to earlier motion that 'English is not important' but the reality today is that if you could think and speak effectively and confidently in English – half the battle is won. And that's the reality, again.
If I say that 'English is Changing Lives' – it is absolutely true; today 1.5 billion people speak English globally and significantly another 1.2 billion people are learning English. Most CEOs of top corporate entities admit that social skills and of course competencies in English are a huge plus when hiring people. As soon as you talk and indeed start thinking in English your whole world starts to change – you acquire knowledge that much more speedily. So use English also as a tool to obtain knowledge – today you could 'Google' via English and up dated on any subject under the sun!
English is the common denominator of the Sciences, Astronomy, IT, Finance, the leisure industry in fact all trades, pursuits and vocations need English if you want to keep abreast of latest thinking. My sincere advice is to read, read & READ! This is no substitute for knowledge & vocabulary enhancement!
There are a host of other matters I wish to share with you but remember if you seek happiness – be Happy Now! Enjoy the moment – each and every moment that you savor in life. That's the secret of true happiness – not when you finish grappling that 'next goal'! Let me wish you all success and happiness as you go about taking on the challenges the world offers. Believe in yourself: You Can Do It!
- Dyan Seneviratne, CEO / IPM
Follow @timesonlinelk
comments powered by

Disqus