'A' team cricket: How serious are we?
View(s):

The uncertainties in the great game of cricket do not apply only to the game itself, now it seems the theory applies to all aspects of the game.

Maybe six months ago, it would have been almost sacrilege to think of a player like Kusal Janith Perera along with names like Angelo Mathews, Dinesh Chandimal, leave alone personalities like Lasith Malinga, Kumar Sangakkara, T. M. Dilshan or Mahela Jayawardena. But, today it has taken a 180-degree turn; the Lankan list to take on the visiting Bangladesh outfit is full of new faces.

Bangladesh from the time they came into the international mainframe in 1979 have been evolving steadily and today are in the fringes of becoming a team worthy of its status, but still lack that killer punch – a phase that even Sri Lanka went through at one point of history. Yet, today playing Bangladesh in Bangladesh is becoming a harder task to any Test team.

Now they are learning the intricacies of playing a par-game even when they are performing overseas. They would take the upcoming Sri Lanka tour as an opportunity, as the home team is also now treading in unknown territory after their recent reshuffle and the injuries to both Mahela Jayawardena and Kumar Sangakkara.

Yet the decision by the Lankan management to play a young team against Bangladesh is opportune.

From the squad of 23 players named in the Emerging squad, the players who have performed at international level are less than the fingers can count. Yet, they are talented and have been performing in the domestic arena and the best thing that could happen to them is the challenge thrown at their faces on home territory. At present, they are with good match practice playing in the ongoing Premier League tournament. To add to it all these cricketers are in the under 23 group.

This means Jayasuriya and company have thought futuristically and taken care of the talent of tomorrow. It is a well-known fact that the prevailing domestic structure is not the best in the world and the Lankan domestic wickets are not the most conducive to prepare cricketers to the international requirements.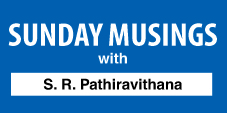 Last year's forgettable twin 'A' team tours of South Africa and Zimbabwe are ample testimony to that. On bouncy tracks the Lankan second string even found it difficult to face the pace and move of Zimbabwean left arm seamer Brian Vitori.
I can recall there was a huge disappointment when Sri Lanka 'A' almost became doormats during that tour.
The Lankan 'A' team usually is pregnant with players who are generally not with the senior side in spite of their experience. They make these tours just because they are still within the loop, yet will not bring any added value to the game as a whole even if they make it into the 'A' team. Sometimes it may have been coming as a payback incentive for their past contributions. I hope that such a system is abolished — at least it seems to be so.
To my mind an 'A' team is the gateway to the national team and this is the squad that should be in its prime 24/7.
The national squad's engagements are officially laid down till 2020. Unless the national management wants to cut a niche to the IPL and change the fate of an official tour, like what it did with this year's West Indies tour, the national engagements are engraved.
The fall guys in the block are those fringe players who keep knocking at the door. They keep playing cricket on our backyard wickets which are generally slow and low and when they get a rare opportunity to face real pace they fail. The reason is the lack of opportunities.
For instance, there is only one 'A' team tour down the pipeline still for 2013. That comes mid-year – May-June when the youngsters tour the West Indies and thereafter there is a question mark.
A senior SLC official describes the situation as the lack of windows. He explained "After the West Indies tour we have two offers from Pakistan and New Zealand for 'A' team tours, but we can take only one. Once the guys return from the West Indies it will be time for the SLPL where all the Lankan cricketers would be engaged, so that period is out. Then September-October period is generally the rainy season where we do not get the opportunity of having very many cricket playing days. Then we will have to think of getting down either Pakistan or New Zealand. If we get down New Zealand there is added value of having a reciprocal 'A' tour of New Zealand next year. Where Pakistan is concerned 'A' team ties away is still a question."
We at this end think this situation is totally insufficient. There is no doubt, over sixty per cent of the employees at Sri Lanka Cricket have played at least first Xl cricket while schooling. Take the first Xl season. While the first Xl season is going on the second Xl is also fully engaged at least playing 6-7 games for the season. In some schools it is more than that. This means at any given time if a first Xl player is injured or happens to get into a lean period, there is a ready replacement down below.
We admit that the type of cricket that is managed at the SLC is at a different level from college cricket, but, it was only a comparison. What we mean is if it is the September–October period and it is raining in Sri Lanka, why not try to hitch a tour to some place else.
May be more affluent, countries like Australia, England and South Africa pay a lot of attention to their second string cricketers so much so they even encourage them to acclimatise themselves to the Indian sub-continent conditions. In Sri Lanka other than the local league and Max Academy what is the official programme that we have? When foreign players come to Sri Lanka they play in our biggest tournament — the Premier League. We too have more than fifty players who play in England and other countries, but a majority of them go there to make ends meet and not to widen their aura in cricket; the quality of cricket they play there is well below par.
Playing cricket at domestic level and spending time at the Max Academy do not produce international cricketers. The 23 players in the Emerging team plus a few more who narrowly missed the bus are the next generation of Lankan cricket. This is where a large portion of the Lankan larder should be diverted to. This is a bigger investment than building international stadiums and naming them after politicians. If there are no cricketers of tomorrow the international stadiums may well be used to grow 'Ala-Bathala'.
Follow @timesonlinelk
comments powered by

Disqus