Jaffna music Festival
View(s):

By Sanath Weerasuriya

The season two of Jaffana Music Festival (JMF) will come alive at the Jaffna Municipal grounds on 1st and 2nd March this year.  The very first Jaffna Music Festival was held in Jaffna in 2011 and followed by a sister event Galle Music Festival in March 2012, which attracted an audience of over 22,000 people over two days.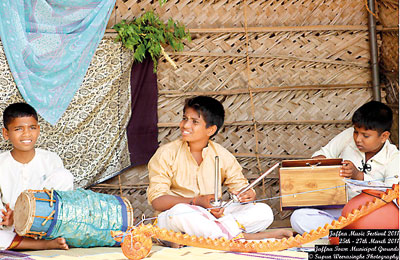 This time around the festival will host an eclectic array of music – including folk, contemporary and classical to name a few. The Jaffna festival promises to be as exhilarating as the Galle festival bringing together an exciting line up of musicians, dancers, performers and ritualists.
On the 1st and 2nd March 2013, the Jaffna Municipal Grounds will be bursting with a combination of vibrant music, colour and culture.
'The festival itself will be a celebration of the unique and fascinating history, heritage, diversity and talent that Sri Lanka has to offer. Joining the exciting line up of local artistes will be a line-up of International performers' said Kaushalya Navaratne, the Festival Director at the Inaugural press conference held last week .
The local and International artists will lead simultaneous performances on Friday and Saturday from 9.00am – 12.00noon followed by a main stage performance from 5.00pm – 10.30pm daily.
The morning programme will showcase simultaneous performances on four individual stages dedicated to Folk, Classical, Contemporary and Children's items. These stages will provide a unique and informal setting by which festival goers will be encouraged to have a personally engaging experience with performances. There will be opportunities for audiences to gather information about the historical and musical significance of items and instruments and to join in on the festivities.
Contemporary music groups such as Naadro, Ranwala Brigade, Ravibandu Vidyapathi Drum Ensemble, Sapthami, The Musicmatters Collective are billed to perform at this years JMF.
Folk artistes Marai Kaatha Maaveerar  – (Pasiyoor, Jaffna), Pakkeer Baith – (Ampara), Paparavahan Koothu – (Chulipuram, Jaffna), Parai Mela Koothu  – (Mulliyawalai, Mullaithivu), Ritual Songs of Batticaloa (Batticaloa), Sanni Yakuma – Benthara, Vezhalam Padutha Veerangani – Mulliyawalai, Mullaithivu will also perform at the festival along with big names like 'Colombo Brass Ensemble', 'Mangala Isai – Thavil', 'Nathaswaram, Natharanjanee', 'Oriental Music Orchestra', 'Phoolan Devi Opera' and 'Traditions Meet' (Veteran Hindustani and Carnatic musicians combine) are billed to perform at the fest on the second day.The morning programme will also feature music workshops primarily geared at further engaging and educating students of music and dance from national universities. Festival goers who are keen on discussing and understanding the rich history and diversity behind particular performances and instruments are also welcomed and encouraged to engage in the workshops organized during the day.
International music groups from Bangladesh, Brazil, India, Norway and Palestine will be the top attraction of the JMF.
As at the past festivals, the Jaffna Music Festival will serve as a much needed meeting place for local and international artists and provide a forum where they can share, exchange, fuse and interact with other artists. Northern and Southern artists and audiences will have the opportunity to experience and interact with artists from the north, east, south and west and be introduced a diverse array of musical genres.
'The aim of the Jaffna Music Festival is not only to showcase the diverse traditions and musical genres from around the island. It is also geared to specifically introduce these musical styling's to school children and young people in order to further stimulate their awareness and interest in the performing arts.
The festival also looks towards reviving Jaffna's historical status as a hub of arts and culture' explained Arunthathy Sri ranganathan, the artistic Director of the festival.
In collaboration with Rikskonsertene (Concerts Norway) and Aru Sri Art Theatre, Sewalanka Foundation presents the Jaffna Music Festival 2013. The Festival is funded by the Royal Norwegian Embassy and the United States Agency for International Development (USAID).
This time around the festival will be conducted in co-partnership with the Sri Lanka Convention Bureau and The Municipal Council of Jaffna. This event is a part of a larger nonprofit Music Cooperation Programme that is established with the objective to stimulate the musical performing arts of Sri Lanka, by providing for exchange while preserving the traditional Sri Lankan musical expressions.
Follow @timesonlinelk
comments powered by

Disqus