Vidura enjoys stellar sporting year
View(s):

By Naushad Amit

Vidura College Colombo is an institution that can take great pride in their sporting achievements during 2012. Last year Vidura College officials decided to give more prominence to their sports activities. This gave their students much-needed exposure and much of their effort resulted in notable achievements. Athletics, badminton, basketball, chess, cricket, netball, rugby, tennis and table tennis are some of the sports that Vidura College athletes managed to excel in.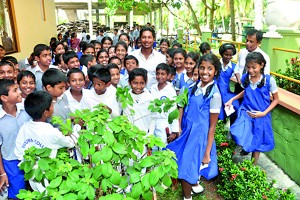 Track and field was one area where Vidura College dominated mostly during 2012. They won several championships at the Nugegoda Circuit Inter-Schools Athletic Meet and this allowed about 12 young boys and girls to qualify for the Western Province Athletic Championship. Sprinter Setavya Mudalige was one prominent athlete who shone in athletics in 2012. She took part in the All-Island Schools Games, held in Beliatta, and was placed third in the Girls' Under-19 100metre sprint and went on to win All-Island School Colours. In badminton the youngsters of Vidura performed creditably in the junior age categories namely the Under-12 and Under 10 age groups.
"Our boys won the Under 10 and Under 12 'C' division championships while the girls clinched the Under12 'B' division championship. In addition the Under12 girls emerged runners-up in the Under10 girls 'C' Division. These are notable achievements on the All-Island stage," elaborated Upali de Silva, the manager of sports at Vidura.
Basketball is another sport that is catching up rapidly at Vidura. As of today basketball has become one of the top sports at the school with a good number of students being attracted to it. Last year their Under-13, 15 and 17 girls' and boys' teams fared admirably at tournaments conducted by the Sri Lanka Schools Basketball Association.
"In addition we also played a number of friendly matches against leading girls' and boys' schools in Colombo. This exposure helped our cagers reach the semi-final stages at many tournaments held in 2012. We are certain that our boys and girls can do better this year," de Silva added.
Besides these, chess and cricket are becoming very popular at Vidura. Many who opt to focus highly on their studies have the tendency of picking chess as a sport while cricket too, though it's the most popular sport in Sri Lanka, is still in its infancy at Vidura.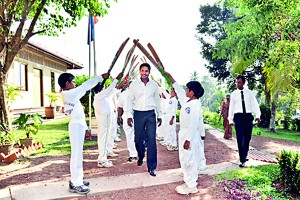 Yet the sport has attracted many in the school.
"Chess and cricket are fast becoming popular at Vidura. Last year Chathuranga Gamage went all the way to compete at the World Chess Championships. In addition Chathuranga, Rahul Jayanathan, Gauri Boteju, Yohan Thalagune and Anuja Ranasinghe were outstanding at various tournaments held domestically and internationally."
"At the same time cricket is becoming popular day by day. There are a large number of young boys in the Under 13 and 15 age categories attending practices and the school fielded teams from the Under-13 and 15 age categories at several competitions. We played a lot of friendly matches with much experienced teams while taking part at a number of tournaments during 2012. Our boys got opportunities in many aspects, at matches and tournaments. This exposure will definitely make our teams stronger in 2013," de Silva went on to say optimistically.
Netball is another sport which has attracted great popularity at Vidura. In netball the inexperienced Vidura girls have achieved many accolades while taking part at the Under-13 and 15 age groups at competitive levels. Rugby as a new sport has managed to attract over 50 players in a short period. During 2012 Vidura's ruggerites competed at a few tournaments against much-experienced rugby-playing teams.
The school also has many goals set this year for their tennis teams who displayed their prowess against top contenders at All-Island level. Last year their boys' and girls' Under-15 and 17 tennis teams played many friendly games while also taking part at tournaments conducted by the Sri Lanka Schools Tennis Association. Likewise, table tennis is a fast growing sport, when it comes to achievements and participation. The school is eager to see their paddlers emerge victorious this year after recording many wins at the Under 10, 12, 15 and 17 age categories. In addition, Vidura College has ideas of introducing new sports disciplines to its list of activities this year.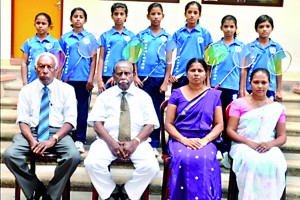 The school last year had the wholehearted support for sports activities from their principal D.G. Sumanasekara and its director Indu Sumanasekara. Sharmin Karunaratne, the sports coordinator for the junior section, has rendered yeoman service in promoting sports among youngsters while as manager of sports, Upali de Silva has imparted his vast experience in uplifting the sporting standards at Vidura.
"We seriously understand the value of balancing sports and academic activities at school for youngsters.
With high-tech tools taking over the lives of present-day youngsters we are proud of our efforts as teachers and elders to impart the values of sports and extra curricular activities. We hope to achieve more this year through sports and in time to come let's hope that Vidura College could be a household name in school sports," de Silva stressed.
Follow @timesonlinelk
comments powered by

Disqus