Learning from the Aussie Open
View(s):

The tactical side: Strokes can be seen but tactics not. Unless you have an eight shot memory for patterns tactics cannot be tracked. Luckily, today the marriage between Computer and Camera exposes the patterns to us without having to tax our heads. This technology is changing our understanding in many applications. Going for winners!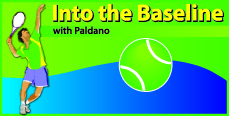 Approach to tactics has changed. Players are winning with higher count of winners and unforced errors against opponents with a lower count of unforced errors. The Wimbledon women's finals of 2012 was one such case.
The Australian Open is well into its second week and this trend is dominant. Li Na of China beat Radwanska of Poland and had more unforced errors and comfortably surpassed that number in winners, for a place in the semifinals.
Going for winners permits 'free play' as opposed to disciplinary controls to avoid unforced errors. Controls of any sort, stresses the mind and slows reaction. Going for winners to counter errors is in many ways a proactive tactical trend. Mathematically a winning game can be compiled getting 4 out of 6 rallies. This means there is tolerance to compile the game. 'Free play' may dominate in the future. [Please do not try this for the first time in a match, train for this before using]
Single handed backhand- is back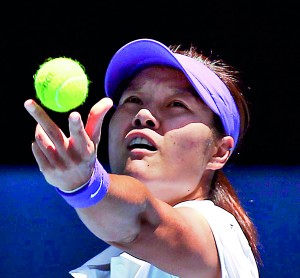 The versatility of the single-handed backhand is back. Pete Sampras of USA changed his backhand to single-handed one at a time when everyone was going for a double. He was ahead of his time. It is common to have strong single-handed backhand among open Tennis players. The body blocks the arm in the forehand unless a semi open or open foot stance is employed but not in the single-handed backhand. The racket head acceleration is the reason behind powerful shots. Certain biomechanics enable this advantage. Watch Almagro's backhand; it leaves a fire trail in your heads when he hits a winner.
'Form follows function' is the lead for competition. Not technique, the supreme ruler. If you are comfortable doing something, train well and do it, forget the coach. Umpires give points only to players. [I will be nailed for saying this. In my head I have competition]
Going to net with the 'new Tango'
Winners averaged 20% net play statistically at the Australian Open. Net run now is not only doing the traditional approach shot Tango, but also a dash from the base line following a very strong shot; the 'New Tango'. You better develop keen sight, mental focus and speed for this new Tango. This also needs a good drive-volley and the volley. Forward run enables to catch the ball full with ease. Mighty McEnroe had a version of this. Modern players are using this as a 'surprise move' to change game situations successfully.
Court craft; court use in tactics
The 'secrets of court use' is another area of tennis tactics. How the court is used and why? Try to see it. It used to be called 'court craft' and not much is said about it now. "A very interesting and a foxy area of tennis," was an opinion I heard for the first time from Sumant Misra of India describing mighty Ramanathan Krishnan's performance to take India into the first Davis cup finals beating Brazil's Thomas Koch, in Calcutta. Use of 'court craft' minimizes the shot selection options of the opponent. Lot of this was seen in the Australian Open. All good players use it.
The season has begun
The Sri Lankan tennis season started with The Gymkhana Open with prize money of one million. The matches are still on at the Queen's courts in Colombo. Chairman of the Gymkhana Club Shiran Anthony initiated it with Asanga Seneviratne after many years. In the men's finals Harshana Godamanne coming from the US, had to overcome the winter frost to beat Thangarajah Dineshkanthan in four sets. This year's Davis Cup tie is in the first week end of February. We will play Pakistan in Colombo. More from – www.sundaytimes.lk
Try to spot the players in waiting for the top five positions of ATP and WTA. On the men's side I will not discount Nicolos Almagro of Spain.
georgepaldano@yahoo.com
PS: [Correction - Ana Ivanovic of Serbia, reached the finals of the 'Australian open' and won the 'French open' the same year- 2008.]
Follow @timesonlinelk
comments powered by

Disqus