Spreading some 'One Love' music
View(s):

Julian Marley speaks to the Sunday Times of his beliefs in the strong, positive message that comes from reggae and his fancy for the Baila beat

By Smriti Daniel, Pix by Hasitha Kulasekera and Amila Gamage

Julian Marley likes the sound of Baila. As far as imitations go – he is pretty good. He gets the beat right with a quick "jinka chika, jinka chika."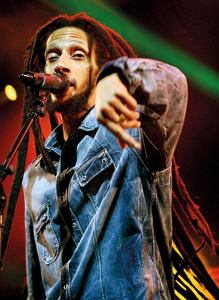 Tall and lanky with his dread locks dangling around his knees, Julian is dressed in a blue Addidas jumpsuit for his interview with the Sunday Times. We weren't certain we'd see him after having been stood up the day before – a cold and a late night kept Julian in bed till just an hour or so before his concert.
But if you didn't know this, you wouldn't have noticed anything awry when he bounded on to the stage at the Vihara Mahadevi Park's open air auditorium for his much anticipated concert recently .
"It's a mental game before [the concert]," Julian tells us later, explaining that being under the weather wouldn't stop him from performing. "Like our father said, when music hits you, you feel no pain. Anything else hits you and you feel pain, but with music, there's no pain."
That Julian loves performing – the dancing, the conversation with the crowd, the all-round "vibing" – is obvious.
He's got a great energy on stage, his dread locks fly as he moves to the music, and he says a lot of this has to do with the genre itself. The music Bob Marley did so much to popularise is well received wherever they tour and he attributes it to reggae's ability to empower people.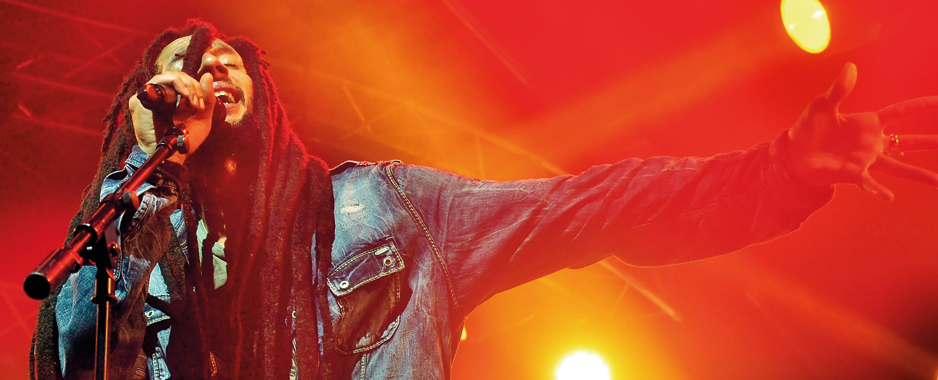 Julian, who reportedly cut his first demo as a five-year-old, has always been tuned into the positive, strong messages the music is built on. "Reggae music is so pure and clean that it is deemed political, but it is a freedom music. Freedom music becomes political, but it's just about truth and rights, and that becomes political. For me growing, when I first ever heard reggae music, it was a positive thing." 
Unlike his half-brothers Damian 'Jr. Gong' Marley, David 'Ziggy' Marley and Stephen 'Ragamuffin' Marley, Julian spent most of his childhood in the U.K, only visiting Jamaica with his mother Lucy Pounder. Julian was only six when Bob died in 1981, aged 36. He left behind 12 children – six boys and five girls – and their nine mothers. The circumstances under which Lucy and Bob met and of their move to the U.K aren't widely known and Julian himself is reticent on the subject, saying only: "By the grace and the blessings of the Almighty, all things came in place."
He returned to Jamaica as a 17-year-old and says that one of the things he loved was finding so many musicians to collaborate with. Still, his time in the U.K (where schools friends remember him growing up as just another kid on the block) exposed him to life in a multicultural society and its music. "For me it was a fusion of music," he says. "It makes me feel who I am today." Did Julian ever worry about living up to his to father as a musician? "I live up to myself. I am already living up to him because I have DNA makeup, all I have to do is be myself." Bob's large family seems relatively close knit.
Julian and his siblings enjoy making music together – Stephen, Damian and he will release their latest album courtesy their project Ghetto Youths International, Inc. later in 2013. Julian himself will be releasing his fourth album and expectations are high. His most recent album – 'Awake' – earned him a Grammy nomination for Best Reggae Album in 2009.
An advocate of marijuana legalisation, Julian sees smoking up as a spiritual part of the Rastafarian movement to which he belongs. His music is an extension of the same – to him it is more sacred than secular music: intended for the "upliftment" of people everywhere. "We come with God music and a loving music. That should be embraced more than something that is just for self. Our music is just one love music."
Concert at a glance Pros
The Vihara Mahadevi Park Amphitheatre is actually a great venue

Fans were introduced to lots of wonderful new reggae music from Julian's three albums. 
Cons
Fans were promised 'a celebration of Bob Marley's music'. We heard only five songs. 

The whole show was played at a volume that was ridiculously, sometimes even painfully, loud.
See more pictures at sundaytimes.lk/photogallery and video footage of the concert and interview at sundaytimes.lk/videos
Follow @timesonlinelk
comments powered by

Disqus