Varthula takes off well in Iowa
View(s):

Varthula De Silva Jayasekera is a freshman Undergraduate student attending Iowa State University in Ames, Iowa, majoring in Biological Systems Engineering.

Varthula has had a very active and productive first semester at Iowa State. He has been taking a full academic load of challenging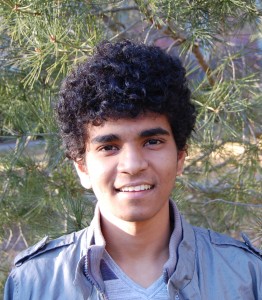 courses, taking part in various clubs including the International Student Ambassadors, International Student Council, and the Engineering Career Fair. He has also been active in his Residence Hall, Wilson Hall, by going to social outings and picnics.
Varthula says he has really enjoyed living in the residence halls, the recreation facilities, the food, the calm nature and good living environment in Ames, the diversity of the students and faculty at Iowa State, as well as the other international students at Iowa State, who have really made him feel at home.
Varthula says, "Coming in as a freshman, Destination Iowa State set the foundation for my stay here at Iowa State. It comprised of a great deal of fun activities where you learn a lot about Iowa State as well as meet new friends. Also the Engineering Career Fair is one of the best in all of the Universities here in the US. It really helps students find internships and co-ops. I also really enjoyed International Week. I-Week is basically a week where you meet students from different parts of the world and explore their cultures. Iowa State University is one of the best universities here in the US and I would encourage anyone to take part in this thrilling adventure."
Young Varthula Jayasekera of Royal Institute Nugegoda reached Scholarships for USA (Pvt) Ltd (www.scholarshipsforusa.com) seeking admissions to a top US engineering school with the highest possible scholarship. Among many amazing offers SUSA was able to attract overnight was the offer from Iowa State University (www.iastate.edu) which was among the top 10 largest undergraduate engineering programs and among the top 40 undergraduate engineering programs in US. When Iowa offered its highest international scholarship to Varthula, he had no hesitation in accepting. SUSA, committed since 2001 to assist hundreds of Lankans across the island opted to head to US for the world's number one higher education wishes Varthula well.
Follow @timesonlinelk
comments powered by

Disqus