Latvian university admission at Cinnamon Lakeside and Kandy City Centre
View(s):

BSc | MSc | MBA | PhD at unbelievable cost | Minimum entry requirement GCE A/L 3 passes

E-BIZ – invites all prospective studets for a golden opportunity – it is free of charge

Ebiz Consultancy Services – Joins hands with Riga Technical University and Turiba University in Latvia to collectively represent to provide University Degrees, Masters and PhD programmes at an affordable cost along with other three Universities and Business Schools. Programmes offered by these reputed institutions are Engineering, Law, Public Relations, International Communications, Business, Tourism and Applied Linguistic studies at Bachelor, Master and PhD Level in English medium.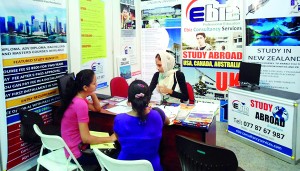 The cost of Study programmes in these Universities only US$ 2680 for one full year for most of their courses . The living costs are relatively as low as $250 to $300 per month including campus accommodation, food and travel etc. Graduated students in Latvia have identified avenues of attractive opportunities throughout European Countries
Post study options:
Latvian Degree holders will have a Guaranteed work opportunities in Denmark, Sweden, German etc. on different work placement options in each country.
Highest consideration for Latvian Degree holders when offering jobs and employment visas in above countries
Spot admission
The University representatives are scheduled to arrive in Sri Lanka to participate in the upcoming EDEX Fair on the 18th 19th and 20th at BMICH and 25th and 26th at City Center Kandy. The admission process = seminars, Selection tests and Interviews would be held on the 21st January at Dukes Court Hotel Cinnamon Lakeside, Colombo and on the 27th at City Centre Kandy for next intakes.
Students who are interested advised to contact on 0778767987 to register. Alternatively students can visit the facebook page to download the Invitation from www.facebook.com/ebiz.first to attend the seminar at cinnamon lakeside on the 21st Jan or to attend the Exhibition at BMICH Stall No. 159L in Hall Please bring the invitation along with you or call us to register your name and bring original educational docs. All students who have qualified GCE A/L and any students awaiting A/L results are invited to participate in the seminar.
Other study options from e-biz
South Korea
South Korea is another attractive destination for those who wish to pursue their higher studies in focus of industry exposure. South Korea is an industrial country with many manufacturing hubs. Economically sound and provide facilities for high end education opportunities.in English medium.
Jungwon University in South Korea provide many courses for students in the faculties.of Bio Medical Engineering, Oriental Medicine, Energy Resources Engineering, Sports Science, Social Welfare etc.
Japan
Japan on the other hand is a viable destination for higher studies who genuinely interested. Japanese language is much considered as a key criteria when planning your studies in Japan. Only less than 30% Universities in Japan have their programmes in English medium. Japanese Language is a compulsory subject even when you study in Universities having English medium programs.
We have introduced a pathway program through Japanese Language programme and then to any intended Degree programmes in Japan. This is very successful in terms of pursuing your studies or in terms of getting approval for student visas. Those who are interested in studying in Japan or willing to live in Japan are targeted group for this option. Preferably who are currently learning Japanese language or already a proficient in Japanese who are interested in studying in Japan are welcome to contact us.
New Zealand
Rules and regulations keep changing in every country in terms of their criteria for higher studies is concerned.
New Zealand is a very attractive destination for students. But with increased cost of study programmes and tough criteria of immigration procedures is a challenge. The good thing is students do not have to risk paying the course fees before realizing their applications'
eligibility for visa. In addition we have partnered with some leading Universities and NZQA approved institutions where they have tailored study programmes coupled with work placement options to progress through until they reach PR status. Work placement is arranged by the institution upon completion of their intended course of studies.
Meanwhile students are allowed to work 20 hrs as normal procedure and guidance would be provided to off campus work opportunities during studies. Each campus have their own job placement unit to assist students graduating from these Institutions. Intakes available through Feb/April/October.
Eligibility and Selection Process: It is much more straight forward criteria these universities apply in the selection process. It is compulsory for a student to have the following qualifications:
Students must have qualified GCE A/L Exam in all three subjects for undergraduate programmes. Masters students should have completed their relevant Degrees. Students with O/L with or without other qualification have broad opportunities.
Be proficient in English Language (IELTS preferred but not essential. Should sit for English/Maths test conducted by University.
Total solutions for students
Ebiz Consultancy Services provide hassle free consultation process in guiding, registering students and preparation of visa documentation with least or at no cost.*Conditions Apply.
For more information: visit ebiz-consultancyservices.com or visit www.facebook.com/ebiz.first
Contact Details:
Tel: 0778767987 / 0787115188
Student Liaison Office:
95/2, Galle Road, Colombo-04
Email:
ebizfirst@yahoo.com
Follow @timesonlinelk
comments powered by

Disqus