IIHL Introduces International Qualifications of the Institute of Hospitality (UK)
View(s):

Imperial Institute of Hospitality and Leisure (IIHL) is a partnership between Imperial Institute of Higher Education (IIHE) and The Institute of Hospitality (IH), Sri Lanka Chapter. IIHE has been a pioneer tertiary education institute in Sri Lanka having been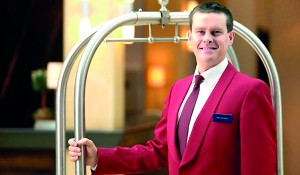 established in 1996. It has been associated with the prestigious University of Wales since inception and has been successfully offering the BSc (Honours) in Business Management, BSc (Honours) in Computing and the MBA degrees in Sri Lanka.
The Institute of Hospitality is a professional organization based in the United Kingdom with local chapters spanning across the globe. The Institute is represented by hoteliers, restaurateurs and contract caterers to technology providers, the armed forces etc. The Institute has been the Hospitality and Tourism Industry's leading network, helping to grow talents and accelerate professional development for more than 70 years. The Institute of Hospitality is also an accredited Awarding Body in the UK providing professional management qualifications for the International Hospitality and Tourism Industries. It is the respected interface between education and industry for the development, mobility and recruitment of skilled labour in hospitality, leisure and tourism. The Sri Lanka chapter of the Institute of Hospitality has been in existence for over 20 years.
Institute of Hospitality International Management Qualifications are designed to improve management skills and build career prospects of individuals. International Management Qualifications are suitable for managers or those aspiring to management in the hospitality and related industries. These qualifications offer;
A structured pathway for career and promotion
The underpinning knowledge required for leadership and management
A progression route from introductory to intermediate to advanced level
These qualifications have been embraced by leading hoteliers worldwide and have gained currency as value adding learning experience. As observed by Joseph Chong, General Manager, Peninsula Shanghai;"Increasing salaries and benefits is no longer the only way to keep talented people in the work force. Our managers' covert an international accreditation, and this exceptional programme will cater to their educational and career development needs."
IIHL will commence the International Diploma in Management for Hospitality and Tourism on 15th January 2013. The course covers 12 individual units in 6 business areas relevant to the industry. These are: Business Management, Consumer Management, Business Marketing and Sales, Finance and Business Planning, Human resource Management and Professional Development. The delivery of the course will be once a week for 3 hours on a Tuesday afternoon. Each unit will be delivered over 4 weeks followed by a multiple choice assessment which has to be taken electronically. This offers maximum flexibility to the students and the ability to combine professional studies without hampering their work place obligations.
The Sri Lankan economy which is poised for accelerated growth in Tourism and Leisure Sectors demands personnel who are professionally competent to give leadership to the workforce. Skills in core operational areas have to be combined with sound knowledge and skills in management with appreciation of multiple disciplines. The International Management Qualifications tailored for the industry will no doubt be an invaluable tool in the hands of those aspiring to reach dizzy heights in this exciting industry.
Call the IIHL hotline on 0777-781432 for more information or call over at their state of the art training facility located on Tower Building, Station Road, Bambalapitiya or visit www.iihe.lk for further information.
Graduateship examination in chemistry 2012 List of awards & prizes
(Subject to the confirmation by the Academic Board of the College) (effective from 30th September 2012)
GRADUATESHIP (OVERALL) AWARDS -2012
1st – Shireen Jayasuriya Memorial Gold Medal 2012 for the best performances in all parts of the Graduateship examination
3102- Mr.P U A I Fernando
2nd – Graduateship Silver Jubilee Commemoration Award
3185 -Ms. H C Weeraratna
3rd – Graduate Chemist (25th Batch passing out) Silver Jubilee Commemoration Award
3098 -Ms. L P Egodawatta
OVERALL AWARDS COVERING ALL LEVELS OF STUDY
Professor J K P Ariyarathne Memorial Award for Overall Excellence in Inorganic Chemistry
3102- Mr. P U A I Fernando
Professor Leslie Gunathilake Award for Overall Excellence in Organic Chemistry
3098 -Ms. L P Egodawatta
Haniffa Avard for Overall Excellence in Physical Chemistry
3185 -Ms. H C Weeraratna
Professor Saman & Asoka Patirathne Award for Overall Excellence in Analytical Chemistry
3153- Ms. W D M C Perera
LEVELS 3 & 4 OVERALL (THEORY) AWARDS
1st – Royal Society of Chemistry (Sri Lanka) Section Award
3102 -Mr. P U A I Fernando
2nd – Professor and Mrs H W Dias Award
3167-Mr. R Sanjeewan
3rd – 3098-Ms. L P Egodawatta
GRADUATESHIP EXAMINATION IN CHEMISTRY 2012 OVERALL RESULTS
(Subject to the confirmation by the Academic Board of the college effective from 30th September 2012)
First Class(Honours)
3102 Mr.P U A I Fernando
3185 Ms. H C Weeraratna
3098 Ms. L P Egodawatta
3068 Ms. Maheeka Y Abeywardana
3167 Mr. R Sanjeewan
3107 Mr. S D Gunasinghe
3069 Ms. Maheeshi Y Abeywardana
3105 Mr. A S Ghouse
Second Class(Honours)
(Lower Division)
3070 Ms W A L M Abeywickrama
3074 Ms. D R A M T R Atugoda
3077 Ms. C M K V Chandrasekara
3094 Mr. D W M H N N Dissanayake
3099 Mr. E M M Samudaya
3101 Ms. E A A Thanushika
3103 Ms. S R L Fernando
3108 Mr. H D H Gunathillake
3129 Ms. K A N Kulasooriya
3141 Ms. D S G Mendis
3159 Ms. W A D Ranjalika
3181 Mr. S A N D Suriyaarachchi
3186 Ms. S K Weerasinghe
Second Class Honours
(Upper Division)
2941 Ms. D. Kaluthantri
3079 Ms. C H Rahinduhewa
3080 Ms. M C D Cooray
3081 Ms. W D A R Costha
3082 Ms. M N T Dayarathne
3086 Ms. N H P De Silva
3091 Ms. R M Dias
3092 Mr. M A N Dias
3096 Ms. M L C Dulanthika
3115 Ms. R S Hewawasam
3121 Ms. M.D C D Jayawardana
3123 Mr. U L D I Kalana
3134 Ms. T O Liyanage
3146 Mr. J A D I Niranga
3147 Ms. L A P Obeysekara
3150 Ms.K A P S S Perera
3153 Ms. W D M C Perera
3163 Mr. K M S Samindra
3169 Ms. D M C N K Senanayake
3170 Mr. R D Senevirathna
3176 Mr. K A V S Siriwardena
3195 Ms. G H T C Kaushalya
Follow @timesonlinelk
comments powered by

Disqus