Cambridge Examinations at Wycherley International School
View(s):

A seamless Education from Primary through Secondary to University

Wycherley International School goes on record as being the first-ever International School in Sri Lanka to offer students a total Cambridge 'experience' from Primary through Secondary level.

Launched 27 years ago to fill the vacuum for a high quality yet affordable international education right in the heart of Colombo, Wycherley is today hailed as the 'Cambridge Centre' in Colombo.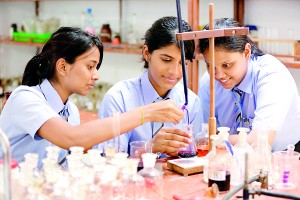 Over the past quarter of a century, it has seen a large number of its Cambridge qualified students leave its hallowed portals and successfully pursue a higher education in various spheres, and, in various parts of the world.
"Our students come from different ethnic backgrounds and have successfully integrated themselves into the social and cultural fabric of Wycherley. Armed with an internationally recognised education and a holistic experience of life, they proudly face the challenges and demands of the future as citizens of the world", said Principal of Wycherley International School Mr. Kingsley Jayasinghe.
The University of Cambridge International Examinations ranks as the world's largest provider of International Education Programmes and qualifications for 05 – 19 year olds. While offering an invaluable international benchmark of learner performance, it also gives learners a strong base on which to specialise, and more importantly, acts as an international passport to progress and success in the future.
"Parents always want the best for their child. It is always their dream to give their children the best possible education as a passport to the future. The school you choose for your children and the system of education they will follow determine their success in life. The Cambridge system of education at Wycherley offers just this and more", Jayasinghe added.
Quite unlike any other qualification available in Sri Lanka, the Cambridge system of Education is one that offers total continuity from Year 01 to Year 13. It is also the only UK examinations board that is part of a University, thereby taking your child from Year 01 right through to University. In fact many schools around the world are currently changing over to the Cambridge system of education since it is a standardised curriculum that runs from Grade 01 to AL. This parallely reinforces both the teaching process and the learning process as teachers and students also benefit from this continuity.
Both the Cambridge Primary and Cambridge Secondary are education programmes which combine a world class curriculum, high quality support for teachers and integrated assessment. These comprehensive and wide-ranging programmes are specially crafted to make your child confident, responsible and innovative. Developed by the University of Cambridge International Examinations, they are used in Primary and Secondary Schools around the world and have been designed to be successful in any culture.
Wycherley International School enjoys top slot among international schools in Sri Lanka as one that is well known for its superlative achievements at examinations. In fact the results of the 2012 Cambridge O/Level and A/Level Examinations have been no exception.
At the 2012 Cambridge O/L Examinations 2012 our top achievers were many with Niwantha Bandara and Kevin Fernando each notching 8As with 5 A* and 4 A* respectively. Among the others were Chayani Dissanayake, Gayan Karunaratna, Taalib Haniff, Tharindu Ranathunga and Denushka Jeganathan who all obtained 6As and above.
The Cambridge A/L results 2012 were equally impressive. Keshini Sritharan and Sadra Jubair obtained 5As each with 4 A* and 1A* respectively. Chandramohan Aiswaran, Nuwanthi Wanigasinghe, Farheen Imtiaz and Vishnu Thiruchelvam obtained 4As each. Keyomi Gunarathna and Anurudha Higgoda obtained 3As each.
With its triple strength motto, 'Tradition – Education – Excellence', Wycherley takes pride in being the ONLY international school in Sri Lanka to offer the much sought after Cambridge system of education. While nurturing traditional social values in a multi-cultural and multi-religious environment, Wycherley International School strongly focuses on academic excellence as a stepping stone to 'internationalising' its students and making them successful citizens of the world.
Follow @timesonlinelk
comments powered by

Disqus