Unwrapping a gift of many layers
With another school year just ending Duvindi Illankoon and Shaveen Jeewandara tackle the issues surrounding the many ways of saying 'thank you' to school teachers

View(s):
It's the end of a school year. Schools have closed and while thousands of students anxiously began their Ordinary Level examinations last Tuesday, elsewhere, teachers, students and parents got into holiday mode.
But the end of the school year can also be a stressful time for those parents who have had to dig deep into their pockets to buy a 'gift' for their children's class teacher.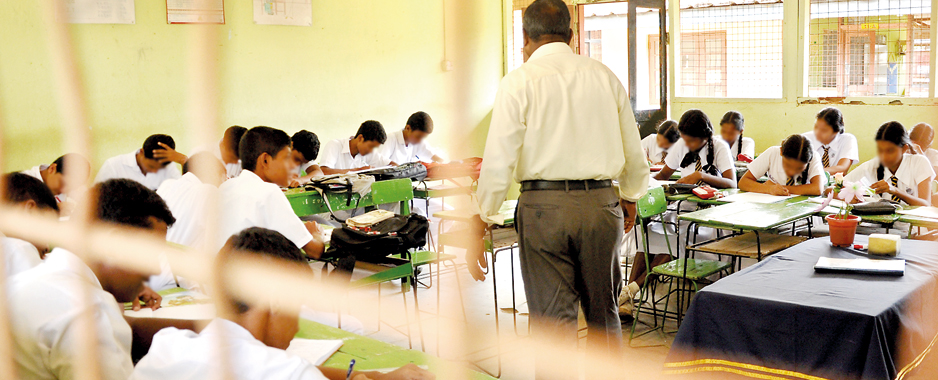 From times of yore, teachers have been accorded great respect in our society. The custom at the end of the year was to give the teacher a small, but meaningful gift- often a card, small plaque, trinket or bouquet of flowers to say a grateful 'thank you'.
Times have changed. "Most teachers' faces fall if you give them a card or a small memento," says Maheeka, a student doing her O'Levels this year. "It's expected that you give your teacher a saree or a set of glassware at the least. The other kids are going to laugh if you're the only one giving just a card or even worse, nothing at all."
This seems to be the practice in most schools, where a select group of students and parents with the means to do so initiate the process of 'giving gifts' to the teachers. The others will have to follow or risk being embarrassed. Many teachers kindly but firmly refuse, but some accept the gifts so as to not hurt their students' feelings. But the real issue is how the teacher then becomes under obligation to the student. It's human nature, after all to look kindly on someone who has been so generous to you.
What becomes then of an education system where some students have unfair advantage over the others? Prabasha Madushanka's aunt, S.G. Ranjanee is incensed at his school's treatment of students from extremely low-income families. "My nephew is weak in his studies and I have visited his school again and again to implore his teachers to spend an extra hour with him once in a while to get him on track, but they never do so. There are parents who buy little things for the teachers–jewellery or something for their houses–and keep them buttered up so their child gets more attention and the other children suffer as a result. Is this how teachers should behave?"
Lanka Teacher Services Union General Secretary, Mahinda Jayasinghe says the situation is caused by a handful of parents who seek greater attention for their children but end up creating a vicious circle. "When one or two parents force the issue, other parents feel obliged to contribute and they tend to buy lavish gifts in the end," he says, adding that this invariably encourages the teacher to expect gifts on a regular basis and inclines them towards favouritism. Mr. Jayasinghe said that there is a dire need for a circular to be issued by the Ministry of Education, asking teachers not to accept such gifts.
But what of students who actually want to express their gratitude to their teachers? "Our teachers always say that the best gift we can give them is to pass our exams well," says Dasith. "But not everyone gets through like that. Sometimes the best way to say thank you and appreciate all they do for us is to give them a little gift- I don't believe it needs to be expensive. This year our class got a mug with everyone's names on it and a little poem for our class teacher. She loved it!"
C.W.W. Kannangara Vidyalaya Colombo Principal S. U. Kariyawasam, believes it must be the teacher's prerogative to decide whether to accept the gift or not. "Students will always want to give back to the teacher-personally, I think it's a beautiful custom. In our culture especially practices like this must live on. I've been a teacher myself and have received countless little gifts over the years.
However, he is strongly against the practice of 'collections' from classes to buy gifts for teachers, and extravagant gifts. "We have never initiated or encouraged this at our school. But I do know for a fact that there are some other schools in the area that practise this-sometimes to an absurd extent." This practice is prevalent in the Colombo area, he says. "There are very prestigious schools where the parents get together and collect almost half a lakh of rupees to buy a gift for the teacher at the end of the year. Some teachers even ask how much has been collected for them so far from the parents. Some have not bought a saree or shirt in decades because they've got so many gifts."
The general consensus is that the solution has to be in terms of a policy decision by the Education officials. "The only solution for all parties involved is for the relevant authorities to standardize the process," says Himali Ekanayake, a mother of two children attending a leading private girls' school in Colombo. "If the ministry introduces a policy which prevents teachers from accepting gifts – then the parents can't force the hands of other parents and the teacher won't be forced into an uncomfortable situation. My daughters' school has a policy which prevents teachers from accepting gifts but the school itself collects a nominal amount of money every time a teacher retires, to felicitate them."
To their credit, several schools in Colombo and the outstations have inculcated in their staff an attitude that is against accepting gifts or other favours. The Principal of Devi Balika Vidyalaya in Colombo Pradeepa Samarasinghe strongly disapproves of the practice. "As a government school we have students from different backgrounds studying with us. Some of them are scholarship students whose parents are really struggling to send them to a city school. At the same time we've got children from very wealthy families. It's a huge disparity and if a wealthy student gives a gift to a teacher it puts the others in a very uncomfortable situation and that's something we wouldn't do to our students."
However, such schools are in the minority, and most turn a blind eye to the situation, hoping that the teachers themselves will have the good sense to deal morally with the issue. But as Mr. Kariyawasam says, it's not easy for teachers to handle the issue by themselves.
The Ministry of Education has introduced regulations that aspire to uphold the moral conduct of teachers, although it does not contain a specific clause addressing the issue of teachers accepting gifts. (See box). The real predicament lies in the ethical dilemma teachers face in accepting personal gifts from students, and it would have helped if there was a concrete guideline that could have been enforced by the Principals.
But at the end of the day, it's not enough to simply bring in circulars and force rules and regulations on these teachers, says Mrs. Samarasinghe.
"You find that this practice is often concentrated in the city schools-if you go to a village school you'd find that this works in reverse. Teachers pay students fees, buy them books and get them meals. It's up to the school to create an environment that discourages teachers from accepting gifts. An attitude change is a must, so that it becomes a state of mind as opposed to yet another rule to be abided by."
What has the Education Ministry got to say?
Education Ministry secretary S.M. Gotabaya Jayaratne said the Ministry had introduced a regulation known as 'Code and Conduct of the Ethics and Morale of Teachers' at a meeting held on November 30, 2012. Under this regulation it will be mandatory for principals to submit 'monthly 'monitary' reports. If any school is collecting money for gifts parents could call 1988 to complain.
Follow @timesonlinelk
comments powered by

Disqus